Rowing training with water resistance
A rowing machine effectively trains your endurance and strengthens your muscles. The Water Rower provides an authentic rowing feeling as if you were rowing on water. The rowing training with the water rower can also take place in bad weather. The water resistance perfectly simulates rowing training on water. Training on a rowing machine also improves posture and strengthens the cardiovascular system. Experience an effective whole-body workout with a water rowing machine.
Rowing training with water resistance
Endurance training and targeted muscle building - our unique water rower can do both! Water rowing against stress: let yourself be carried away by the lapping and rushing of the water to your favourite stretch in the nearest river or lake. Intensive training has never been so calming!
Buy Water Rowing Machine
If water rowing is your passion, then we have the perfect training partner for you! With our water rowers, you can bring a training experience like being on the water into your own four walls. So row whenever you want, even in bad weather.
Buy water rowing equipment and pay no shipping costs. Shipping is free of charge. If you don't like the water rower, you can return it to us within 14 days and get your money back.
Rowing ergometer vs. water rowing machine - what is the difference?
The heart of a Water Rower is the built-in water canister. Similar to the motion sequence on the water, resistance is also generated here with the help of a paddle. The faster the rowing movement and the fuller the water tank, the more strenuous! This makes resistance adjustment child's play. Depending on the model, there are further adjustment options. The Aquon Waterflow rowing machine, which was awarded "very good" by ETM Testmagazin, allows precise water resistance adjustment in 4 steps. In no time at all, you can adjust the difficulty level with the help of a knob on the water tank thanks to the innovative resistance system.
In other systems, the counterforce is generated by cable or air resistance, e.g. in rowing machines with cable pull. There are also versions with magnetic or hydraulic brakes. These resistance systems also work precisely, but the feeling of movement on a water rower is much more authentic and natural.
What are the advantages of training with a water rowing machine?
A water rower is indispensable for an effective whole-body workout. With our rowing ergometers, you train endurance and strength in equal measure. Around 80 % of the entire musculature is used. The smooth pulling motion is particularly easy on the joints. Try it out and experience the most efficient variant of cardio training in combination with muscle strengthening with our water rowing machines.
How do I train with a water rowing machine?
Basically, training with a water rower is very similar to real water rowing. The dynamic rolling seat moves along with the rowing stroke. Your leg and back muscles are particularly challenged here. Correct execution is also important when rowing in the living room. Tip: Place a mirror at your side to check your posture on the rowing machine. Use a heart rate monitor to check your current pulse. Depending on your training goal, you should train in different heart rate ranges. It is best to adjust your workout according to your individual heart rate maximum.
Which muscles are trained with the water rower?
Powerful pulling movements paired with a continuous whole-body movement provide a sustainable workout for all essential main muscle groups in your body. At the same time, blood circulation is promoted and your cardiovascular system is strengthened - including maximum fat burning! In addition to strength endurance, your balance system is also stressed and you improve your stability. In addition to the leg and back muscles, which are primarily used, the following muscle groups also benefit from every rowing movement:
Abdominal muscles
Arm and shoulder muscles
Gluteal muscles
neck and trapezius muscles
Your efforts will be rewarded with a more upright posture and more endurance and vitality in everyday life. Rowing is balm for the soul! In addition to the physical effects, you also strengthen your ability to concentrate and reduce your stress level.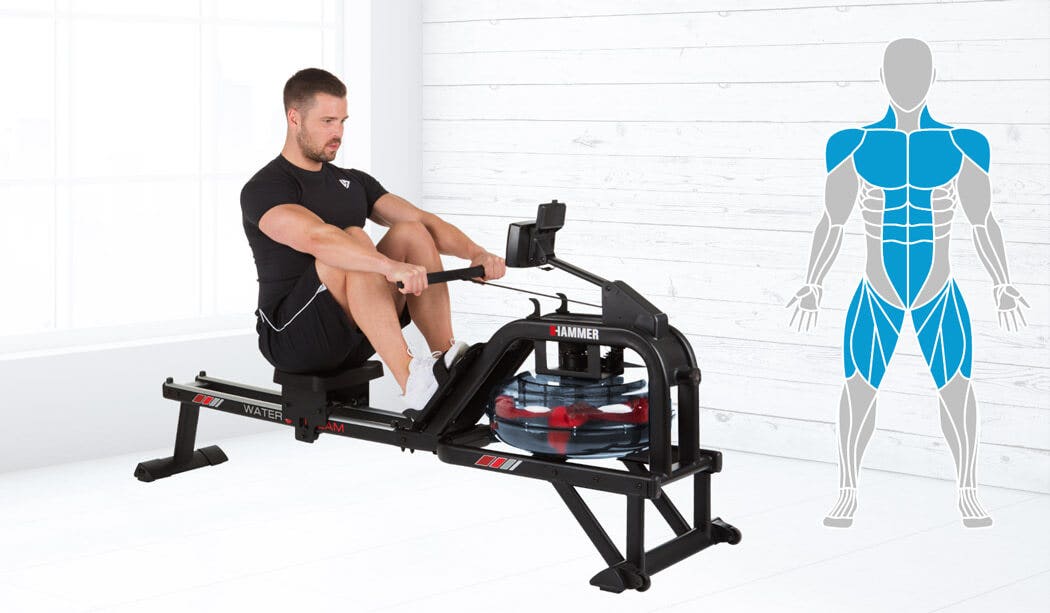 Is rowing with the water rower positive for my health?
If you want to buy a water rowing machine, your health will thank you! Moderate circulatory training with a rowing ergometer can have a positive effect on diseases such as high blood pressure, diabetes and cardiac arrhythmia. Doctors confirm that the combination of endurance and weight training sustainably increases performance. For prevention and rehabilitation, the joint-gentle motion sequence of water rowing is ideal.
Buying guide water rowing machine
There are many different rowing ergometers available. It is therefore important to consider your individual fitness goals. And this is how you find the right rowing machine: Think about which factors play the most important role for you when deciding what to buy. You should consider the following points:
Size and practicality
Distance between the pedals / tread plates
Type of braking / resistance system
Training computer
Especially in small flats, the dimensions of the fitness equipment are crucial. Practical transport wheels bring your Water Rower quickly to the desired training location. The folding mechanism of some models also ensures that the rower ergometer can be stored in a particularly space-saving way.
If you attach great importance to training ergonomics and the realism of water rowing, then pay attention to the distance between the footplates. A rowing machine with outriggers gives you more freedom in terms of different rowing techniques and grip positions.
The different resistance systems of rowing machines have different advantages. The most impressive rowing feeling is offered by a water rower, where you experience an authentic rowing feeling as if you were on water due to the water resistance.
With a training computer on the water rower, you have maximum control over your workout. The innovative Kinomap fitness app gives you an extra dose of variety. Dive into virtual worlds and experience new waters.
Proper care and maintenance of your rower
Proper care will protect your water rower. After each workout, wipe the seat and the training computer with a damp cloth to remove sweat from the rower. Check your pull unit and seat rollers regularly to prevent wear and tear. You can fill or empty the tank with water through the siphon provided.
The right accessories for your water rower
The right accessories help you achieve your training goals and maintain your favourite piece of equipment.
Chlorine tablets
Once a year, place a Chlorine tablet in the water tank of your water rower and the tank will be freed from deposits, limescale and residues from the water.
Floor protection mat
Place a Floor protection mat under your rowing machine and you will optimally protect your floor. It also reduces noise.
Chest strap heart rate monitor
Connect a Chest strap heart rate monitor to your water rower and you will always have your heart rate and pulse on the rower's training computer in view. In this way, you can ensure a pulse-oriented whole-body workout at all times.
Tablet holder
Train live distances on your tablet to experience the rowing feeling on the water rower at home in a completely new way. A Tabletholder can be attached to water rowing machines so you can enter the virtual rowing machine training world on your tablet.
Test and buy a water rower live on site
If you would like to buy a water rowing machine and find out about different models in advance, you are welcome to visit us in one of our HAMMER stores. Discover our selection of equipment and test a water rower in one of our shops. Convince yourself of the authenticity of a rowing machine and have your desired model conveniently delivered to your home.
HAMMER expert telephone
We will also be happy to advise you by phone on which water rowing machine is best suited to you and your goals. Of course, we will also recommend the right accessories and answer your questions on all other fitness topics.
HAMMER expert telephone: 043 (Mo - Sa from 9 am - 7 pm). We will also be happy to call you back!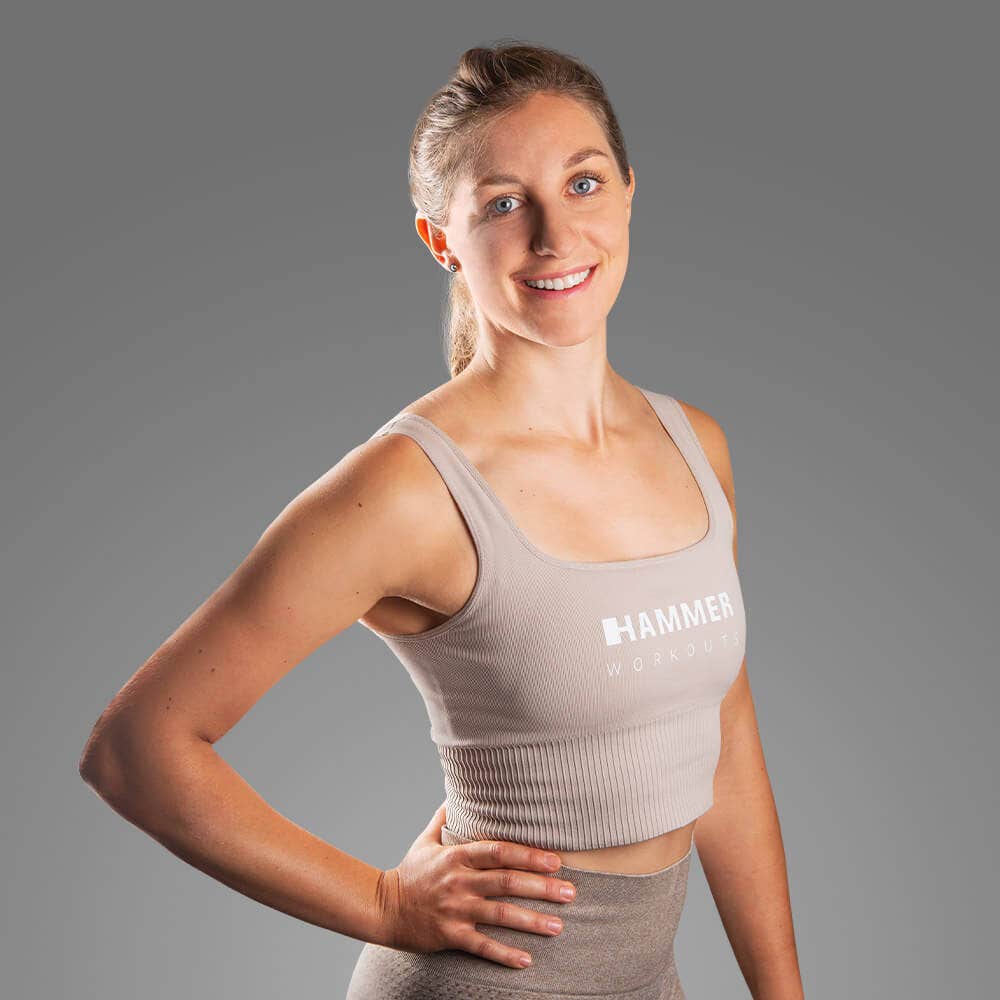 Valentina Bahl
Sports Therapist, Personal Trainer, B. Sc. Nutrition Management and Dietetics, M. Sc. Clinical Sports Therapy and Sports Physiology