The dream of a six-pack
An ab trainer is the ideal training partner for a flat stomach and defined abdominal muscles. Defined abdominal muscles require hard and regular training. An ab trainer provides you with optimal support. In addition, an ab trainer supports you in the correct execution of the exercises and the movement sequence of an ab trainer is very back-friendly. Train your abdominal muscles easily and effectively with an ab trainer in your own home gym.
Buy ab trainers
A strong core is essential for a flat stomach and a healthy spine. If you want to have attractive abdominal muscles and a stable back, you should buy an ab trainer. With an abdominal trainer you can train important muscles in your upper body at home and turn your abdominal muscles into an attractive six-pack.
Ab Trainers & Back Trainers
Ab trainers are ideal for building up your abdominal muscles. They give you the optimal sequence of movements and protect you from strain. Classic ab trainers are ideal for beginners who cannot yet perform free crunches and sit-ups safely or for advanced users who want to isolate their abdominal muscles optimally. These ab trainers are also called AB rollers.
Together with the back muscles, the abdominal muscles form a kind of corset that protects the spine during every movement. Accordingly, you should always strengthen your back muscles together with exercises for your abdominal muscles. When training with a pure ab trainer, you should therefore complement various back exercises.
With an abdominal and back trainer , on the other hand, you can directly combine different exercises for your abdominal muscles and back muscles in one device and train your entire upper body. With an abdominal and back trainer, look for a wide variety of exercises and different training angles.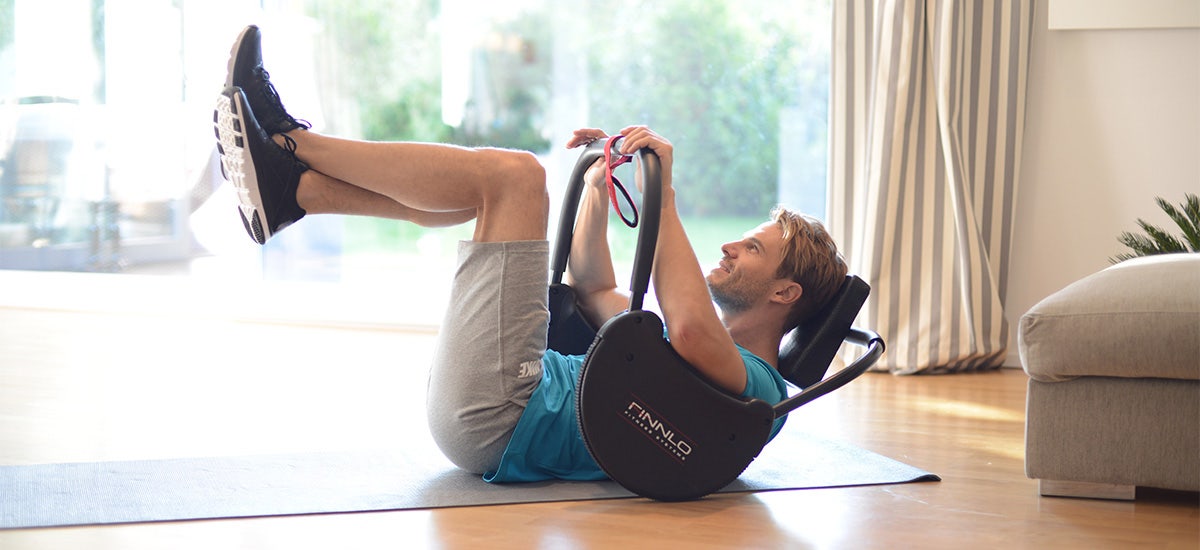 Why is a flat stomach important for my health?
A trained core is not only considered attractive by many people, but also has many health benefits. Besides stabilising the spine and preventing back pain, a flat stomach also protects against other diseases such as diabetes, fatty liver and metabolic syndrome. This is because fat on the abdomen, in particular, affects organ function and can alter the release of hormones. From a health perspective, you should therefore prevent the development of belly fat.
Watch your diet
A beautiful and flat stomach is the result of proper training and a healthy diet. It's not only a question of "how much" you eat, but also "what" you eat. Sugar, fast food, crisps and foods with simple carbohydrates and fat make it difficult for you to achieve a washboard stomach. Although there are no specific foods that put more weight on your stomach than others, it is better to eat unprocessed foods with a low calorie density. Whether or not you gain fat overall is always determined by your calorie balance. If you eat more than you consume, you will gain weight in the long run, and vice versa. Where fat is stored is genetically determined and cannot be specifically changed! Men tend to store more fat above their abdominal muscles, while women tend to store more fat in their legs and hips. Regardless of your genetic make-up, a calorie deficit will help you get rid of excess fat and works the same for all genders and body types.
What are the advantages of training with an abdominal trainer?
Exercising with an ab trainer strengthens your core and shapes your muscles. This makes your abdominal muscles more visible. The ab trainer therefore works by building muscle and also increases calorie consumption through exercise. The increased consumption in turn helps you to maintain a negative calorie balance. However, even with the best exercises, you cannot specifically lose belly fat.
However, in combination with a calorie-reduced diet, regular workouts with an abdominal trainer provide visible abdominal muscles. In addition, targeted abdominal strength training also increases muscle tone, which makes the muscles feel and look firmer without already having grown.
Since you bend your spine and rest your head on the pad during abdominal training, you should pay special attention to a good training feeling and high-quality head padding and armrests when buying an abdominal trainer.
HAMMER workouts - We are your trainer
Let our experienced coaches sweep you away & power you up in the comfort of your own home. Whether you're intoxicating or relaxed. Our versatile team of trainers with different characters offers you the right workout for every mood.
With the bodyweight workouts, you not only strengthen your muscles, but also burn a lot of calories. This makes the HAMMER workouts ideal for your abdominal muscle training.
Which muscle groups does an ab trainer work?
With the classic AB roller you train both your straight and superficial abdominal muscles, which shape your six-pack, as well as the deep abdominal muscles for a healthy spine. Depending on how the exercise is performed, you can also train the oblique abdominal muscles.
When exercising with the abdominal and back trainer , you also work your back extensor and use a foot pad to pull yourself up on the abdominal bench. This allows you to train your hip flexor at the same time and perform even more exercise variations for the oblique abdominal muscles.
Who should buy an ab trainer?
The abdominal trainer always guarantees perfect execution of the exercise, as the predefined direction of movement makes deflection impossible. This means you always train safely and effectively. If you are just about to start training or always want to feel a full contraction of the abdominal muscles, an ab trainer like the AB-Roller or the AB-Dominox is therefore an ideal training device for you.
You should pay more attention to training your abdominal and back muscles, especially to prevent back pain or if you already have it. A combined abdominal and back trainer is especially recommended to stabilise your torso from all sides. In addition, you should also focus more on static holding exercises. A very effective exercise is the forearm support (also: plank), which you can train very quickly and effectively with the Stealth Core Trainer .
What should you keep in mind when training with an ab trainer?
For an optimal workout with the abdominal trainer, you should follow these tips:
Quality before quantity: perform the exercises slowly and in a controlled manner. An ab trainer helps you to do this.
Training variations: your abdominal muscles consist of four muscle groups. Don't forget to train all muscles equally.
Regularity: Do the exercises regularly, preferably 3 to 4 times a week.
Progression: Increase regularly with more repetitions, sets, heavier exercises or additional weights.
Breathing: Don't tense up and breathe in and out in a controlled manner - even when it gets strenuous.
Regeneration: Muscles grow during regeneration - give them enough time for this.
Back training: With a
you should also train the counterpart to the abdomen in order to achieve optimal training results.
Watch your diet and reduce your calorie intake if you want to lose weight.
Test ab trainers
Not quite sure yet? Then you can also visit us in one of our HAMMER stores and test the ab trainers on site. We are also happy to advise you on the phone about ab trainers, abdominis (abdominal muscles) and six-pack. We are looking forward to meeting you.
You can reach us by phone daily from 09.00 - 20.00 on 043 544 21 69. We will also be happy to call you back.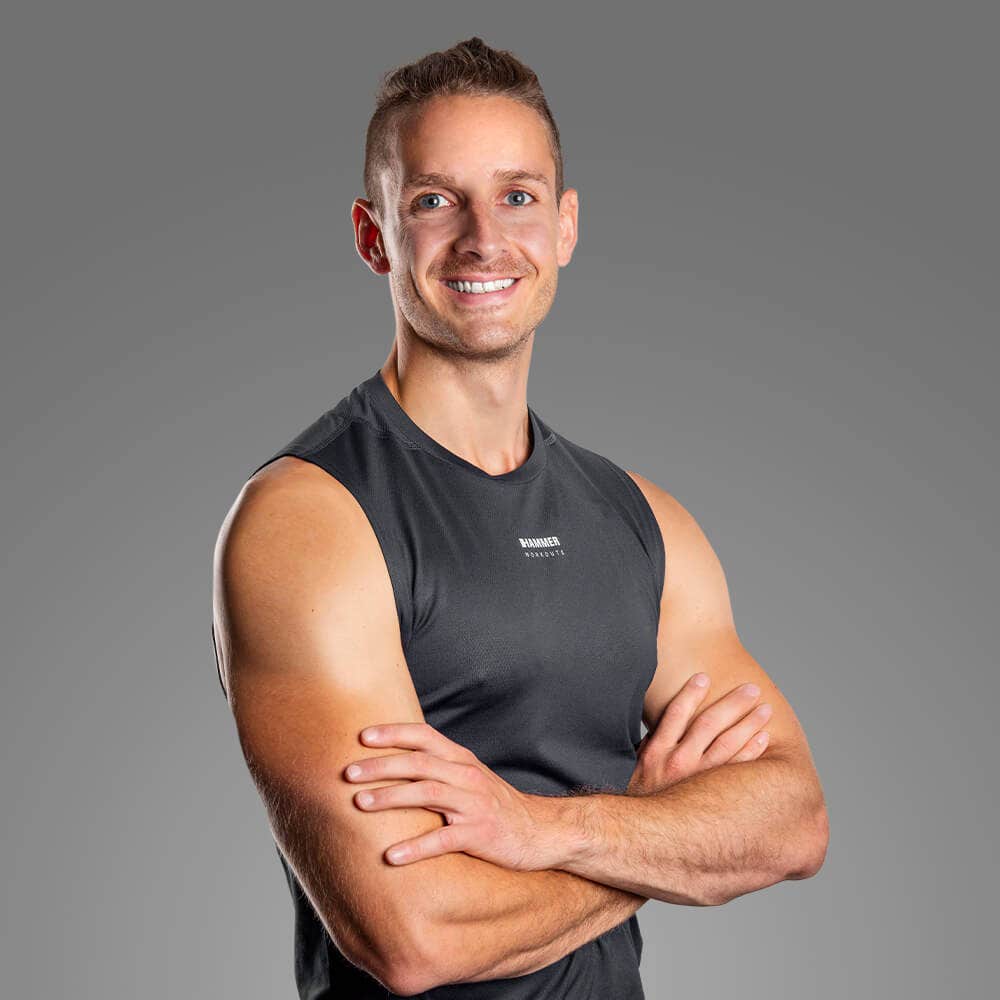 Alexander Seifried
Personal Trainer, B. Sc. Nutrition Management and Dietetics, M. Sc. Clinical Sports Therapy and Sports Physiology