HAMMER Store Neu-Ulm
Contact
Von-Liebig-Str. 11
89231 Neu-Ulm
There are plenty of parking spaces directly next to our HAMMER shop in Neu-Ulm.
Discover our best products live
We look forward to welcoming you personally to our HAMMER shop. Here you will find a wide range of fitness equipment for the home, which you can of course try out on site. Our HAMMER experts will advise you personally and individually, answer all your questions and be at your disposal before, during and after your visit.
Once you have chosen your ideal fitness equipment, you can take it home with you or have it delivered and installed by us.
Our latest reviews
Gerade konnte ich mit dem Service von Hammer Fitnessgeräte Neu-Ulm sprechen. Es ging um die Rücknahme eines Cross-Steppers. Das war ein Geschenk für meine Frau. Da wir aus der 14-tägigen Rücknahmefrist raus waren wurde netterweise per Kulanz die Rücknahme vom Kundendienst angeboten. Super Service. Zu dem Gerät können wir wenig sagen, da der Stepper nur einmal kurz getestet wurde.

Sehr kompetente,freundliche Beratung !

Gute fachlich kompetente Beratung Freundliche Mitarbeiter, angenehme Atmosphäre
Our experts in the Neu-Ulm shop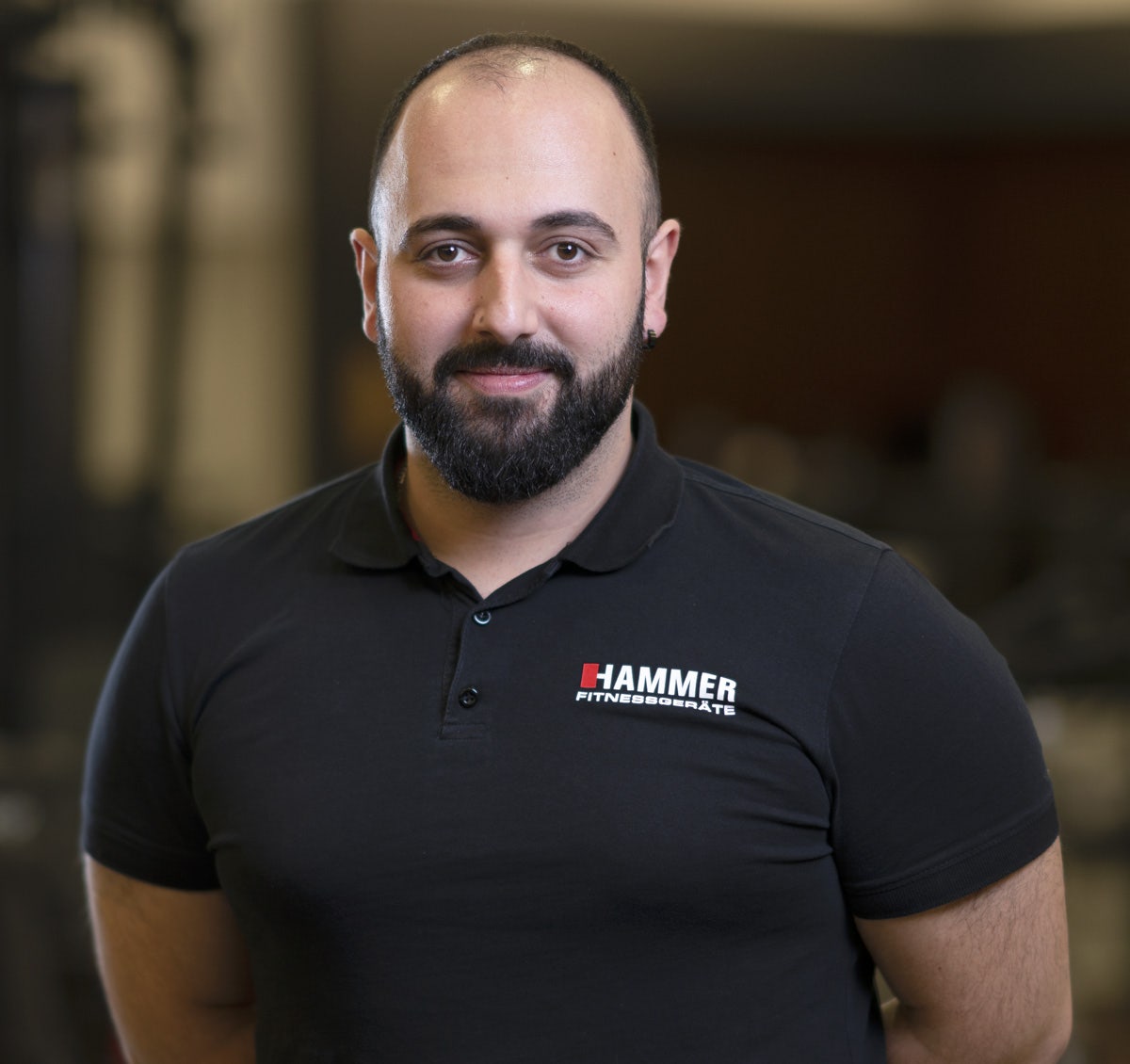 Ismail Kendirli
Deputy Store Manager
Fitness equipment for home use in Neu-Ulm
The HAMMER store in Ulm was opened as the first branch in 2010 directly in the vicinity of the company headquarters and has been your competent local fitness partner ever since. The HAMMER store in Neu-Ulm offers you a wide range of fitness equipment and wellness articles. In total, you will find over 600 different articles from the world of sports in manufacturer quality in our store. Test all the equipment on site and get detailed advice from our competent store team.
In the HAMMER store right next to the company headquarters in Neu-Ulm, you can buy at a good price and with good advice directly from the manufacturer and therefore enjoy both the manufacturer's expert advice and the unique manufacturer service.
Experience the world of home fitness at the HAMMER Store Neu-Ulm
Neu-Ulm is a sports-loving city that is home to numerous sports clubs. If you prefer home fitness, HAMMER is the right place for you! Try out all the fitness equipment in our store for yourself. The HAMMER SPORT AG brand world is diverse. There is a suitable piece of equipment for every training level. We will find the right equipment for you for every fitness goal!
Test our devices directly on site in Neu-Ulm
In the HAMMER Store Neu-Ulm you can get active yourself. Test every piece of equipment in detail! Whether it's a weight station, rowing machine or treadmill - you have a wide selection to choose from for a test workout. Our team in Neu-Ulm is always there to support you with tips. We will be happy to explain the optimal use of the equipment and show you how to adjust the equipment of your choice to your posture. This ensures that you can also train safely and effectively within your own four walls.
All units for immediate takeaway from the central warehouse
Have you found your favourite piece of equipment? In Neu-Ulm, you can take your fitness equipment home with you. Start training in your own four walls today.
Best service and competent advice directly from the manufacturer
Whether you want to buy sports nutrition, an ab trainer or a large weight station, our team at the HAMMER Store Neu-Ulm will advise you competently and in detail. Our sales team consists of trained fitness trainers and sports fans and will quickly find the perfect fitness equipment for your needs. Guarantee, best possible service and advice directly from the manufacturer - that's what we offer you at the HAMMER Store in Neu-Ulm. Buy affordable fitness equipment for your home and stay independent of wind and weather, gyms and opening hours. We look forward to welcoming you in Neu-Ulm!
The perfect fitness equipment - also for companies
We are also happy to advise companies that care about the health of their employees. For you and with you, we develop solutions that fit your needs exactly. We are also happy to visit your company in Neu-Ulm.
Buy Fitness Equipment for Home in Neu-Ulm
Payment methods
In our HAMMER Store Neu-Ulm you can pay as follows:
Cash
EC card
Visa
Mastercard
American Express
Santander hire purchase
in individual cases a bank transfer of the invoice amount is possible
Buy sling trainers, kettlebells and other sports accessories in Neu-Ulm
Sports nutrition and supplements round off the sports section. In addition to fitness, the HAMMER store in Neu-Ulm also attaches great importance to wellness and recovery after sports. A wide selection of massage chairs and infrared cabins ensure feel-good hours at home.
In addition to the brand-specific products of HAMMER SPORT AG, you will also find a large selection of small equipment and accessories in the Neu-Ulm store. These include, for example:
Fascia rollers
Training gloves
Sling trainer
Getting off to an uncomplicated start in the Ulm HAMMER Store
Are you curious and want to get active - in the comfort and time-saving comfort of your own home? We at the HAMMER Store Neu-Ulm are happy to help you realise your sporting plans and welcome you to our shop at Von-Liebig-Strasse 11 from Monday to Friday from 10:00 am to 7:00 pm. On Saturdays, we are there for you between 10:00 and 18:00 and are ready to help you with words and deeds! See you soon!