Gentle-body workout with a high fun factor
A cross trainer is the ideal fitness device for your endurance training at home. Different training programmes ensure a dynamic and varied workout. At the same time, training on the cross trainer is easy on the joints and trains the large muscle groups in the body. Training on the crosstrainer increases your endurance, burns fat effectively and makes your body fit and healthy. Start a joint-friendly endurance workout with your new crosstrainer.
Buy cross trainer online
Want to buy a cross trainer and train effectively at home? As one of the most popular pieces of cardio equipment, cross trainers offer a holistic workout for the entire body. Whether you want to improve your endurance , burn calories or simply stay fit, a high-quality cross trainer is the right choice. Exercising on a crosstrainer is also a good balance to a predominantly sedentary everyday life.
Shipping is free of charge - as the manufacturer, we take care of the shipping costs for you. Order simply & risk-free: If you don't like your machine, you can return it to us within 14 days and get your money back.
Effective training with the classic crosstrainer
The classic crosstrainer enables a movement that is easy on the joints and simulates jogging. Through the powerful use of the arms and leg work, many muscle groups are used, including legs, torso, shoulders, back and arms. This results in an effective full-body workout and builds endurance, strength and conditioning. With regular sessions on the cross trainer, you will quickly reach your fitness goals and feel fitter and healthier.
High-quality crosstrainers for a comfortable workout
When buying a crosstrainer, you should look for a high flywheel mass. A flywheel mass of 16 kg or more ensures smooth movement and a pleasant training experience. High-quality precision ball bearings guarantee maximum smoothness and durability of the machine. With a precise resistance setting and various training programmes, you can customise your workout and continuously improve.
What is a cross trainer and which muscles are trained?
Joint-gentle leg movement paired with powerful arm use - with this combination, the crosstrainer combines all the advantages of bicycle and treadmill training on just one piece of equipment. A crosstrainer imitates the motion sequence of jogging. With the crosstrainer you get your cardiovascular system and your fat metabolism going. Your entire musculature from the legs to the torso, shoulders, back and arm muscles is trained. A complete full-body workout including sustainable endurance training is guaranteed. Benefit from a healthier everyday life through better fitness and more performance.
What types of cross trainers are there and what are their advantages and disadvantages?
Not all cross trainers are the same. In our range of fitness equipment you will find many different versions and designs. In addition to the classic crosstrainers, there are also steppers, airwalkers and our Cardio Strider.
The round movement on our cross trainers such as the Loxon XTR BT or the Crosstech XTR . The CleverFold CF70 BT is ideal for smaller spaces. After training, it can be folded up for compact storage with a space saving of up to 50%.
The advantage of the Cross Steppers is the particularly intensive use of the gluteal muscles. A firm buttocks is guaranteed with regular sessions! Due to the flat stepping motion, training on a stepper is somewhat less gentle on the joints than on a conventional cross trainer.
A so-called airwalker like our Fly RX offers you a workout like on clouds and thus a remarkably smooth motion sequence.
Unique in its design is our Cardio Strider . This innovative piece of sports equipment is a kind of cross-trainer bicycle. Here you sit comfortably during the workout, just like on an exercise bike. Thanks to the gripper arms, you train your upper body at the same time.
Crosstrainer versus elliptical trainer - what is the difference?
The difference between a crosstrainer and a elliptical trainer category link is mainly in the placement of the flywheel. On the crosstrainer, the flywheel is behind the user, whereas on the elliptical trainer, the flywheel is in front. Both machines offer an effective and joint-friendly whole-body workout that also trains the upper body.
Who is the crosstrainer suitable for?
The crosstrainer is suitable for anyone who wants to improve their endurance and do a workout that is easy on the joints. Whether beginner or advanced, the crosstrainer offers a suitable difficulty level for every fitness level. Due to the guided motion sequence and the low risk of injury, physiotherapists and doctors also recommend the crosstrainer as a training device.
Right cross-trainer training for optimal results
To get the most out of your cross-trainer workout, it is important to maintain correct posture. Make sure your feet are straight on the treads and your hands are gripping at shoulder height. Keep your posture upright and tighten your abdominal muscles. Start your workout with a proper warm-up and then gradually increase the intensity and resistance. Also allow enough time for a cool-down at the end of your workout to improve your recovery ability.
The correct posture
Always start your endurance training for 5 to 10 minutes at a low intensity. The warm-up prepares the cardiovascular system and the muscles for the upcoming load. Then increase the resistance in a controlled manner. If you have a specific target heart rate, then increase the load until you have reached the set heart rate limit. After the workout is before the workout! That's why it's important to end every workout with a cool-down. Take at least 5 minutes to lower your intensity and heart rate. This will increase your ability to recover. Newcomers should train for 20 to 30 minutes on 2 to 3 days per week at the beginning. Experienced athletes can then gradually increase the frequency, duration and, in the last step, the intensity of the cross-trainer training.
The training schedule
Always start your endurance training for 5 to 10 minutes at a low intensity. The warm-up prepares the cardiovascular system and the muscles for the upcoming workout. Then increase the resistance in a controlled manner. If you have a specific target heart rate, then increase the load until you have reached the set heart rate limit. After the workout is before the workout! That's why it's important to end every workout with a cool-down. Take at least 5 minutes to lower your intensity and heart rate. This will increase your ability to recover. Newcomers should train for 20 to 30 minutes on 2 to 3 days per week at the beginning. Experienced athletes can then gradually increase the frequency, duration and, in the last step, the intensity of the cross-trainer training.
Motivating course programmes with your crosstrainer
With HAMMER Workouts you constantly have new and motivating courses with your crosstrainer. The perfect workout for everyone who wants to train effectively and stress-free at home. All in one place and without an additional subscription. Achieve your health goals now with over 100+ videos and our expert trainers from HAMMER Workouts.
Endurance training: How effective is training on the cross trainer?
The standing, upright training posture on the cross trainer has the advantage that, in contrast to seated endurance machines, more muscles are used. The active whole-body movement optimally challenges your cardiovascular system. This makes the cross trainer one of the most effective and at the same time most joint-friendly variants of endurance training.
What is the optimal heart rate when training with a cross trainer?
The optimal heart rate depends on your training goal and your individual requirements. For moderate beginner training, somewhat lower heart rates are sufficient. Professionals need to train more intensively in order to increase their performance. The following applies: The more trained you are, the better your cardiovascular system functions. It is always important to pay attention to your maximum heart rate. You can roughly calculate this with the following rule of thumb: 220-lifetime=maximum pulse. Based on this, you can then calculate corresponding heart rate ranges for different training effects. When training according to heart rate, you should always keep an eye on resting heart rate, maximum heart rate and the heart rate ranges. With the help of integrated hand pulse sensors on the handles, you can easily check your heart rate. For an even more accurate measurement, we recommend using a Arm- . So listen to your heart and reach your goals even faster!
Buyer's guide: Find the right Crosstrainer for you
When choosing a cross trainer, you should consider various factors, such as your fitness level, training frequency, special features such as Bluetooth or fitness programmes, maximum height and weight of the user, your budget and whether the cross trainer should be foldable. Think carefully about your requirements for your training device to find the right crosstrainer for you.
Exercising on a cross trainer is an effective way to improve your endurance, burn calories and improve your health. With a quality home cross trainer, you can work out comfortably and conveniently to achieve your fitness goals.
Our crosstrainer recommendation for beginners
If you are just getting into endurance training, then the Crosstech XTR or Cross-Motion BT with intuitive operation is exactly what you need. Intuitive training computers show you all the important workout parameters. So you always have an overview and can control your training in a targeted way.
After you have set a target pulse, the Crosstech XTR automatically adjusts the resistance when the frequency is exceeded. The design is also exceptionally ergonomic. Perfect for carefree and health-oriented fitness training.
The HAMMER Cross-Motion BT impresses with its technical details. Enjoy a training computer with a large computer display, Bluetooth connection, transport wheels and much more. With the help of modern fitness apps, your workout will be so exciting that you'll forget all about the effort. The magnetic brake system ensures even resistance and a quiet workout.
Our crosstrainer recommendation for higher fitness goals
For more demanding athletes we recommend our extensive FINNLO crosstrainers Loxon or Loxon XTR BT . The versatile equipment, which also meets high demands without any problems, should be emphasised.
The cross trainer's wide range of different fitness programmes Loxon and a wide load range are guaranteed to make anyone sweat. From downhill and uphill runs to interval units or fat-burn profiles, there's something here for all tastes.
The Loxon XTR BT is our "sports car" of the successful Loxon series. Precisely controlled fitness training from 20-400 watts, blue hi-tech computer display, 20 kg flywheel mass and eddy current brake technology of the highest quality distinguish this top class HA crosstrainer. The treads are also adjustable here and can therefore be adapted to any body size and stride length. The integrated fitness test shows your progress and makes success measurable.
Our crosstrainer recommendation for smaller flats
You don't have much space but still don't want to miss out on your full-body workout. Then opt for the foldable crosstrainer. The FINNLO CleverFold CF70 BT can be folded in no time thanks to the quick-fold technology and can be stored in a space-saving way after training. In addition to a stable construction, the FINNLO CF70 BT is characterised by Bluetooth connection and multimedia entertainment. With varied training programmes, you can adjust the resistance individually.
What should I look for when buying a cross trainer?
When buying a cross trainer, there are some parameters you should know about. Depending on individual preferences, certain parameters can then be weighted more or less heavily.
The flywheel mass
The flywheel mass and the ball bearing of the crosstrainer are decisive for a pleasant rotation. A particularly smooth movement is achieved when the so-called reversal point is overcome with as little effort as possible. This is the case with a flywheel of 16 kg or more. Premium crosstrainers with an even higher flywheel mass offer you a unique feeling of training on clouds. However, the smooth running also depends on other factors such as the ball bearing. Crosstrainers with a slightly lower flywheel mass also offer great movement dynamics if the other parameters are right.
High-quality precision ball bearings guarantee maximum smoothness and a long service life of the device even with frequent use. Less expensive crosstrainer variants are equipped with simpler metal or plastic bushings on the pivot axles. These bushings also serve their purpose.
The braking system and resistance adjustment
How precisely you can adjust the resistance varies depending on the model. If it is important for you to train at a specific wattage, look for the DIN EN 957-1/9 classification. Only crosstrainers with very precise and speed-independent power control fall into this higher class. These crosstrainers with eddy current or induction brakes have particularly fine resistance adjustment. With the magnetic brake system, the flywheel is braked by a permanent magnet. The desired resistance is controlled with the help of the wattage values on the training computer. You should therefore think about how finely you want to adjust and change your level of difficulty.
Stride length
In order to train healthily in the long term, the ergonomics of the cross trainer should fit your body proportions. The length of an elliptical movement on a crosstrainer is called stride length. The longer the stride length is in proportion to the step height, the easier it is on the joints. Taller people need a correspondingly longer stride length. If you share the crosstrainer with several athletes, you should always use the measurements of the tallest person as a guide.
The distance between the step plates
The distance between the two footplates is an important criterion for good ergonomics. Therefore, make sure that the distance between the tread plates is small. With the FINNLO Loxon series, for example, this distance is only 16 cm. This guarantees a particularly hip-friendly endurance training. All crosstrainers from HAMMER or FINNLO have smaller step plate distances than most standard crosstrainers available on the market.
Test a crosstrainer live in the HAMMER Store
What's special about a crosstrainer and what are its advantages and disadvantages? Find out during a visit to one of our HAMMER stores. Test our products live on site, experience our brand world and benefit from our special models and store promotions.
The Cross trainer Expert Phone
What are you waiting for? Start your training on the cross trainer and experience the benefits of an effective whole-body workout in your own four walls. Buy your crosstrainer online now and benefit from the many advantages this versatile piece of exercise equipment has to offer. You are not sure which crosstrainer suits you best? Our team of experts will be happy to advise you in detail on our service phone. Our fitness trainers are experts in all questions concerning fitness, training and nutrition.
HAMMER expert telephone: 0731 974 88-518 (Mon. - Sat. 9 am - 7 pm). We will also be happy to call you back!
We take time for you! Your long-term satisfaction with your fitness equipment is HAMMER's top priority. We look forward to your call and are sure to find the right cross trainer, exercise bike or ergometer , treadmill , stepper or strength station for you at home. Get started and let your resolutions and fitness goals finally become reality.
FAQ
Is the crosstrainer useful for home use?

The crosstrainer is an ideal home trainer if you want to exercise regularly and easily at home and increase your performance.

What are the effects of training on the cross trainer?

Regular sessions on the full-body machine help you to increase your endurance, improve your fat metabolism, strengthen your leg muscles and increase your fitness in everyday life.

Is the cross trainer suitable for weight loss?

If you want to effectively reduce your body fat percentage, then the crosstrainer is exactly the right machine for you. By using all the major muscle groups you will achieve a very high calorie consumption depending on the selected resistance and workout duration.

Can I train on the cross trainer when pregnant?

If you are pregnant, please check with your doctor whether you are allowed to exercise on the cross trainer. Due to the full-body movement, the level of exertion is significantly higher than on a bicycle ergometer, for example.

Can I train on the cross trainer if I have joint problems or after an injury?

The rule is: only exercise in a comfortable range. If your doctor gives you the GO for workouts on the cross trainer, then there is nothing to stop you from doing moderate amounts of exercise. Compared to a treadmill, a cross trainer puts much less strain on your joints.

Treadmill or crosstrainer - how do the space requirements of the machines compare?

Both a cross trainer and a treadmill are quite large fitness machines for home use. The exact dimensions depend on the model. However, cross trainers tend to be a little shorter, but slightly taller than treadmills. If you have limited space, simply opt for a folding machine.

Cross trainer versus rower - which machines are recommended?

The big advantage of rowing machines and cross trainers is the continuous whole-body movement. This perfectly counteracts a sedentary everyday life and ensures better spinal health. With a rowing machine you can train your back in a more targeted way. A cross trainer, on the other hand, offers you the possibility of a more intensive leg workout.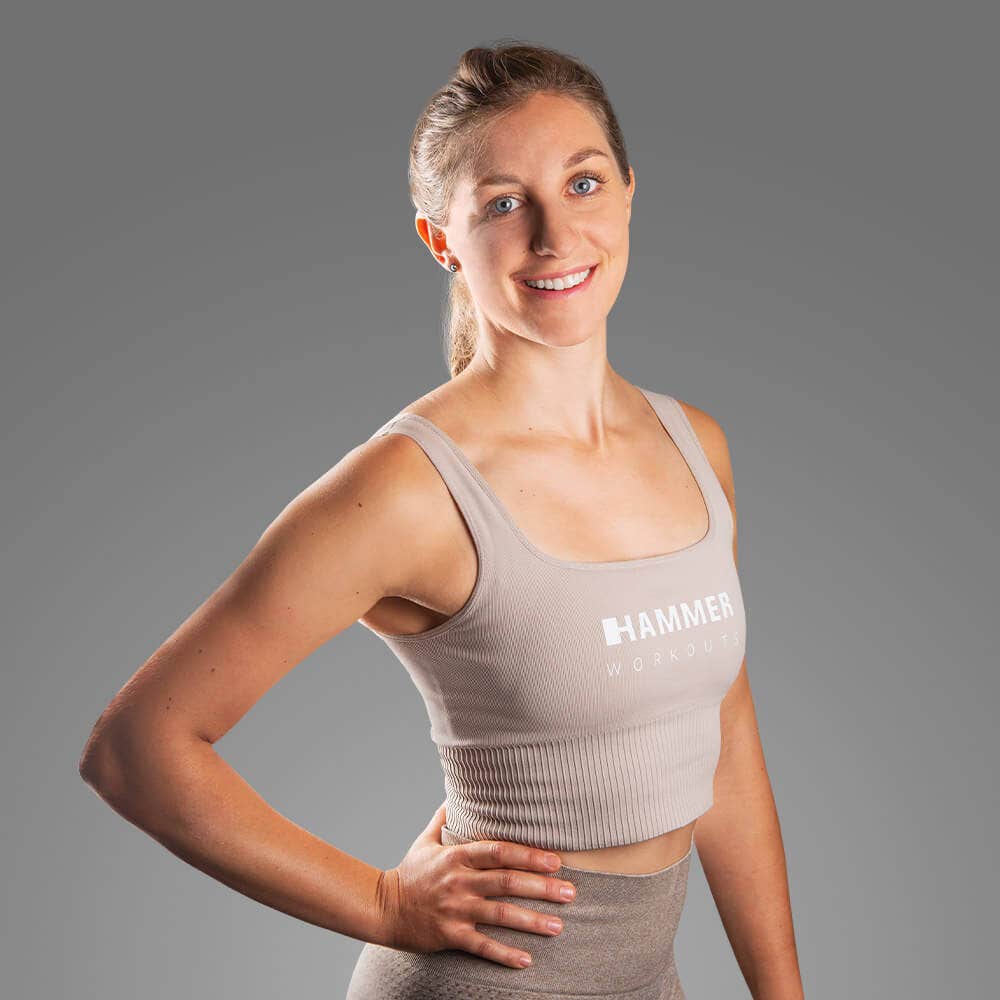 Valentina Bahl
Sports therapist, personal trainer, B. Sc. nutrition management and dietetics, M. Sc. clinical sports therapy and sports physiology