Work Time Today:
10:00 - 19:00
Experience our best products live
We look forward to welcoming you personally to our HAMMER store. Here you will find a wide range of fitness equipment for your home, which you can of course test on site. Our HAMMER experts will advise you personally and individually, answer all your questions and are happy to help you before, during and after your visit.
Once you have chosen your perfect piece of fitness equipment, you can take it home with you or have it delivered and assembled by us.
Experiences
Test training apps
Experience the wide range of our digital offer for free in your local store. Train live tracks with the Kinomap training app and Zwift on the Crosstrainer , Speedbike , Ergometer or Treadmill or let our experienced coaches inspire you with HAMMER Workouts and really power you up.
Discover our digital training apps like Kinomapp, Zwift & HAMMER Workouts for free in your store now.
Customer reviews
Our latest reviews
Sehr gute und freundliche Beratung.

Wir haben uns heute persönlich beraten lassen. Beim ausprobieren der Geräte wurde alles super erkärt. Top Verkäufer. Ich kann auf jeden Fall weiterempfehlen.

Sehr gut sortiertes Fachgeschäft für Fitness und Sportgeräte ✨️Sowohl für Kraft als auch für Ausdauer.Passendes Zubehör ist auch spontan verfügbar.Top Addresse????
Expert Team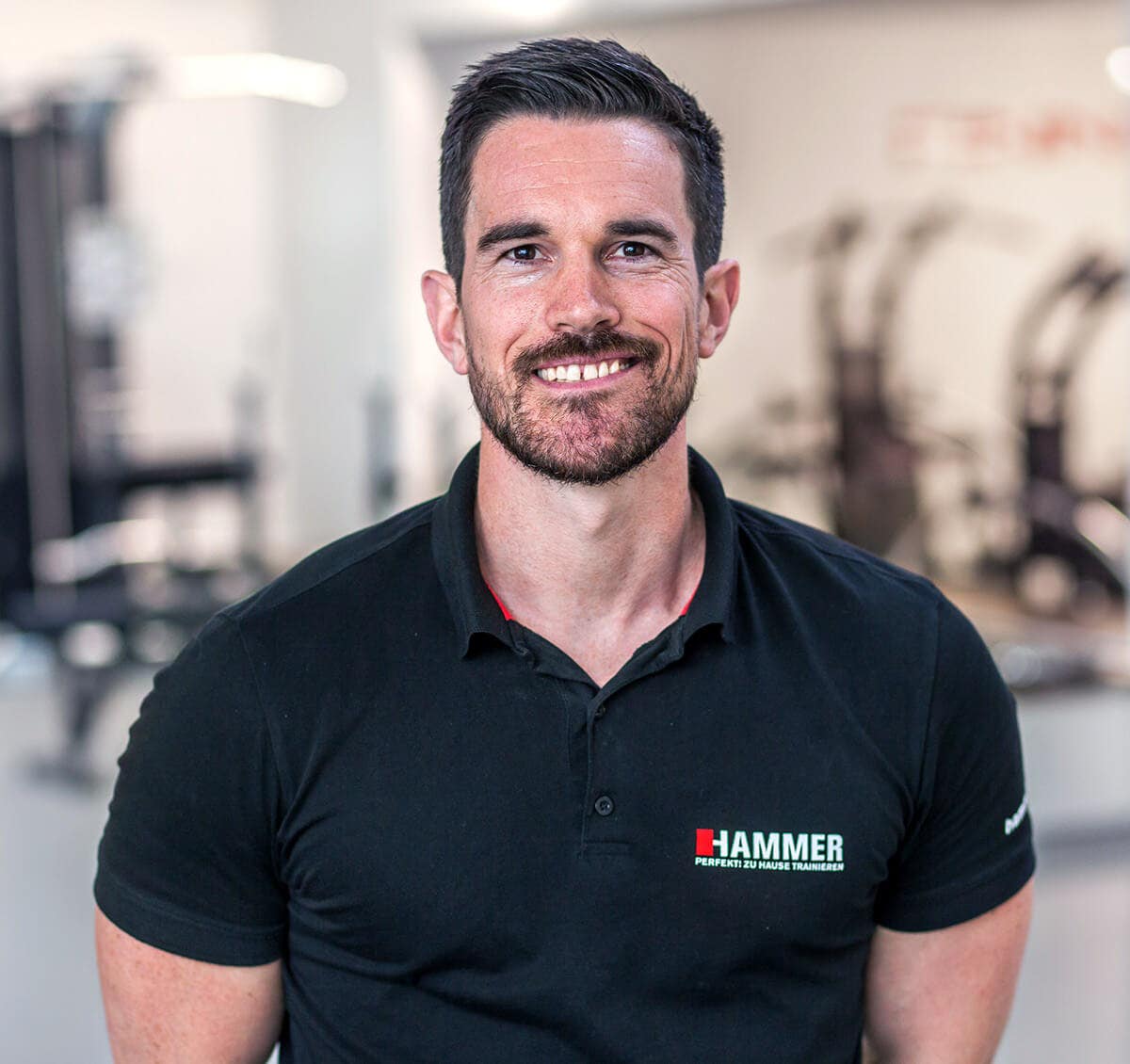 Christian Ramb Regional Manager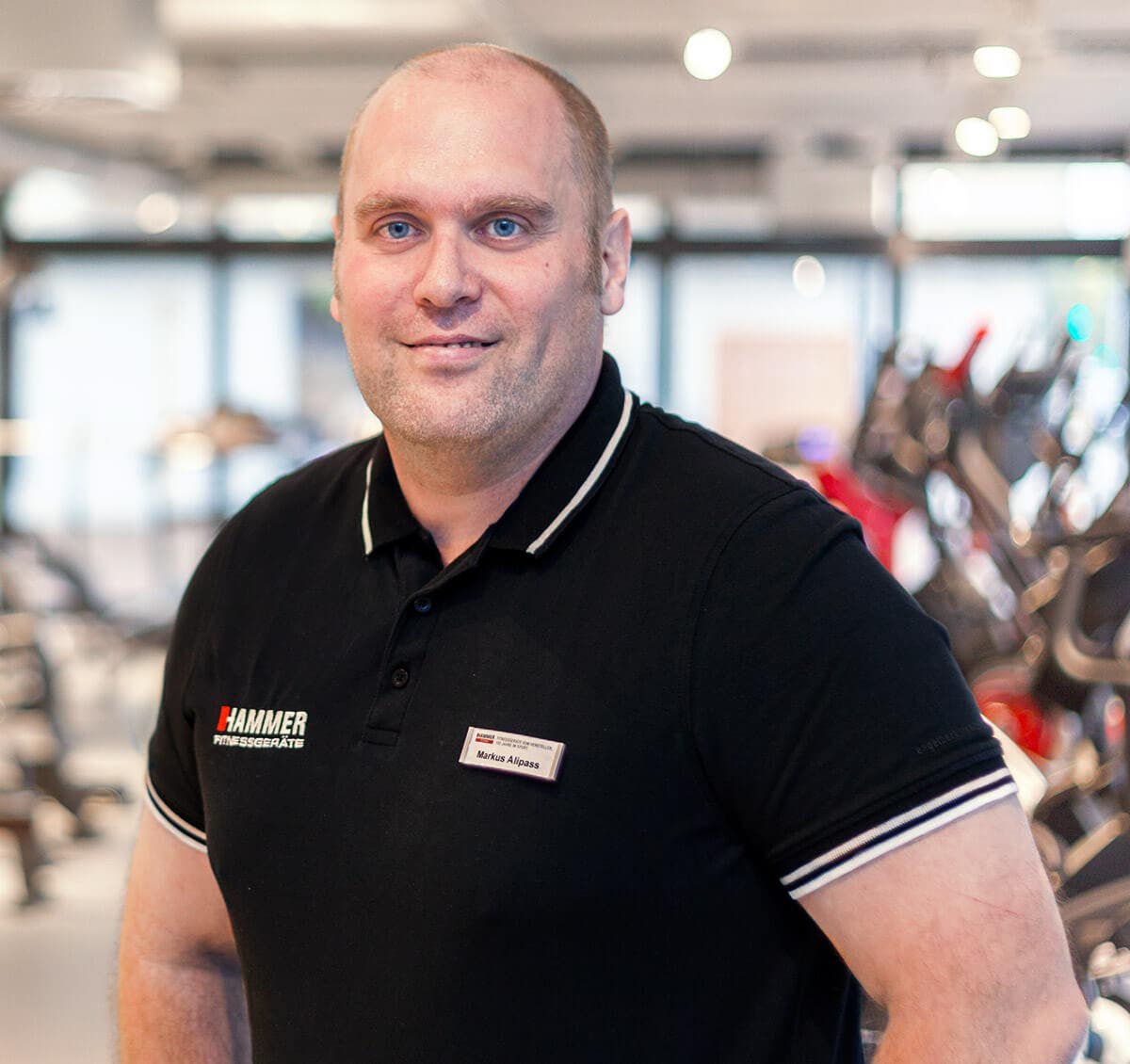 Markus Alipaß Store Manager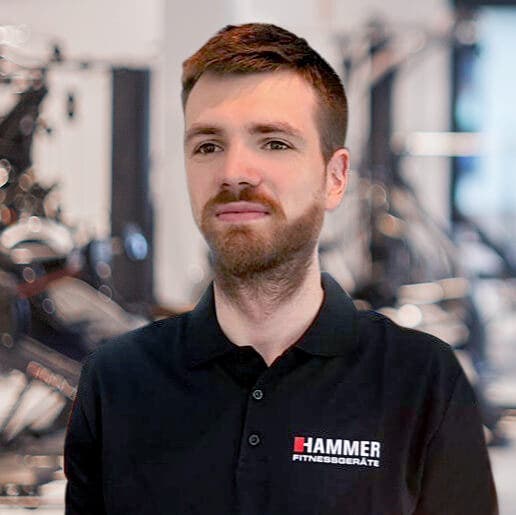 Marvin Kalischko Sales consultant
Payment methods
Cash
EC card
Visa
Mastercard
American Express
Santander hire purchase
in individual cases a bank transfer of the invoice amount is possible
Buy fitness equipment in Essen - now to the HAMMER Store!
The HAMMER store is waiting for you in the middle of Essen's city centre on Friedrich-Ebert-Straße. Only a few minutes' walk from Berliner Platz, you can reach us easily by underground or S-Bahn. If you're coming by car, the underground car park right next door offers perfect parking. In the HAMMER store itself, you will not only find a wide range of high-quality training equipment. Our competent staff will cater to your individual requirements and (training) wishes. And whether you want to buy a weight station or a treadmill - of course you can also try out the fitness equipment beforehand!
From endurance to strength to boxing - a wide range of offers in the centre of Essen
If you don't fancy crowded gyms, you'll find the perfect training equipment for your own "home gym" in the HAMMER Store:
Cardio: Don't feel like jogging in the rain? With our treadmills you can do your laps in the comfort of your own home - and preset training programmes are included for free. Alternatively, a cross trainer or rowing machine ensure that the upper body doesn't miss out on endurance training either.
Strength: Power stations are particularly suitable for your own four walls. You can do more than 100 exercises on most machines. You can train all muscle groups. That's not enough for you? We also offer free weights, squat racks and everything else your heart desires.
Boxing: Boxing and fitness sports can be perfectly combined. In addition to the classic punching bag, you can also find gloves, bandages and skipping ropes in the store.
Advice is the be-all and end-all
In the store in Essen, you don't just buy any fitness equipment, but exactly the product that suits you. We give you comprehensive advice:
What are your training goals?
What is your previous level of experience and fitness?
Do you have any particular "problem areas"?
Do you have any specific health problems?
All of our staff members have a background in sports or even competitive sports and respond to your individual needs. You are also welcome to bring your sports gear with you and try out individual pieces of equipment. The trainers will give you direct instructions and show you what is important for certain exercises. This not only increases the training effect, but also protects your joints.
Buy fitness equipment in Essen - the HAMMER STORE
On 300 square metres you will find all products of the brand HAMMER SPORT. Precisely tailored to your training goals and fitness level.
Buy fitness equipment for your home in Essen
Despite advice, you are still not sure whether the fitness equipment on offer really suits you? No problem, get active yourself and try out the equipment as you wish. After your work is done, we will of course provide you with a refreshing drink.
Perfect fitness equipment in Essen - also for companies
The health of employees is a factor that is becoming increasingly important for many companies. It has been proven that people who exercise have fewer days of absence due to illness - and are also more balanced. We advise companies on how they can efficiently invest in the health of their employees. We would also be happy to come directly to your office in Essen and show you the possibilities that sport offers:
Motivation: Nothing connects people more than sport: whether together on the south side or in the company's own gym is irrelevant. You get to talk to each other and that strengthens team cohesion.
Health: Sport has a positive influence on (almost) all physical conditions. Sick days can be significantly reduced in the long run if your employees do sport. Even the famous neck tensions are noticeably loosened by endurance and fitness training.
What are you waiting for? Visit us in Essen!
Are you curious? Then we cordially invite you to visit us at Friedrich-Ebert-Straße 55 in Essen. Our trained advisors are there for you from Monday to Saturday. You are guaranteed to find the fitness equipment that suits you best!
Two parking spaces are available behind the store. You will find further parking spaces in the vicinity. For loading and unloading, you can stop directly in front of the store.