Healthy fitness - get in shape fast
An exercise bike or home trainer is a classic for endurance training and gets you in shape, increases your performance and strengthens your leg muscles. An exercise bike is an ideal piece of fitness equipment to start exercising at home and is perfect for light endurance training at home. Exercising on an exercise bike also improves your cardiovascular system and can be stored in a space-saving way after training. Find your perfect exercise bike and train your endurance at home.
Buy an exercise bike
A home trainer or exercise bike is a great solution if you want to get fit from home. Having your own fitness bike at home means that from now on you can work out whenever you want and as often as you want. You'll reach your fitness goals much faster and easier! Different training programmes ensure a varied home workout so that you are constantly motivated. Regular training on the exercise bike is effective, fun and improves the cardiovascular system - so you stay fit and vital! Some of our exercise bikes have transport wheels so that you can put the device aside after training to save space.
Your HAMMER advantages:
Free delivery: We take over the shipping costs for you
Easy & risk-free ordering: you can return your exercise bike to us within 14 days
What is an exercise bike?
The exercise bike, also called a home trainer or bicycle trainer, is known as a typical "fitness bike". It is one of the most popular pieces of equipment for home fitness and, like the cross trainer and the stepper, is one of the classics of endurance sports. An exercise bike enables typical endurance training on a bicycle within your own 4 walls. The ease of use and the uncomplicated motion sequence make the fitness bike the perfect beginner's machine. Regular use of the exercise bike improves endurance and strengthens the leg muscles. An exercise bike with adjustable wattage, on the other hand, is called an Ergometer .
Are there differences between exercise bikes and ergometers?
An ergometer has a wattage function and can therefore measure power accurately. Usually, this device gives you more precise information about calorie consumption, load, etc. In contrast to an ergometer, an exercise bike does not have this function, but it is usually much cheaper and therefore ideal for beginners in endurance training.
Why an exercise bike?
The classic cycle trainer is ideal for achieving a wide range of training goals: Reducing weight, cardiovascular training or building basic endurance or fitness. The exercise bike can also be used as a warm-up device before other sports units and exercises. This way you can keep moving, burn calories and increase your fitness and well-being at the same time - at any time and in any weather.
The exercise bike is a fitness device with the most important basic functions for a demanding workout. Here, the focus is on the actual bike training. Thanks to the simple and intuitive operation of the computer, training on the fitness bike can be started directly.
Who are exercise bikes suitable for?
Beginners to exercise in particular will do very well with exercise bikes. No extensive instruction is necessary to get to grips with the functions of this machine. The resistance on the exercise bike can always be adjusted in stages and you can easily determine the intensity of your workout. This makes it easy to find the right level of difficulty for every training level.
Advanced exercisers who want to be able to start immediately will also appreciate the advantages of an exercise bike. Hardly any presettings are necessary to start training on the exercise bike. A short time or distance entry is usually enough. The resistance is optionally increased and decreased during the workout.
What are the benefits of exercising on an exercise bike at home?
Keeping fit in terms of health and sport is becoming more and more a way of life for people and something they take for granted every day. The genius of regular workouts on exercise bikes: the positive effects are immediately noticeable and you automatically get more energy for everyday life.
Basically, it is important to do every workout regularly and consistently. However, even one 30-minute training session per week on the exercise bike can bring about a visible increase in endurance performance for beginners. However, we always recommend that you plan a 30-minute endurance session at least twice a week.
Training on an exercise bike is one thing above all - endurance training. Regular endurance training has numerous effects on the body. In particular, it strengthens the heart muscle, but the muscles in the lower body are also strengthened with every training session. You feel fitter overall and everyday tasks are easier to accomplish. Be it the normal shopping or climbing the stairs in the office. You'll notice that you don't get out of breath as quickly due to improved fitness.
In addition to the cardiovascular training, the workout on the exercise bike also works the leg muscles. The thigh, buttock and calf muscles in particular are strengthened during cycling. In addition, the torso muscles of the abdomen and back, which stabilise the body and also cushion vibrations, are strengthened, as are the shoulder-arm muscles that support the body on the handlebars of the exercise bike.
Muscles that are used through regular activity not only look firmer on the outside, but also have a "protective and supportive" effect on the skeletal system. Besides, cycling is one of the most joint-friendly forms of exercise there is. 70 to 80 percent of the body weight is supported in the saddle. This puts much less strain on the knee joints when cycling than when jogging, for example.
What should you look out for when buying an exercise bike?
First of all, you should be clear about your training goals, wishes and price expectations. What functions are important to you in an exercise bike? How often and how intensively do you want to train on the exercise bike? Should the exercise bike be foldable? Are you looking for a mini exercise bike to start with? Once these basic questions have been answered, there are a few features that are particularly important when buying an exercise bike.
Flywheel mass
Braking system
Training computer
Adjustment options
Flywheel mass
The flywheel mass is decisive for the quality of movement and the smooth running of an exercise bike. However, the flywheel mass alone is not decisive for a smooth workout. The exercise bike should also be equipped with ball bearings.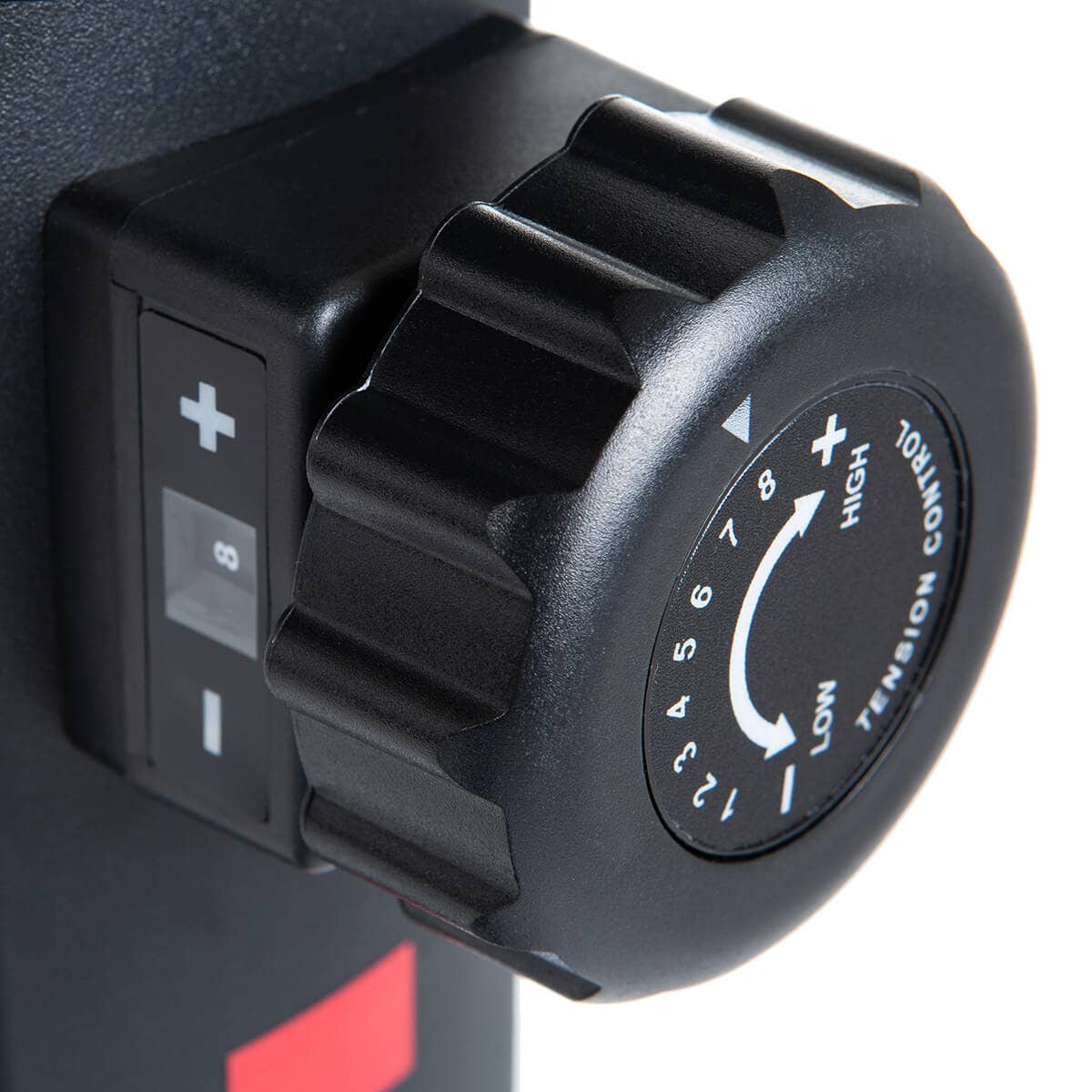 Braking system
The braking system is responsible for the training resistance. In order to generate this resistance, the flywheel is braked. Our HAMMER brand exercise bikes all have a magnetic braking system. These are above all very quiet. The magnetic brake system is only distinguished between a manual and a motor-controlled magnetic brake. The manual brake system is, as the name suggests, controlled by hand. The resistance can be adjusted to different levels using a knob. With the motor-controlled magnetic brake, the resistance can be adjusted via the training computer. Since the computer regulates this magnetic brake system, preset programmes, such as interval training sessions, can also be carried out here.
Training computer
The training computer of an exercise bike is usually very easy to use and self-explanatory. The display usually shows the most important values. The following values are important for optimal training control:
Time
Speed
Distance
Pulse
Calories
Some exercise bikes, such as the HAMMER Ergometer Cardio XT6 have preset programmes, including heart rate programmes. With pulse-controlled training, you can set your personal upper pulse limit, which you do not want to exceed. The heart rate of the exercise bike is measured by built-in hand sensors.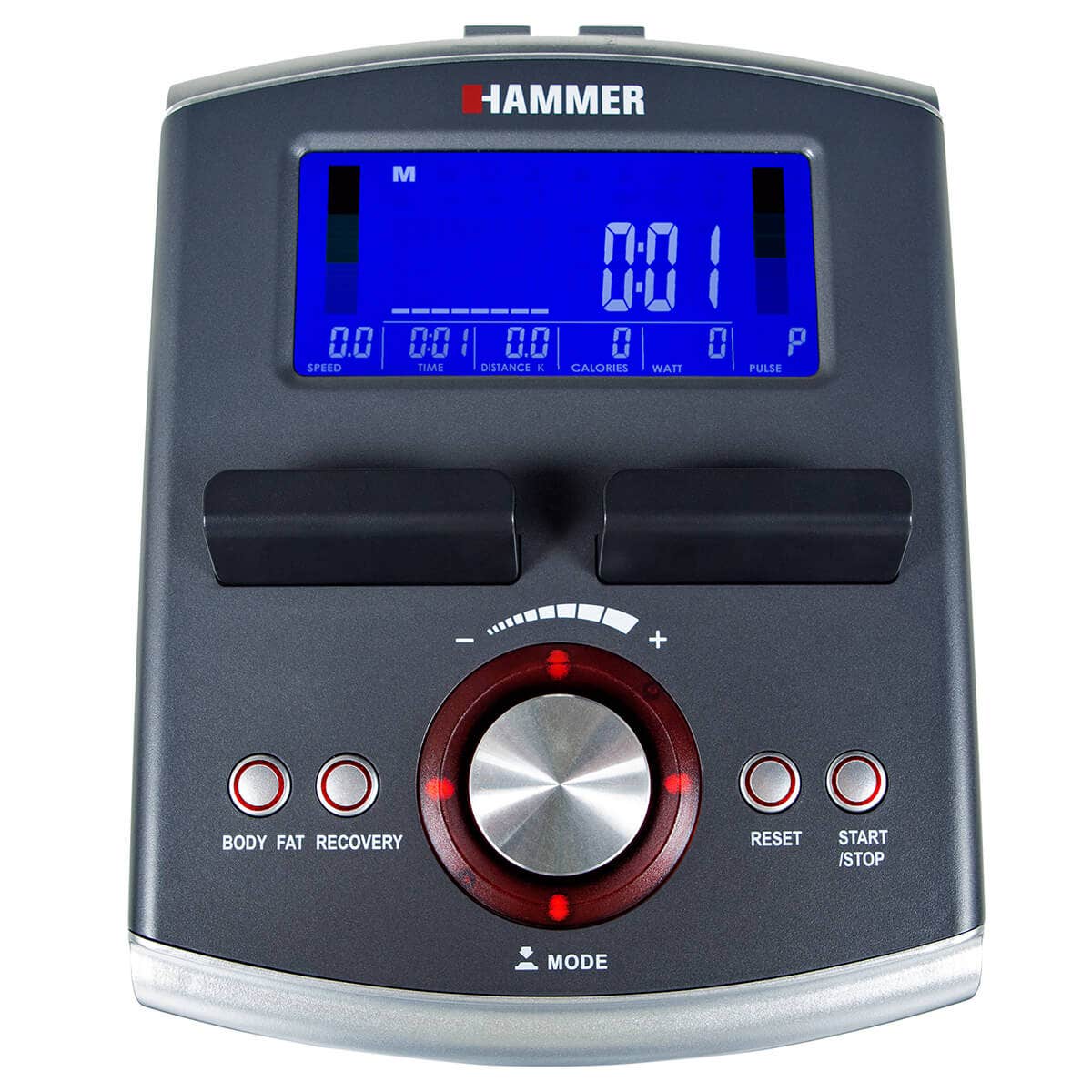 When buying an exercise bike, make sure you have the right adjustment options. The height of the seat should be adjustable to your height. In the best case, the seat of the exercise bike can also be adjusted in the inclination.
Furthermore, it is advantageous to place a mat under the exercise bike. The floor protection mat protects your floor and also serves to dampen noise. Wooden-look floor mats also adapt to your floor so that it feels pleasant to live on.
If the exercise bike is foldable, like our HAMMER RC5 seated exercise bike, the storage of the fitness equipment is particularly space-saving. It can be stored next to the cupboard or in the corner with a space saving of 50%.
Test the exercise bike yourself
The decision has been made and you want to buy an exercise bike? Convince yourself of the quality of our HAMMER exercise bikes. You are welcome to visit our HAMMER stores. Try out all the fitness equipment for yourself, whether Exercise bikes , Crosstrainer , Stepper or many other fitness equipment, and get detailed and competent advice. Our fitness experts will take time for you in a pleasant atmosphere so that you can quickly and easily find the right fitness equipment for you.
HAMMER expert advice - we help you with your purchase decision
Our service team consists of state-certified fitness trainers and experienced product advisors. We at HAMMER love and live fitness. We know what we are talking about. Fitness, training and nutrition - we know our stuff and are happy to take time for you. Even after the purchase of your exercise bike, of course. We look forward to your call: +49731 974 88-518.