Work Time Today:
10:00 - 18:00
Experience our best products live
We look forward to welcoming you personally to our HAMMER store. You will find many different fitness equipment for your home, which you can of course test extensively on site. Our HAMMER experts will advise you personally and individually, answer all your questions and are happy to help you before, during and after your visit.
Once you have chosen your perfect piece of fitness equipment, you can take it home with you or have it delivered and assembled by us.
Experiences
Test training apps
Experience the wide range of our digital offer for free in your local store. Train live tracks with the Kinomap training app and Zwift on the Crosstrainer , Speedbike , Ergometer or Treadmill or let our experienced coaches inspire you with HAMMER Workouts and really power you up.
Discover our digital training apps like Kinomapp, Zwift & HAMMER Workouts for free in your store now.
Customer reviews
Our latest reviews
Eine tolle Beratung im Hammer-Store bei Fitness Geräten , beim Aufbau der Finnlo 600 die Super Überraschung es sind alle Teile separat verpackt und schritt für Schritt beschriftet und im Aufbauvideo genau gezeigt ! Absolut entspannt und einfach zum aufbauen

Nettes Personal, gute Beratung!

Großes Kompliment an Herrn Zampach für die freundliche, sympathische, fachlich kompetente und zielführende Beratung für ein Rudergerät. Praktische Erläuterungen an diversen Geräten vor Ort, zu Vor- und Nachteilen und den unterschiedlichen Preisen - bei Herrn Zampach fühlte man sich als Kunde jederzeit gut aufgehoben. Genau so gewinnt man erfolgreich zufriedene Kunden! Lieferung mit Aufbau ebenfalls perfekt. Weiter so mit solchem Personal.
Expert Team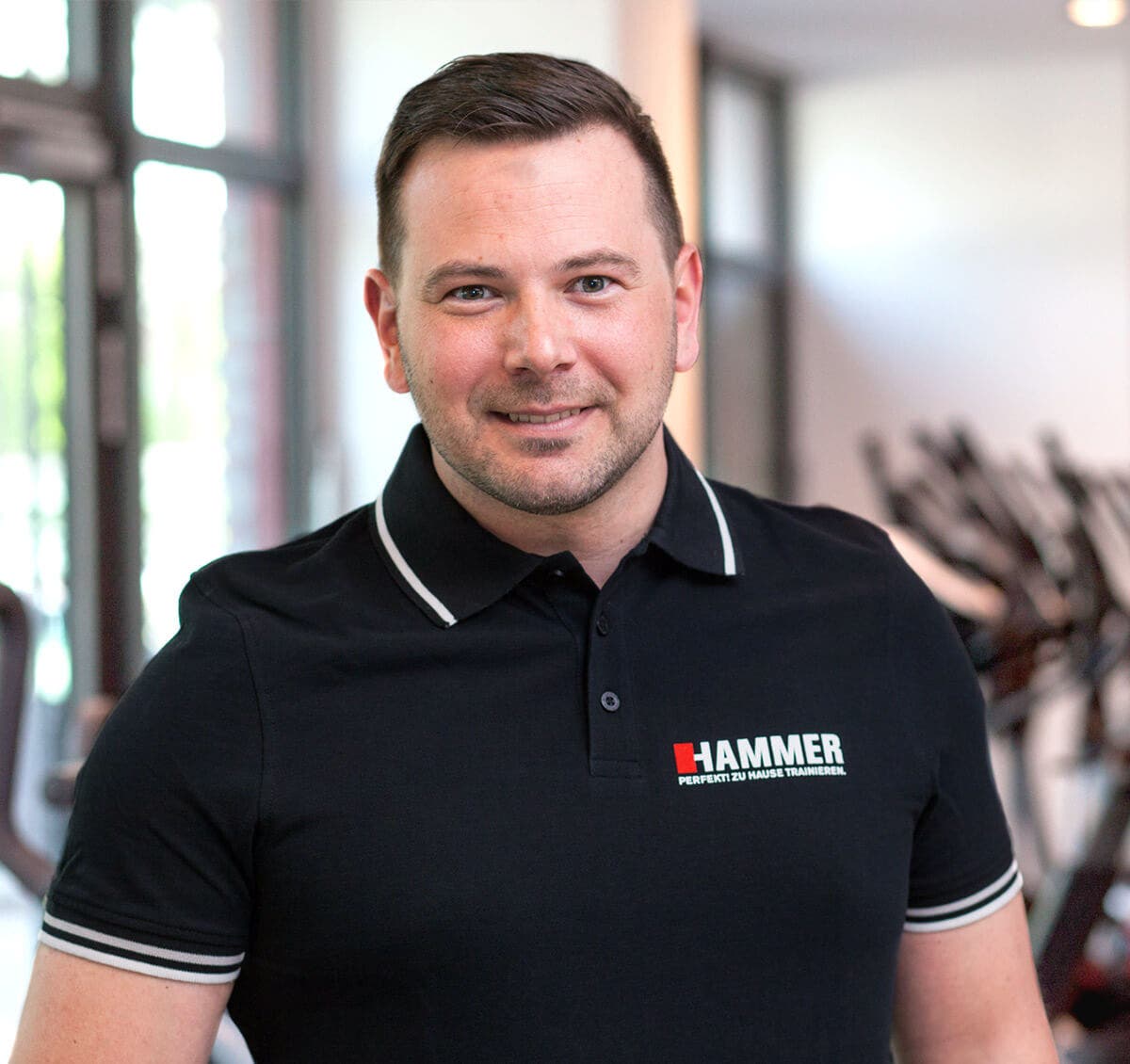 Falko Kremer Store manager
Payment methods
Cash
EC card
Visa
Mastercard
American Express
Santander hire purchase
in individual cases a bank transfer of the invoice amount is possible
Fitness equipment for home use in Wiesbaden
HAMMER makes Wiesbaden fit. The Hessian capital is not only home to several successful sports clubs, but now also to a HAMMER store. On 300 square metres you will find everything a sportsman's heart desires in the HAMMER Store Wiesbaden. From cross trainers and weight stations to weight benches - experience the world of home fitness close to you and see for yourself the selection of modern fitness equipment directly from the manufacturer.
Experience the world of home fitness at the HAMMER Store Wiesbaden
On 300 square metres, products from the entire HAMMER SPORT AG brand world, suitable for all training goals and fitness levels, can be tried out and tested. High-quality sports equipment in an attractive design and well thought-out in its handling and construction have been our strengths for a century and the experience that HAMMER has been able to gain over that time is also reflected in the company's brands. In the Wiesbaden store you will find products from the following brands:
HAMMER
FINNLO by HAMMER
FINNLO MAXIMUM by HAMMER
HAMMER BOXING
FinnSpa
SOLE by HAMMER
INSPIRE by HAMMER
Test our equipment directly on site
In the HAMMER STORE Wiesbaden you can not only buy fitness equipment, but also experience the variety of sports in your own four walls! A varied exhibition awaits you here, just waiting to be tried and tested.
So bring your sports gear and have a go on our Crosstrainers , Ergometers , Rowing machines or one of our many Gym . Of course, you only start training after a thorough introduction, so that even beginners can train safely and effectively.
Cosy atmosphere, competent advice
The team in Wiesbaden will give you the best possible advice, set up the equipment correctly and ensure that the exercises are carried out safely. After extensive testing, we are happy to offer you a thirst-quenching drink or a coffee.
If you are still unsure about choosing the right training equipment or perhaps have no idea what suits you, the HAMMER Store Wiesbaden is the right place for you. The fitness enthusiastic and sporty team on site will help you find the ideal fitness equipment. The long-term motivation to keep at it, not to lose the fun of training and to stay healthy and fit in the long term - the team from Wiesbaden is there to advise and motivate you to achieve these goals.
Are you looking for suitable sports equipment for rehabilitation? Or would you like to train your joints gently as a preventative measure to stay fit at an older age? Our team in Wiesbaden is also the right contact for you and your rehab. Whether ergometer, cross trainer or elliptical trainer.
The perfect fitness equipment - also for companies
Of course, we also advise companies. After all, the health of employees is a decisive factor for more and more companies - not only when it comes to reducing absenteeism. In terms of employer attractiveness, health and fitness offers have also become practically indispensable.
A diverse exhibition - more than just buying fitness equipment
In the premises of our Wiesbaden branch, we show you in our extensive and spacious exhibition area that HAMMER has much more than just fitness equipment in store for you. Here you can find every imaginable product you need for a successful home workout.
Strength athletes will be pleased with the various strength equipment, from weights and weight benches to compact power stations. In the endurance equipment segment, our range is particularly extensive and includes, among others:
Strength equipment: weight stations, dumbbells and weight benches, as well as accessories
Cardio equipment: treadmills, cross trainers, indoor cycles, ergometers and rowing machines
Fitness equipment: ab trainers and back trainers as well as various small equipment and accessories for fitness sports
Wellness products: for relaxation after training
Would you like to visit the HAMMER Store in Wiesbaden?
Are you curious and would like to take the first step towards a more sporty life? Our team at the HAMMER Store Wiesbaden will be happy to support you. Visit us at Bahnhofstraße 67, always on weekdays from 10:00 to 19:00 and on Saturdays from 10:00 to 18:00.
There is a loading zone directly behind our HAMMER STORE Wiesbaden, where you can park your car for a short time for loading. For your visit to our HAMMER STORE, you can use the parking spaces along Bahnhofstraße.