HAMMER Store Düsseldorf
Contact
Graf-Adolf-Straße 12
40212 Düsseldorf
If you come by car, you can park for one hour free of charge in the Kö multi-storey car park, Talstraße 1. We will be happy to validate your parking card. The Crown multi-storey car park is located at Berliner Allee 52.
Experience our best products live
We look forward to welcoming you personally to our HAMMER store. You will find a wide range of fitness equipment for your home, which you can of course test on site. Our HAMMER experts will advise you personally and individually, answer all your questions and are happy to help you before, during and after your visit.
As soon as you have chosen your perfect fitness equipment, you can take it home or have it delivered and assembled by us.
Our latest reviews
Sehr kompetent und freundlich. Gerne wieder.

Wir haben uns Anfang des Jahres die FT2 von Inspire bei Hammer in Düsseldorf gekauft. Die Beratung war, wie der Name schon nahelegt, der Hammer. Wir konnten die unterschiedliche Geräte ausprobieren und haben eine erstklassige Beratung bekommen. Das Gerät wurde dann wie vereinbart innerhalb von 2 Wochen geliefert und aufgebaut. Es verlief alles reibungslos und zu unserer vollsten Zufriedenheit. Nach 2 Monaten Benutzung sind wir sehr, sehr zufrieden mit dem Gerät. Die Qualität ist spitze, wie im Fitnessstudio und in der Beratung beschrieben. Wir können die Anschaffung dieses Fitnessgeräts nur wärmstens empfehlen. Man spart sich den Weg ins Fitnessstudio, es gibt keine Ausrede mehr wegen schlechten Wetters oder zu wenig Zeit. Es ist super praktisch, so ein Gerät zu Hause zu haben, wenn man den Platz hat. Man kann ganz individuell und regelmäßig trainieren, egal zu welcher Zeit. Man spart sich An- und Abreise zum Fitnessstudio und kann es zu jeder Zeit zwischendurch einplanen, super praktisch. Fazit: Wir sind mehr als zufrieden, super Kaufentscheidung und Hammer in Düsseldorf ist genial. Klare Kaufempfehlung.

Viel Auswahl im Laden,nur leider nicht das was ich mir ausgesucht habe
Our experts in the Düsseldorf store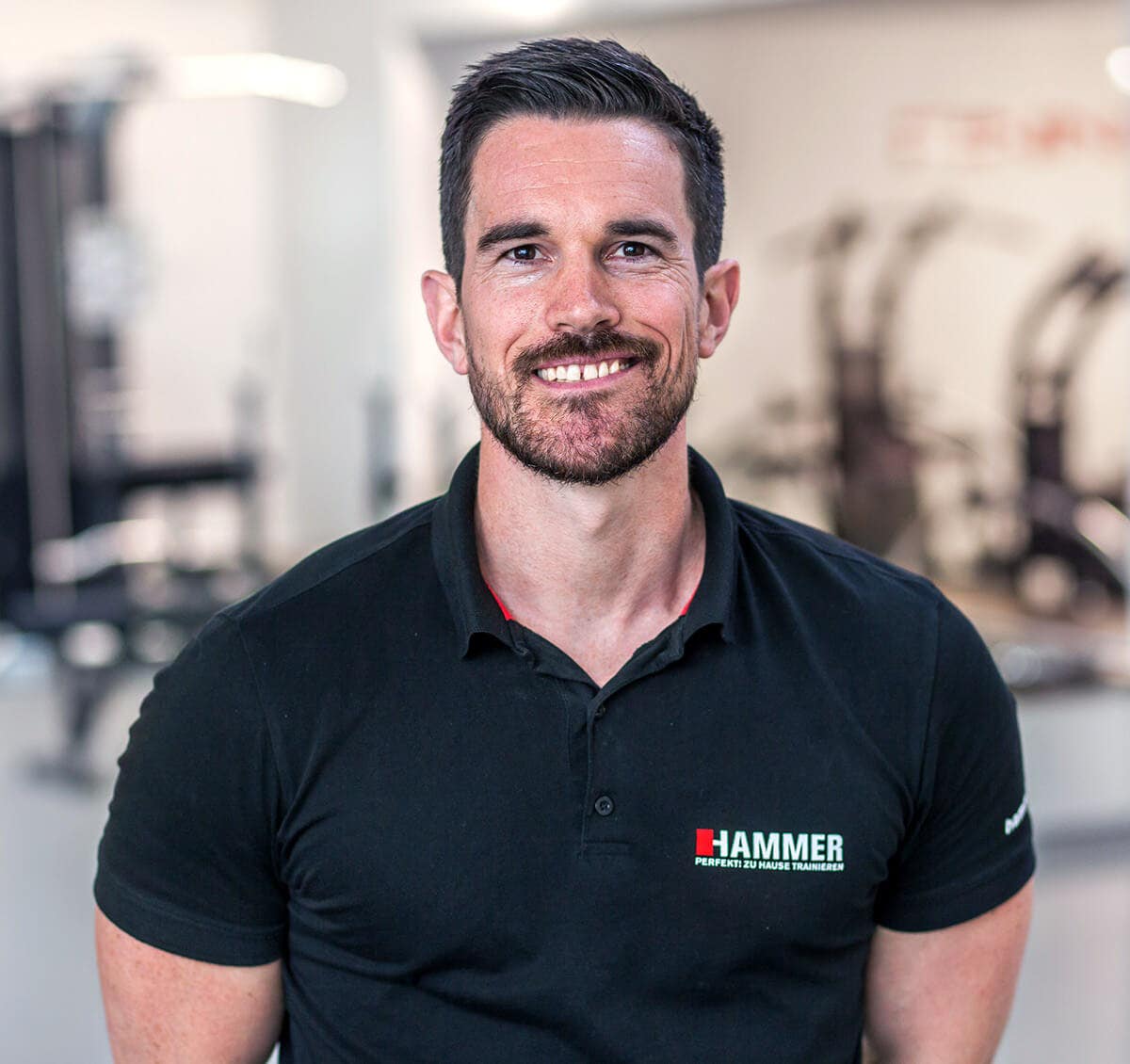 Ümit Üf
Regional Manager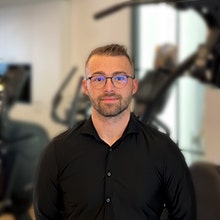 Dominik Mellinghaus
Deputy Store Manager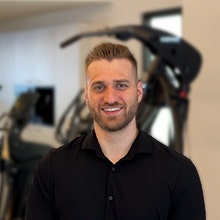 Max Henning
Sales Manager
Buy Fitness Equipment in Düsseldorf
Discover your new HAMMER fitness equipment now in the centre of the capital of North Rhine-Westphalia, the Rhine-Ruhr metropolitan region. Let fitness experts advise you in the new centrally located HAMMER store in Düsseldorf or test your new fitness equipment directly on site. The 300 m² store is only a 15-minute walk from Düsseldorf's main railway station and only a 3-minute walk from the Graf-Adolf-Platz underground station. If you want to travel by car, there are several parking options in the surrounding multi-storey car parks.
Buy fitness equipment that suits you in Düsseldorf
You would like to test different sports equipment on site in Düsseldorf before you buy your new fitness equipment for home? No problem! We have a large selection of different sports equipment for you to try out in our store. Our range includes:
Strength equipment: Dumbbells, weights, weight stations, weight benches
Endurance equipment: treadmills, cross trainers, rowing machines, exercise bikes, ergometers, speed bikes
Fitness equipment: ab trainers, back trainers, small fitness equipment
Accessories for your endurance and strength training
Test your new fitness equipment directly on site in our state-of-the-art store in Düsseldorf and get professional advice from our fitness experts while enjoying a free coffee or a cold drink.
Try out different fitness equipment at the Home Gym Düsseldorf
In the HAMMER store in Düsseldorf, you can expect a selection of different sports equipment as well as an exemplary home gym. This is equipped with various fitness machines from the areas of strength and endurance. Let the home gym in the store inspire you to set up your own fitness studio at home.
Our team in Düsseldorf will adjust each piece of fitness equipment to your individual needs and after a professional instruction, you can test your new sports equipment extensively in the Home Gym or in the store. The fitness experts on site will also be happy to advise you on small equipment or recommend suitable fitness accessories. After your visit and training in the store, you can decide at your leisure which fitness equipment suits you best.
The perfect fitness equipment for companies in Düsseldorf
Do you care about the health and fitness of your employees? Do you also want to be and remain attractive to employees as a modern and health-oriented employer? The HAMMER fitness experts on site in Düsseldorf will be happy to work with you to put together individual health and fitness offers for your company.
Payment methods
In our HAMMER Store Düsseldorf you can pay as follows:
Cash
EC card
Visa
Mastercard
American Express
Santander hire purchase
in individual cases a bank transfer of the invoice amount is possible
The HAMMER range - buy fitness equipment in Düsseldorf
For your endurance training at home, you will find a selection of different cardio machines such as treadmills, cross trainers, exercise bikes, ergometers, rowing machines or speed bikes. Start an effective endurance training with your new fitness equipment at home and strengthen your immune system, your muscles and your cardiovascular system.
Try out the various power stations at the HAMMER store in Düsseldorf for a strong and toned body. Burn calories, reduce body fat and grow your muscles with HAMMER strength equipment. Buy the right weight bench, pull-up bar, weights and dumbbells at the HAMMER Store in Düsseldorf and start your strength training at home.
Discover your new sports equipment in Düsseldorf and start your endurance or strength training at home. You can test your new fitness equipment on site, take it home directly or have it delivered and set up by us.
Personal and professional - we'll be happy to advise you!
In the HAMMER store in Düsseldorf, the fitness experts are there to help you and advise you personally and individually according to your needs and fitness goals. We show you the differences between the various power stations, which endurance machine suits you best and what is important when buying dumbbells. We will also help you find out which equipment and accessories are essential for your home gym. You can reach us from Monday to Friday between 10 a.m. and 7 p.m. and on Saturdays between 10 a.m. and 6 p.m. in our store in Düsseldorf at Graf-Adolf-Straße 12.