Work Time Today:
10:00 - 19:00
Experience our best products live
We look forward to welcoming you personally to our HAMMER store. Here you will find a wide range of fitness equipment for your home, which you can of course test on site. Our HAMMER experts will advise you personally and individually, answer all your questions and are happy to help you before, during and after your visit.
Once you have chosen your perfect piece of fitness equipment, you can take it home with you or have it delivered and assembled by us.
Experiences
Test training apps
Experience the wide range of our digital offer for free in your local store. Train live tracks with the Kinomap training app and Zwift on the Crosstrainer , Speedbike , Ergometer or Treadmill or let our experienced coaches inspire you with HAMMER Workouts and really power you up.
Discover our digital training apps like Kinomapp, Zwift & HAMMER Workouts for free in your store now.
Customer reviews
Our latest reviews
Auf der Suche nach einem Ellipsentrainer / Crosstrainer sind wir, aufgrund der Empfehlung meiner Mutter, die sich vor ein paar Jahren in dem Hammer-Store ein Fahrrad Ergometer gekauft hat, in den Laden gekommen und wurden nicht enttäuscht. Die Beratung war absolut fachmännisch und sehr Kundenorientiert. Zudem wurde sich sehr viel Zeit für uns genommen und mann konnte ohne Druck oder gehetzt zu werden ganz entspannt die verschiedenen Modelle ausprobieren. Schön fanden wir auch, dass der Berater uns nicht das teuerste Gerät "andrehen" wollte, sondern mit uns zusammen das ausgesucht hat, welches zu unseren Vorstellungen und Trainingsabläufen passt. Wir kommen gerne jederzeit wieder. Vielen Dank noch einmal für die super Beratung.

لم اتعامل معهم بشكل شخصي لكن الكثير من اصدقائي ذهبوا إليه ، كان تجربة رائعة لهم وكانوا سعيدين جدا بالتعامل معهم ، اتمنى التعامل معهم في اقرب وقت ، يبدو انهم يهتمون بالزبائن بشكل جيد اتمنى ذلك ????

Ich war auf der Suche nach einem Fitnesstrainer um Kondition und Ausdauer zu trainieren. Im Geschäft wurde ich herzlich begrüßt und toll beraten. Man nahm sich meinen Wünschen an und wollte mir auch nichts "aufschwatzen" um möglichst ein teures Gerät zu verkaufen. Ich konnte viele Geräte im Geschäft ausprobieren. Ich hatte mich dann für ein Gerät entschieden und man sagte mir, dass eine Spedition das Gerät auch innerhalb 7 Tagen nach Hause liefern könnte. Das Gerät war dann schon nach 2 Tagen zu Hause bei mir und der kleine Zusammenbau war kinderleicht. Ich kann dieses Geschäft bestens empfehlen. Top Beratung, super Service und schnelle Abwicklung. Zudem ist die Qualität des Gerätes sehr hochwertig. Vielen Dank & weiter so ????????
Expert Team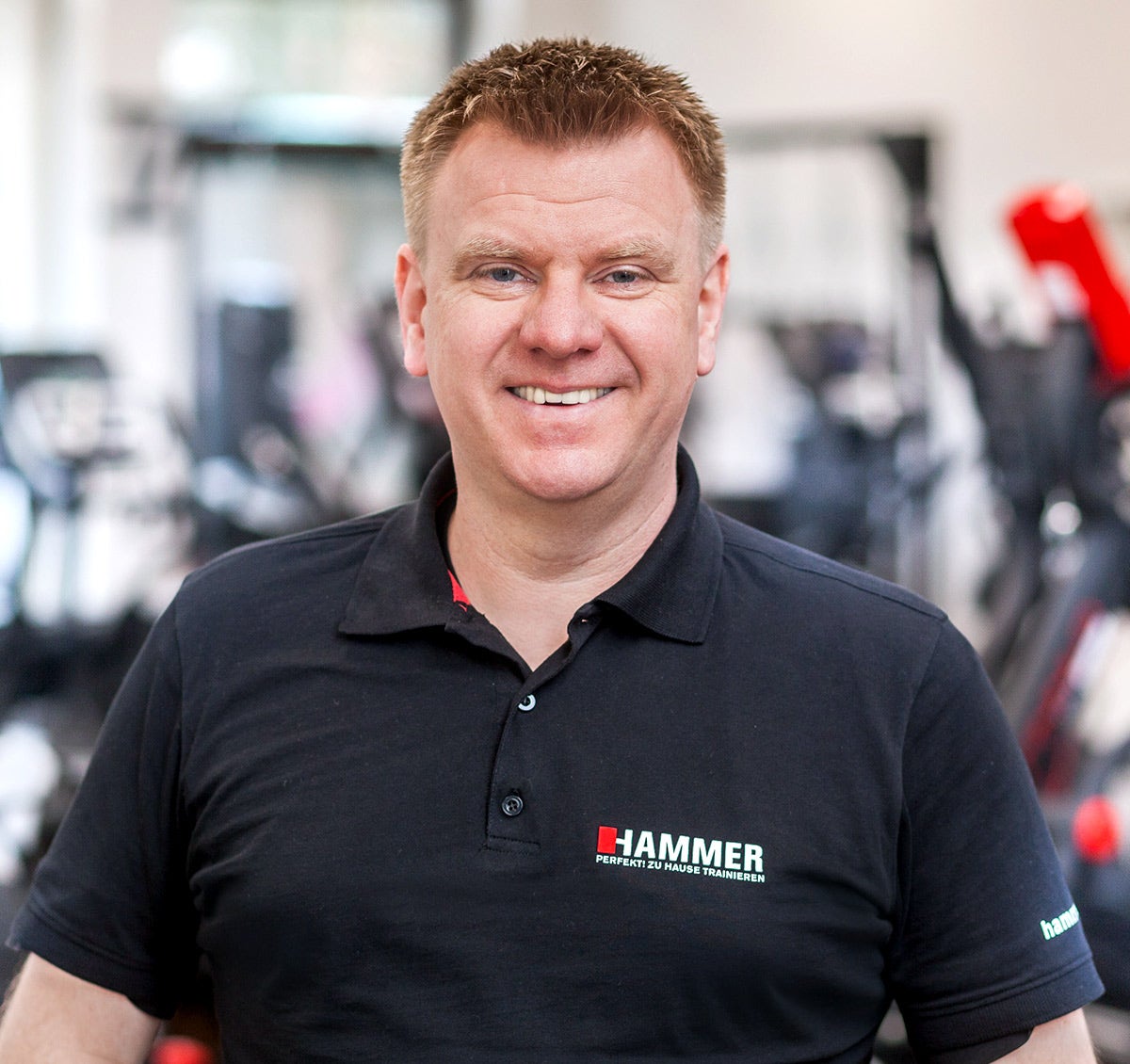 Sven Prust Regional Manager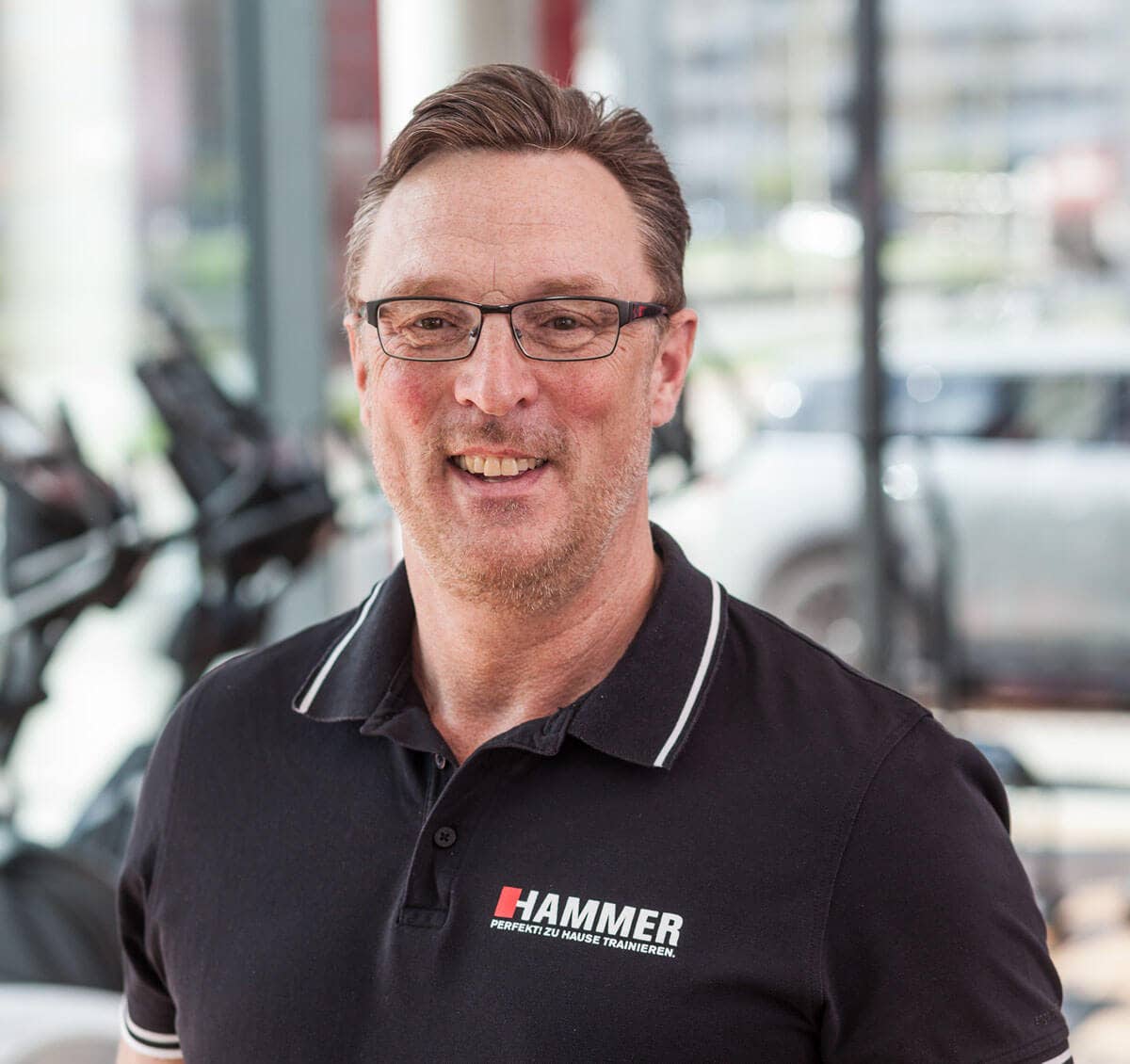 Torsten Heuer Store Manager
Payment methods
Cash
EC card
Visa
Mastercard
American Express
Santander hire purchase
in individual cases a bank transfer of the invoice amount is possible
Discover your sports equipment in Bremen
Just look, don't touch - that's not possible here! In our HAMMER store in Bremen we attach great importance to detailed advice. This is the only way you can make a well thought-out purchase decision and even beginners can find exactly the product they really need to realise their new sporting goals. That's why you can test the products on site and let our staff show you the correct setting and exercise execution. A comprehensive instruction is also part of our standard so that even people without previous experience can train absolutely safely. So don't forget your sports gear!
Shopping at the HAMMER Store Bremen
On more than 250 square metres you will find products from the entire brand world of HAMMER SPORT AG suitable for all training goals and fitness levels. Among other things you can expect here:
Strength equipment, such as weight stations, dumbbells and accessories
Cardio trainers, such as cross trainers, treadmills, steppers or ergometers
Small equipment for strength training, endurance training and health sports
Wellness articles for your well-being and health
Regardless of whether you are just starting out again after a long break, are an ambitious hobby athlete or are just starting out - our expert team is there to help you with advice and support . Together we will find the best solution for your training needs. In addition to your health requirements and fitness level, we will of course also take into account your price expectations and your spatial requirements. This way we can advise you individually and professionally.
Test our equipment directly on site in Bremen
All your questions will be answered by our competent store team, which consists of former competitive athletes as well as fitness experts. After the extensive test training, we will be happy to offer you a thirst-quenching drink. You can take your time to decide which equipment best suits your needs in terms of quality, ease of use, design and - not to be underestimated - feel!
We are also happy to advise companies that want to promote the health of their employees. Together we work out solutions for a healthy working atmosphere, taking into account budgets and premises.
Fitness equipment and more - directly from the manufacturer for your fitness at home
Strength equipment, cross trainers, treadmills, elliptical trainers, rowing machines, speed bikes, ergometers, exercise bikes, indoor cycles, weight benches, dumbbells, ab trainers, power stations and much more. We carry a large selection of our high-quality brands:
HAMMER
FINNLO by HAMMER
FINNLO MAXIMUM by HAMMER
HAMMER BOXING
FinnSpa
SOLE by HAMMER
INSPIRE by HAMMER
You can take your new fitness equipment or wellness product directly home with you or have it delivered and assembled by us.
Sling trainers, kettlebells and other sports accessories
In addition to the brand-specific products of HAMMER SPORT AG, you will also find a large selection of small equipment, sports nutrition and accessories in the Bremen store. From fascia rollers and training gloves to sling trainers - in the HAMMER Store Bremen there are numerous possibilities to optimally complement your training on large equipment. Of course, our team will be there to help and advise you.
Get started now at the HAMMER Store in Bremen
ou have set yourself a sporting goal or want to make physical exercise a priority in your life for health reasons? Congratulations! We at the HAMMER Store Bremen will help you to achieve your goals and are always available to give you advice and support from Monday to Friday from 10:00 to 20:00 and on Saturdays from 10:00 to 19:00 in our inviting premises in Eduard-Schopf-Allee 1B. We look forward to your visit!
Just use one of the 3 free parking spaces at the back of the store.