Back-friendly cardiovascular training
With a recumbent ergometer you can train your endurance in a health-oriented, joint-friendly and controlled way by monitoring your pulse values and corresponding training programmes. The muscles in the legs and buttocks can also be specifically trained with the recumbent bike. A recumbent ergometer is perfect for therapeutic purposes or rehabilitation because of the backrest. Enjoy the endurance training with the recumbent ergometer at home, which is easy on your joints and your back.
R92

Special Price

CHF1,599.00

Regular Price

CHF2,199.00

Currently sold out
Buy recumbent ergometers
The equipment of a recumbent ergometer enables watt-accurate endurance training. This means you can always train at home according to your preset values and track your progress exactly. With the aim of continuously improving your health, the recumbent ergometer is your personal training partner for your daily fitness. The compact size allows you to train in a small space.
If you order your recumbent bike here in our online shop, we will pay the shipping costs for you and offer you free delivery. If you don't like the recumbent ergometer, you can return it to us free of charge within 14 days and your money will be refunded.
What are the characteristics of a recumbent ergometer?
A recumbent ergometer is a recumbent bicycle that can be used to exercise the lower body muscles in a way that is very easy on the joints. Recumbent ergometers are also known as recumbent bikes. Training with an ergometer promotes fitness and strengthens the cardiovascular system. A recumbent bike is characterised by a wide, comfortable seat and a horizontal pedalling position. The recumbent bike is particularly suitable for people with back or joint problems and also for people with weight problems. The low entry and comfortable sitting position of this sophisticated fitness equipment are particularly user-friendly and therefore recumbent bikes are also ideally suited for seniors.
How do recumbent ergometers differ from conventional ergometers and exercise bikes? The comparison
The recumbent bike is a further development of the ergometer, which in turn is a further development of the exercise bike. The following overview summarises the differences between the popular fitness equipment so that you can compare exercise bikes, ergometers and recumbent bikes.
Comparison: Exercise bike, ergometer, recumbent bike
Exercise bike
Exercise bikes are classically pure bicycle trainers. The movements are similar to those of normal cycling. You get on a saddle and pedal. In contrast to a bicycle, the training resistance is not generated by tyres, friction and incline, but by an integrated magnetic brake system. Pedalling on the exercise bike sets the flywheel in motion via a drive belt. A built-in and strength-adjustable braking system then acts on the flywheel.
Ergometer or seated ergometer
The term ergometer is a protected trademark. At first glance, an ergometer is indistinguishable from a standard exercise bike. However, certain requirements must be met in order for an ergometer to be called an ergometer. The most important difference between an ergometer and an exercise bike is the braking system. Ergometers, including recumbent ergometers, must have an eddy current brake. Eddy current brakes achieve a significantly higher performance than the braking systems usually installed on an exercise bike and also allow very precise control of the wattage. For these two reasons, ergometers are also used in rehabilitation and competitive sports.
Recumbent ergometer
A recumbent ergometer fulfils all the requirements of an ergometer or seated ergometer, except that the legs are stretched forwards instead of downwards during training. The recumbent bike originally comes from rehabilitation therapy, but it is suitable for all sports enthusiasts. Especially in rehabilitation, recumbent bikes are often used as therapy equipment for patients who have problems in the lumbar vertebrae. Because of the high backrest of a recumbent bike, this area can be relieved and the patient has no pain when exercising. The seat impresses with a low step-through and a large seat surface, which allows a relaxed sitting position even for overweight people or people with obesity. The upper body remains free and mobile, so that you can train optimally on the recumbent bike from this sitting position. The sitting position also relieves the back and intervertebral discs. The relaxed sitting position on the recumbent bike in combination with a motionless upper body makes it possible to read, watch your favourite series or, if desired, even do a little weight training on the side.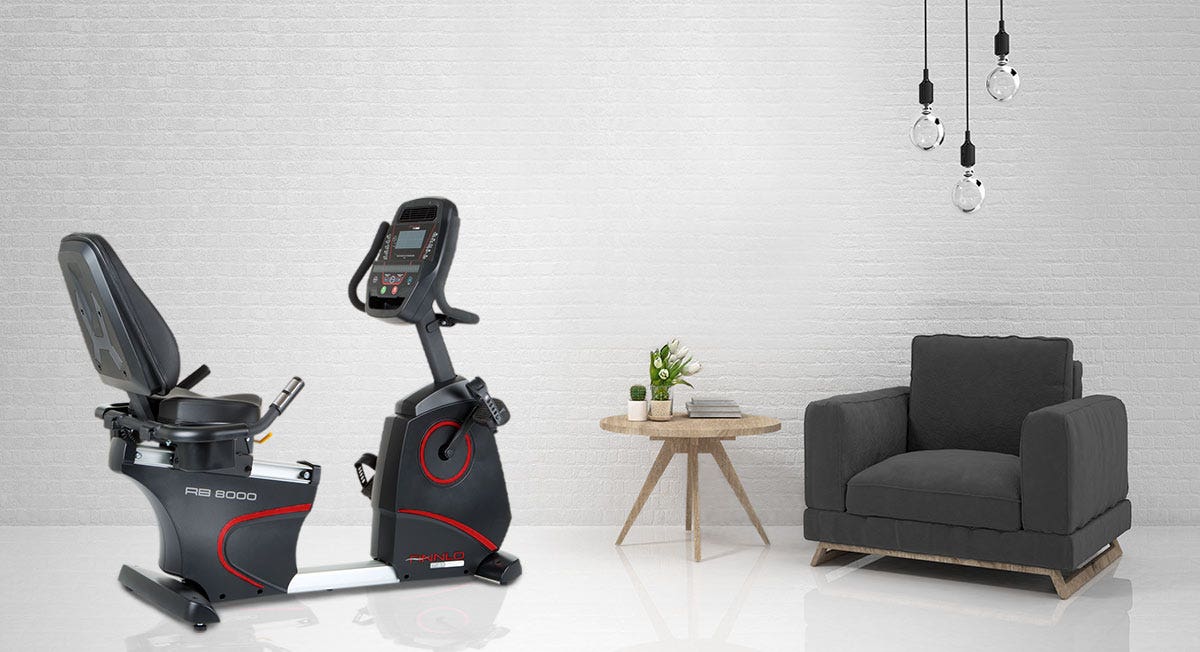 For whom are recumbent bikes particularly suitable?
A recumbent bike is particularly suitable for people with joint or back problems. The relieving sitting position and the gentle motion sequence are easy on the feet, knees and intervertebral discs. For seniors and sports beginners, the recumbent bike is a gentle and pleasant way to strengthen endurance, basic fitness and the cardiovascular system. Muscles are mainly targeted in the lower body. Furthermore, the recumbent bike is also a very good training option for overweight people with obesity (recumbent bikes up to 150 kg maximum weight), as recumbent bikes have wide, comfortable seats. Last but not least, recumbent bikes are appreciated for their ability to provide a relaxing after-work workout from home. A short workout while reading or watching a movie is always possible with a recumbent bike.
The benefits of the recumbent ergometer - Increasing fitness in a healthy way
.

With a recumbent ergometer, you can exercise at any time, regardless of the weather, in the comfort of your own home and strengthen your heart and circulation. Programmes for fat burning and muscle building are integrated just like on a normal ergometer and can be adjusted according to the training goal. In addition, a comfortable sitting position offers a workout that is very easy on the joints. The recumbent ergometer is therefore ideal for people with physical limitations or senior citizens, but of course also for all other fitness aspirants.

The advantages of training with the recumbent ergometer are:
suitable for beginners and advanced users
effective cardiovascular training possible
increase fitness and mobility in a healthy way
comfortable seat with low step-through and high backrest
Strengthening of the leg muscles
especially suitable for people with joint or back problems
recommended training for people returning to fitness and for people with obesity
optimal rehabilitation training after injuries
also ideal for older people and seniors
Which muscle groups are trained when exercising with the recumbent ergometer?
Since the recumbent ergometer differs from the seated ergometer only in the position of the seat, pedals and pedalling motion, the following muscle groups are trained on both the ergometer and the recumbent ergometer:
Upper thigh extensors
Straight thigh muscle
Two-headed thigh muscle
Gluteal muscle
What should I look for when buying a recumbent ergometer?
You want a recumbent bike to be your new fitness equipment at home, but you are not sure what to look for when buying a recumbent bike? We have summarised the most important features you should look for when buying a recumbent bike:
Seat comfort and backrest
Braking system
Flywheel mass
Training programme
Pulse measurement
Folding mechanism
Seat and backrest: pedalling with maximum comfort
The biggest advantage of a recumbent bike is the very good seating comfort thanks to the wide seat and high backrest. The entrance or step-through should be relatively low so that you can easily get on and off the recumbent bike. It is ideal if the seat can be moved continuously forwards and backwards. In addition, the height difference between the pedal shaft and the seat is an important purchasing factor for overweight people. As a guideline, the pedal shaft should be at least 10 cm lower than the seat. It is best to test the quality, comfort and convenience of the seat and backrest of your recumbent bike before buying. Our numerous HAMMER stores in Germany and Switzerland are at your disposal for this purpose. When buying a recumbent ergometer, also look for a high backrest that supports the entire back. This provides optimum relief for the pelvic area.
Braking system: induction is the measure of all things
Recumbent bikes used in rehabilitation or competitive sports are equipped with an induction brake (such as the brake on the Recumbent Bike ergometer). This is also called an eddy current brake. There are also recumbent bikes with a magnetic brake system, which is perfectly adequate for home and fitness sports. Here, fine adjustment of the resistance levels is possible. Precise wattage control, which is indispensable in rehabilitation or competitive sports, is currently only possible with an eddy current brake in a recumbent ergometer.
Flywheel mass: not only the hips can gyrate
The weight of the flywheel mass, together with the bottom bracket and gear ratio, is an important factor for smooth pedalling. It should be at least 8 kg for a recumbent ergometer. The heavier the better. The same applies to the ergometer.
Programme selection: The right training programme for every taste
A sensible selection of training programmes provides variety in training. Pulse-controlled cardio programmes are particularly popular. An integrated or connected heart rate monitor allows you to train comfortably within the target heart rate range. Other programmes such as interval, uphill and downhill help to keep motivation high in the long term. The recumbent ergometer's training computer should clearly display the most important data such as speed and resistance and be easy to operate. Some recumbent ergometers also offer interfaces to mobile phones or laptops that allow you to link the recumbent ergometer to various training apps and programmes.
Pulse measurement: hand pulse sensors or chest strap
A recumbent ergometer has side handles with hand pulse sensors. While exercising, you simply hold the handles with your hands and the built-in sensor on the measuring surfaces can measure your pulse. A chest strap, on the other hand, transmits your pulse wirelessly to the device. The chest strap sits under your T-shirt directly on your heart. A receiver on the recumbent ergometer that receives the data from the chest strap is usually built into the ergometer. This allows you to keep an eye on your heart rate at all times while exercising on the ergometer and to optimally control the intensity and load. The optimal training pulse for you is calculated from the maximum heart rate, your age, gender, weight and fitness level. Find out everything about training according to pulse in this fitness knowledge article: resting pulse, maximum pulse and pulse ranges.
Foldable recumbent ergometer
Recumbent ergometers require some space in your own home. Unlike in a fitness studio or rehabilitation clinic, the recumbent ergometer at home may need to be stored away again after the workout. In this case, a recumbent ergometer with folding mechanism is exactly the right fitness equipment for your home. The CleverFold RC5 recumbent ergometer can be reduced in size after training in just 3 easy steps and can be easily moved like a suitcase with the 360 degree rolling case transport system. This way you save 60% of space and your recumbent bike can be stored optimally after the training.
In short, high-quality recumbent ergometers should have sufficient flywheel mass, a high backrest, a wide seat, pulse measurement and a sufficient selection of training programmes. An example of this is our SOLE by HAMMER .
What is important when training with the recumbent ergometer?
Your new recumbent bike is already at home and you want to start training right away. No problem - here you will find training tips that are important for training with the recumbent bike.
Adjusting the recumbent bike correctly
Adjust the seat and backrest of the recumbent bike so that you can sit comfortably and pedal forward in a relaxed position.
Duration and frequency of training
Beginners and the untrained should not overdo it at first. Twenty to thirty minutes of training two to three days a week on the recumbent ergometer is sufficient for the time being. Give your body time to get used to the strain and increase step by step. As soon as your body has adapted to the recumbent bike training, you can start to slowly increase the duration and intensity. At the same time or later, you can increase the training frequency. It is important to plan for the long term. It would be a pity if you started out motivated to train 5 times a week on the recumbent bike and then lost your long-term enjoyment of exercise. It is more effective to increase the training intensity instead.
Training intensity
Intensive training sessions are particularly effective and useful. Beginners and advanced exercisers achieve better results if they train only two or three times a week, but intensively, i.e. with a high number of watts. Even if the training is relatively short (30-45 minutes), you will increase your endurance and strength at the same time. This form of training is better than motivating yourself to train every day, especially for non-performance-oriented athletes. However, you still need to give your body time to adapt to an increasing load. Beginners in particular should therefore not go too hard on the recumbent bike at first.
Motivation
To be successful in the long run and to keep up the fun of exercise, you need the right motivation. Plan your recumbent bike trialling at fixed times, as the body is a creature of habit and adapts to your preferred training times. Train with music or use your favourite series to pedal at the same time every day. Don't overdo it at first with the recumbent bike and don't necessarily train every day, but also enjoy the time between the training sessions.
Losing weight with the recumbent bike
To lose weight effectively and increase calorie consumption with the recumbent bike, you need to build up muscles and change your diet. Especially overweight people should make a diet plan and control their daily calorie intake in the beginning. To build muscle and increase calorie consumption when exercising on a recumbent bike, you need to increase the intensity, i.e. the number of watts. If you only train for endurance, you will burn fewer calories than if you train for strength - so it is better to train shorter and harder with the recumbent bike than long and with little load.
What alternatives are there to the recumbent bike?
Besides the recumbent ergometer, there are other machines to train your endurance. The Exercise bike is the same as a recumbent ergometer in terms of use, but it is the predecessor of the ergometer or seated ergometer in terms of function. It is not possible to control the wattage on an exercise bike compared to an ergometer. Another alternative to the recumbent bike is the Indoor Bike , which is intended more for athletes. To train your endurance and improve your fitness, you can also use Crosstrainer or Treadmills are an optimal alternative.
Test and buy recumbent ergometers in our HAMMER stores
.

Use our HAMMER stores in Germany and Switzerland to test and compare the quality of exercise bikes, seated ergometers and recumbent ergometers directly on site. In the stores, you have the opportunity to test all the equipment on display yourself and receive expert advice. Because with your own test, you immediately get a feeling for each machine and can make the right purchase decision for you with a clear conscience. The HAMMER fitness experts will be happy to answer all your questions in a relaxed and comfortable atmosphere. We look forward to your visit!
HAMMER expert phone
Do you have any questions? Then pick up the phone and give us a call! We love fitness and offer free, personalised advice over the phone. Our knowledgeable experts are available to answer all your questions about fitness, sport, quality and health, and will of course advise you on all equipment matters. Discuss the advantages and disadvantages of individual training equipment with us and benefit from the profound knowledge of our consultants. Of course, we are also available to you at any time after the purchase of your sports equipment.
Give us a call: HAMMER expert telephone: 043 544 21 69 (Mo - Sa 9am - 7pm). We will also be happy to call you back!