How to find the right dumbbells for you and train all muscle groups with them
With dumbbells you can not only train in the gym, but also strengthen your whole body at home. A dumbbell set offers you several dumbbells or dumbbell bars with different weights so that you can perform a wide range of exercises. Find out what the differences are and how you can train all muscle groups of your body with a dumbbell set.

Contents
What are the advantages of dumbbells and dumbbell sets?
What types of dumbbell sets are there
What materials are dumbbells and dumbbell sets made of?
What weights do I need for my dumbbells
How to train safely with dumbbell sets
Training plans with dumbbells and the most important exercises
Care and storage of dumbbells
What to consider when buying dumbbell sets
Conclusion
What are the advantages of dumbbells or dumbbell sets?
Whether you should buy dumbbell sets or individual dumbbells depends on how your home gym is already equipped. If you already own various dumbbells and weights and only want to add another bar or individual weight plates to your equipment, you can go for a dumbbell set consisting of one dumbbell. If, on the other hand, you don't have any dumbbells or barbells at home and now want to start training, a dumbbell set consisting of at least two dumbbells is certainly the better choice.
A dumbbell set contains either one or two dumbbell bars and various weight plates for insertion or an additional barbell bar. With a dumbbell set you can perform numerous exercises at home and train all muscle groups. Due to the changeable weights, you can use the same dumbbell bars and weights from the beginning up to a very high strength level by increasing regularly. The space required for a dumbbell set at home is particularly small compared to many other pieces of equipment.
What types of dumbbell sets are there?
A dumbbell set consists of at least one dumbbell bar and weights or several dumbbells. Different dumbbell sets can be distinguished on the basis of various features.
Barbells and dumbbells
Dumbbell sets are available as a combination of a dumbbell bar with weight plates or as a set with two dumbbell bars, with which you can train both arms at the same time. The set is even more comprehensive if it also includes a barbell bar. With both dumbbells and barbells you can perform various exercises for your strength training at home. Especially if you can combine exercises with dumbbells and barbells, you have even more exercises at your disposal to reach all muscle groups with dumbbell training.
Adjustable and compact dumbbells
Classic dumbbell sets contain at least one bar and various weights that you can adjust depending on the exercise and fitness level. In contrast, there are so-called compact dumbbells that have a fixed weight. With compact dumbbells you therefore need different pairs in different weight levels to be able to speak of a dumbbell set and to be able to do different exercises at home. Compact dumbbells are particularly practical for quick exercise changes and save you the time of putting the weights together.
What materials are dumbbells and dumbbell sets made of?
Depending on the application of the dumbbells, the bars and discs are made of different materials.
Cast iron dumbbells
Cast iron is the classic material for dumbbells. Practically indestructible and inexpensive to buy, cast iron dumbbells are still up-to-date and ideal for your weight training. Cast iron weight plates are available from 0.5 kg up to 20 kg and are therefore a good choice for beginners as well as for professionals.
Dumbbells Chrome Coating
Covering your weights with chrome makes your dumbbell set even more elegant and also adds visual highlights. Chrome discs are available in sizes up to 10 kg and can be used to set all intensity levels for your dumbbells.
Neoprene dumbbells
At 1-3 kg, neoprene dumbbells are lighter than most dumbbells with plug-in weights or compact dumbbells. They are ideal for use as a running dumbbell to supplement your cardio workout or to intensify many gymnastic exercises such as the squat. For strength training, however, they are mainly suitable for beginners. With continuous training, you should also increase your training weights regularly and need higher intensities for further progress.
Dumbbells with vinyl coating
High-quality weight plates are coated with vinyl or polyurethane (PU for short). These create a particularly pleasant feel and can also be set down quietly. Quiet training is especially important if you live in a rented flat or train at unusual times of the day. But vinyl weight plates also protect your ears and the surfaces of your floor or weight bench in other cases.
The right dumbbells for your home
Dumbbells, barbells or SZ-bars - which dumbbells are the right ones for your home depends on several factors. While an SZ bar is mainly suitable for training your arms, dumbbells and barbells can also be used to train your muscles in the chest, back, shoulders, legs and neck. The more comprehensive your dumbbell set is, the more exercise choices you have for your dumbbell workout. However, with a combination of dumbbells and barbells and appropriate weights for your ability level, you can already perform most of the most important exercises.
Many exercises such as bench press, incline bench press, shoulder press, rowing, bicep curls, squats or deadlifts can be performed at home with barbells as well as dumbbells. Note, however, that there are some exercises that can only be done with dumbbells. These include biceps curls with wrist rotation or side raises. Particularly heavy training, on the other hand, is usually more practical and easier to perform with a barbell. Note also that for an even wider range of exercises, especially with increasing weights, additional equipment such as a weight bench or a dumbbell rack is worthwhile.
What weights do I need for my dumbbells?
There is no general answer to how many kilograms the dumbbells should have for a beginner. Especially in the beginning, however, dumbbell sets with variable weight plates are recommended. As soon as you make your first progress and can increase your weights, you should add more weight plates to keep setting new stimuli. Beginners should therefore use a dumbbell set of 2 x 20 kg or a set with dumbbells and barbells of up to 76 kg. With this set, you can do all the important exercises at home and improve for a long time.
Varied selection
It is important that you have enough weight plates for your weight training at home. It's not just the weight that counts, but also the number of identical plates. For example, if you want to load two dumbbells evenly, you need one disc of the same weight four times. Note that for some exercises, such as triceps kickbacks, you can naturally use much less weight than for dumbbell rowing.
Therefore, you should have a varied selection of weight plates at home in order to always be able to set your correct training weight for different exercises. It is advisable to have different sizes of weight plates in quadruplicate for training with dumbbells.
Note the hole diameter
A diameter of 30 mm is common for dumbbells. Barbells have both 30 mm and 50 mm diameters. To ensure that your weight plates are compatible with the respective bar, you have to pay attention to the hole diameter of the plates. In a dumbbell set, this diameter automatically fits together. If you buy individual plates or bars, you have to pay attention to this.
What is the best way to increase the weight?
While beginners can usually increase their weight training quickly, the progress of long-term athletes is slower. In both cases, however, regular increases are essential for lasting muscle growth in strength training with dumbbells. As a beginner, you should always increase the number of repetitions and the training frequency before you increase the weight. This is because the passive musculoskeletal system of bones, ligaments and joints adapts to the training stimuli more slowly than your muscles and you can therefore avoid injuries. If you manage more than 20 repetitions with one weight, you can then increase the weight. Advanced exercisers, on the other hand, can also train more intensively and increase the training with the weight.
Does the weight have to be the same on each side of the barbell?
For a balanced strength training for your whole body it is important that you use the same weight on both sides of the barbell. This way you train evenly and have good control of the barbell at all times. This is especially important for beginners. However, advanced athletes can use an unevenly loaded barbell to recruit even more muscle fibres and set new stimuli through the increased stabilisation effort.
How do I train safely with weight sets?
One thing first: contrary to what is often claimed, fitness training is one of the safest sports with the lowest risk of injury. Therefore, you should not be afraid of training with dumbbells at home if you pay attention to a few things.
The right way to handle dumbbells
The first important thing for injury-free dumbbell training is to train according to your needs. This means that you should adapt the exercise selection, the weights and the number of sets and training units per week to your current fitness level and your goals. For example, as a beginner you should choose exercises that are easier to coordinate. In addition, 2-3 training sessions per week with 6-8 exercises of 2-3 sets each are usually sufficient for beginners. As you progress, you can train more frequently and more heavily and use more demanding exercises. This way you will stay injury-free from the beginning.
Always ensure that the exercises are performed in a controlled manner and at a moderate speed. Don't increase your speed too quickly and also observe important recovery phases.
Proper warm-up and cool-down
Before each workout with your dumbbell set, you should warm up thoroughly. This can be done for five to ten minutes on a cardio machine of your choice as well as some mobility exercises for the muscles and joints you are using. Light dynamic stretching is also a good form of warm up. A good warm-up programme prepares your body for the upcoming workout, increases mental focus and reduces the risk of injury.
A good training session also includes a suitable cool down. During the cool-down, it is important to lower the pulse, reduce lactate and initiate regeneration. A few minutes of relaxed cardio training or light stretching exercises are ideal for this. If you want to incorporate static stretching into your programme, this is the best time to do it.
Training plans with dumbbells and the most important exercises
Surely you want to train not only safely but also effectively. Whether you are a beginner or an advanced exerciser, we recommend that you follow your training plan to make steady progress. If you want to create your own training plan, you can find the best instructions here. If you want to get started right away, use the following training plans:
Whole body training plan for beginners
Frequency: 2-3 times per week
Duration: 45-60 minutes
Dumbbells: Dumbbell and barbell
| | | | |
| --- | --- | --- | --- |
| Exercise | Sets | Repetitions | Rest |
| Bench Press with Barbell | 2-3 | 15-20 | 60-90s |
| Dumbbell Row | 2-3 | 15-20 | 60-90s |
| Flying with dumbbells | 2 | 10-15 | 60-90s |
| Goblet Squats with one dumbbell | 3-4 | 10-15 | 60-90s |
| Calf Raise with dumbbell | 2-3 | 15-20 | 60-90s |
| Reverse Butterfly with dumbbells | 2-3 | 15-20 | 60-90s |
| Barbell curls | 2 | 10-15 | 60-90s |
| Bench Dips | 2 | maximum | 60-90s |
| Incline bench crunches | 3 | maximum | 60-90s |
Advanced full body workout plan
Frequency: 3-4 times per week
Duration: 60-75 minutes
Dumbbells: Dumbbell and barbell
| | | | |
| --- | --- | --- | --- |
| Exercise | Sets | Receptitons | Rest |
| Squats Barbell | 4-5 | 6-10 | 90s |
| Deadlift Barbell | 4-5 | 6-10 | 90s |
| Flying with dumbbells | 3 | 10-15 | 90s |
| Incline bench press with dumbbells | 4 | 8-12 | 90s |
| Rowing with barbell | 4 | 12-15 | 90s |
| Rowing with dumbbell | 3 | 12-15 | 90s |
| Hammer Curls | 3 | 10-12 | 90s |
| Side raises with dumbbells | 3 | 12-12 | 90s |
| Jackknife crunches | 2 | maximum | 90s |
| Plank | 2 | maximum | 90s |
Care and storage of dumbbells
In order to enjoy your dumbbell set for a long time, you should pay attention to the correct care and storage of the dumbbells. After training, it is sufficient to wipe the plates and bars with a damp cloth. To save space when storing your training equipment, we recommend a weight plate rack. Again, make sure you use the correct hole diameter of 30 mm or 50 mm.
What to consider when buying dumbbell sets
If you want to buy a dumbbell set, you should make sure that you get at least two dumbbell bars with weights, but ideally an additional barbell bar. With a barbell bar, it also makes sense to use a rack or a weight bench with a barbell rack to train safely and effectively. Also note that, especially at the beginning of your training career, you should be able to load the dumbbells evenly with weights. Therefore, you need at least two of each plate size for the barbell and four of each size for two dumbbells. Also note the hole diameter of the discs, which must fit your bars. If you train on sensitive surfaces at home, it is best to use weight plates with vinyl coating.
Conclusion
A dumbbell set is the best foundation for your home gym and allows you to do a comprehensive fitness workout with minimal equipment. Especially for beginners, a dumbbell set is the best choice to start training. Advanced users appreciate the possibility to increase the weight and the effective recruitment of your muscle fibres. Depending on the use and your personal goals, additional equipment such as a dumbbell rack, additional weights and a plate stand make sense and complete your home gym.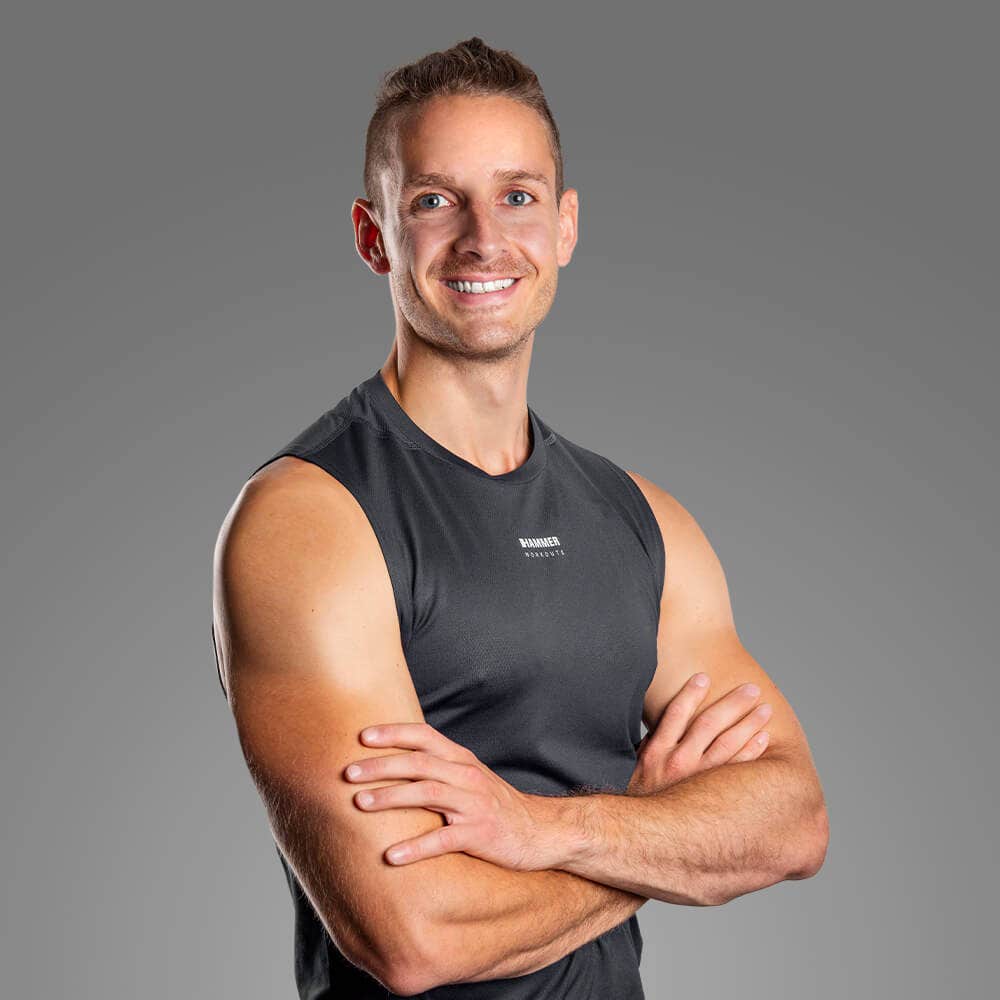 Alexander Seifried
Personal Trainer, B. Sc. Nutrition Management and Dietetics, M. Sc. Clinical Sports Therapy and Sports Physiology