FINNLO Autark 600
The compact power station for everything you need!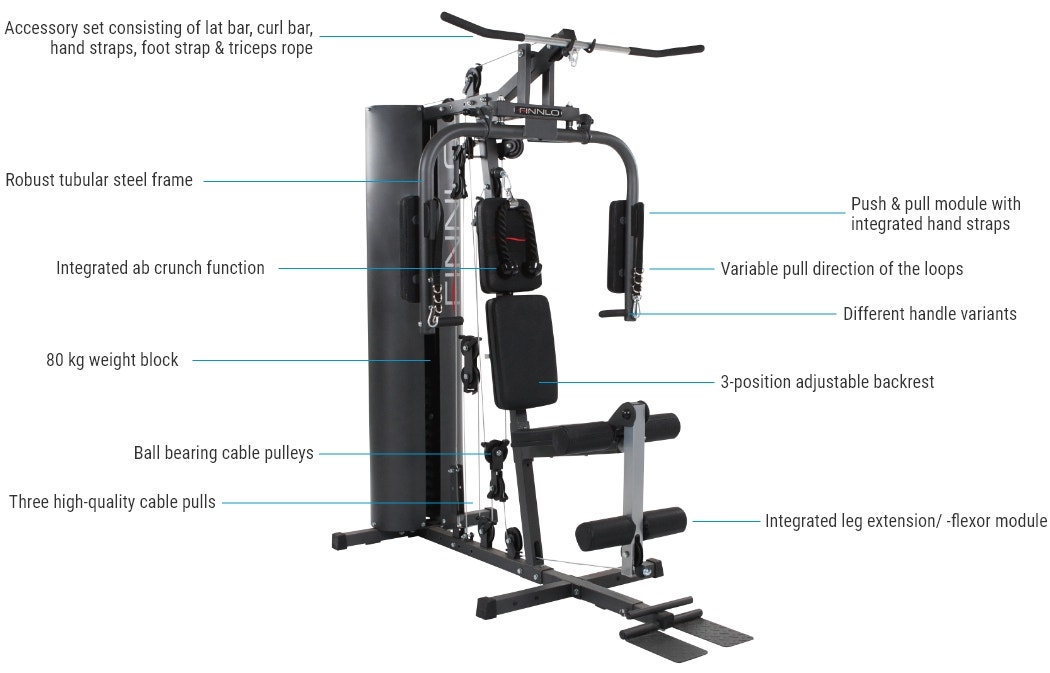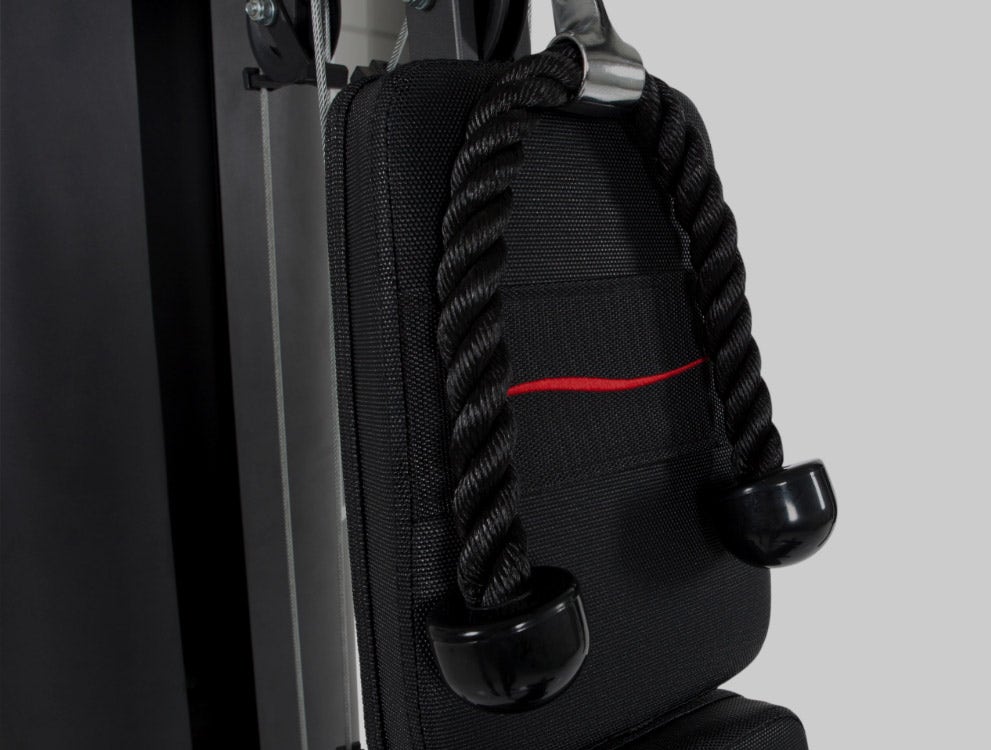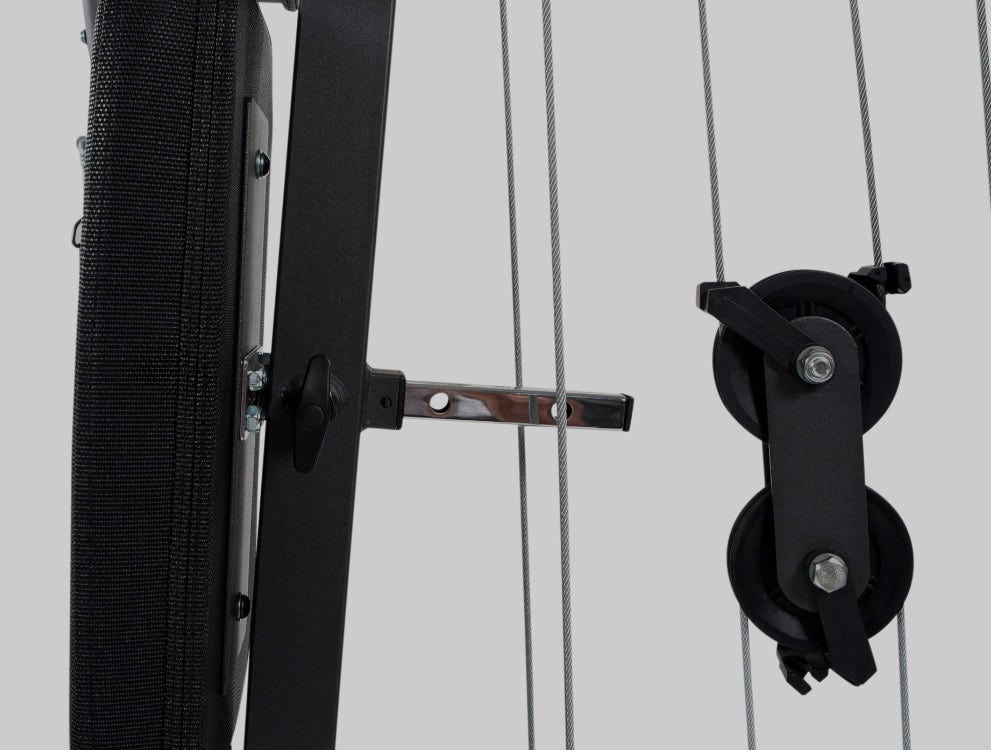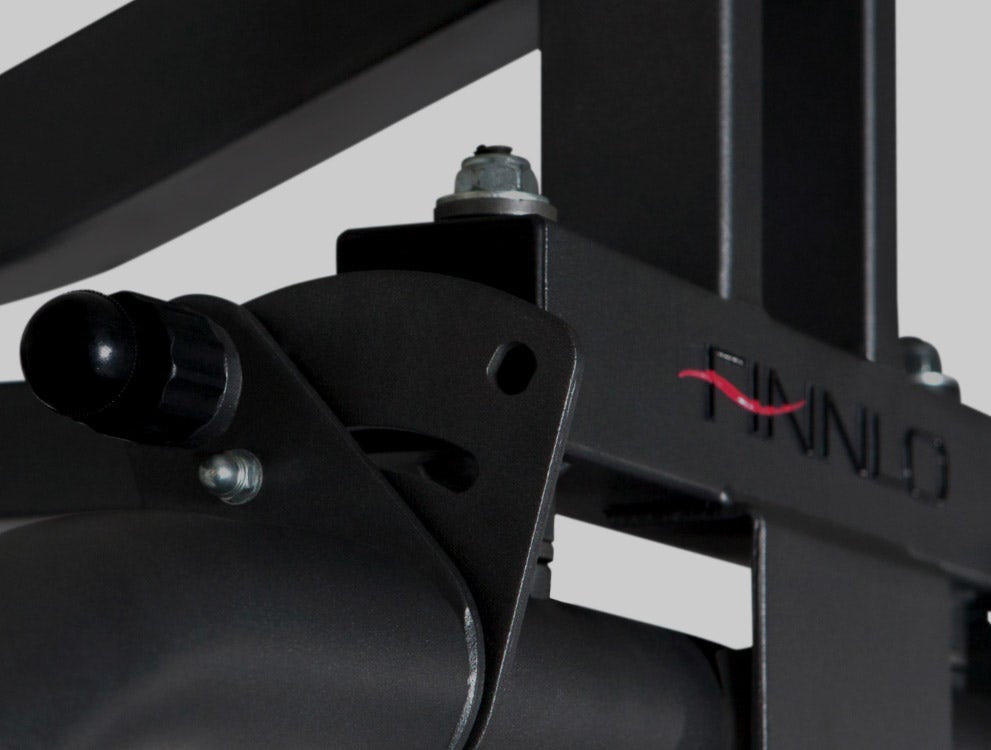 Compact station - great results
If you are looking for a fully comprehensive training station for home use and want to use many typical gym exercises, the Autark 600 is the perfect choice! The variably adjustable lever arms, together with the high and low cable pulley, the abdominal trainer and the accessory set, create a wide range of exercises for your personalised training.
Thanks to the integrated leg extension module and the foot straps supplied, you can even perform intensive leg exercises at home for an effective full-body workout. The FINNLO Autark 600 weight station offers you:
- Intensive full-body training
- A wide range of exercises and varied training
- Basic exercises and functional training
- Isolated abdominal muscle training
- High calorie consumption and body shaping
Experience the wide range of options and see for yourself the high-quality features that are unique in this price range.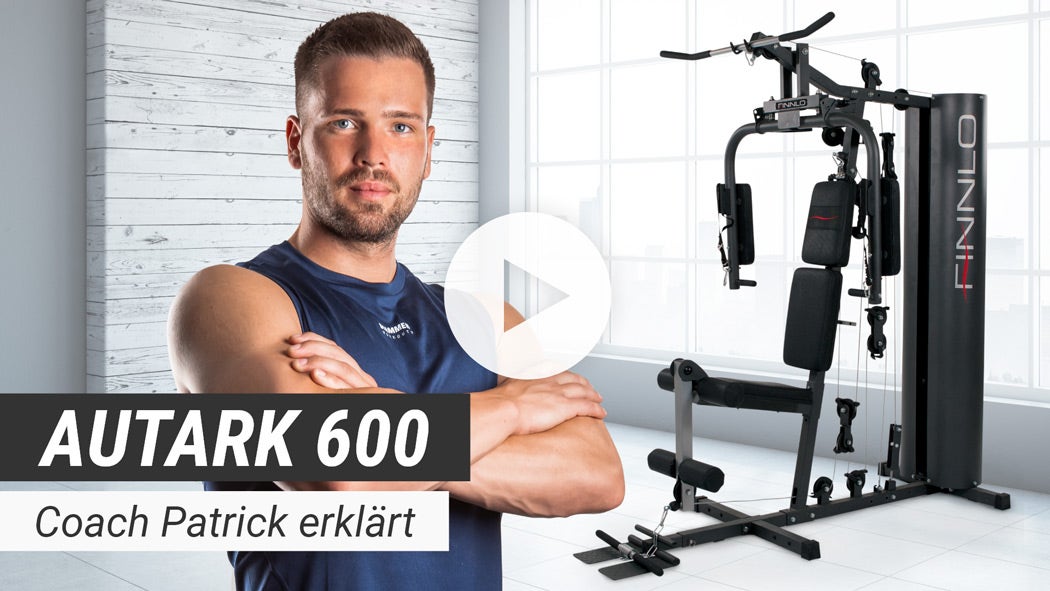 Personal trainer Patrick explains the Autark 600
Our long-standing, qualified personal trainer Patrick has been working in weight training for over 10 years. In this video, he explains the technical details and shows you which muscles you can train with which exercises on the Autark 600.
Variable and compact
Compared to many other home machines, the Autark 600 combines many typical gym exercises in just one machine. The variable position of the lever arms allows you to perform a wide range of exercise variations and combine them individually in your workouts. A total of three pulleys ensure the greatest possible freedom in exercise selection and flexibility of use. The included accessory set allows you to customise your training, offering both fitness beginners and ambitious athletes a comprehensive strength training programme. Compared to many other weight stations, training with the Autark covers all relevant exercises and means you won't miss out on a gym session.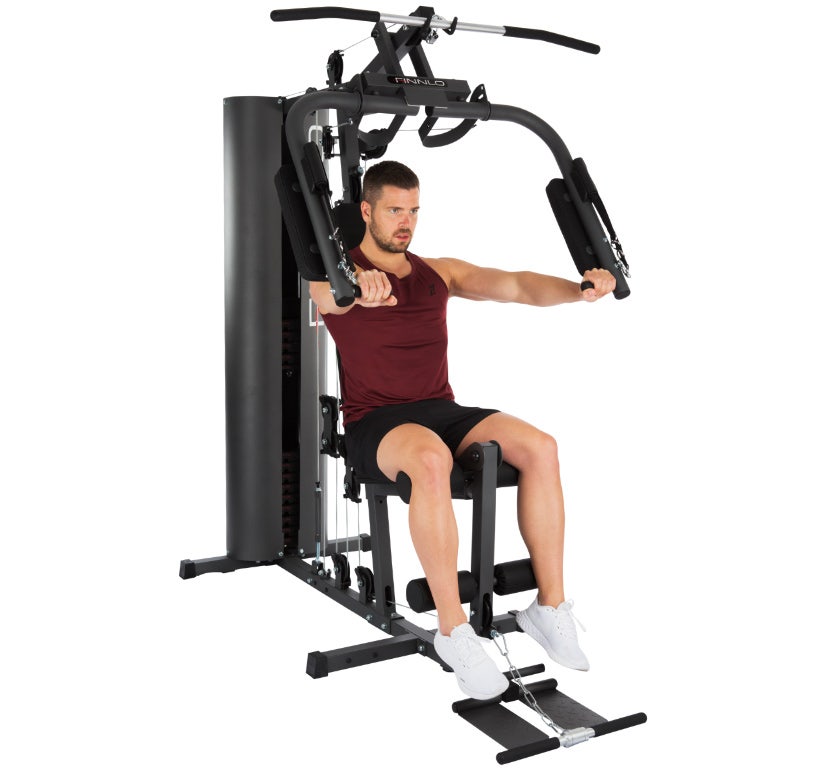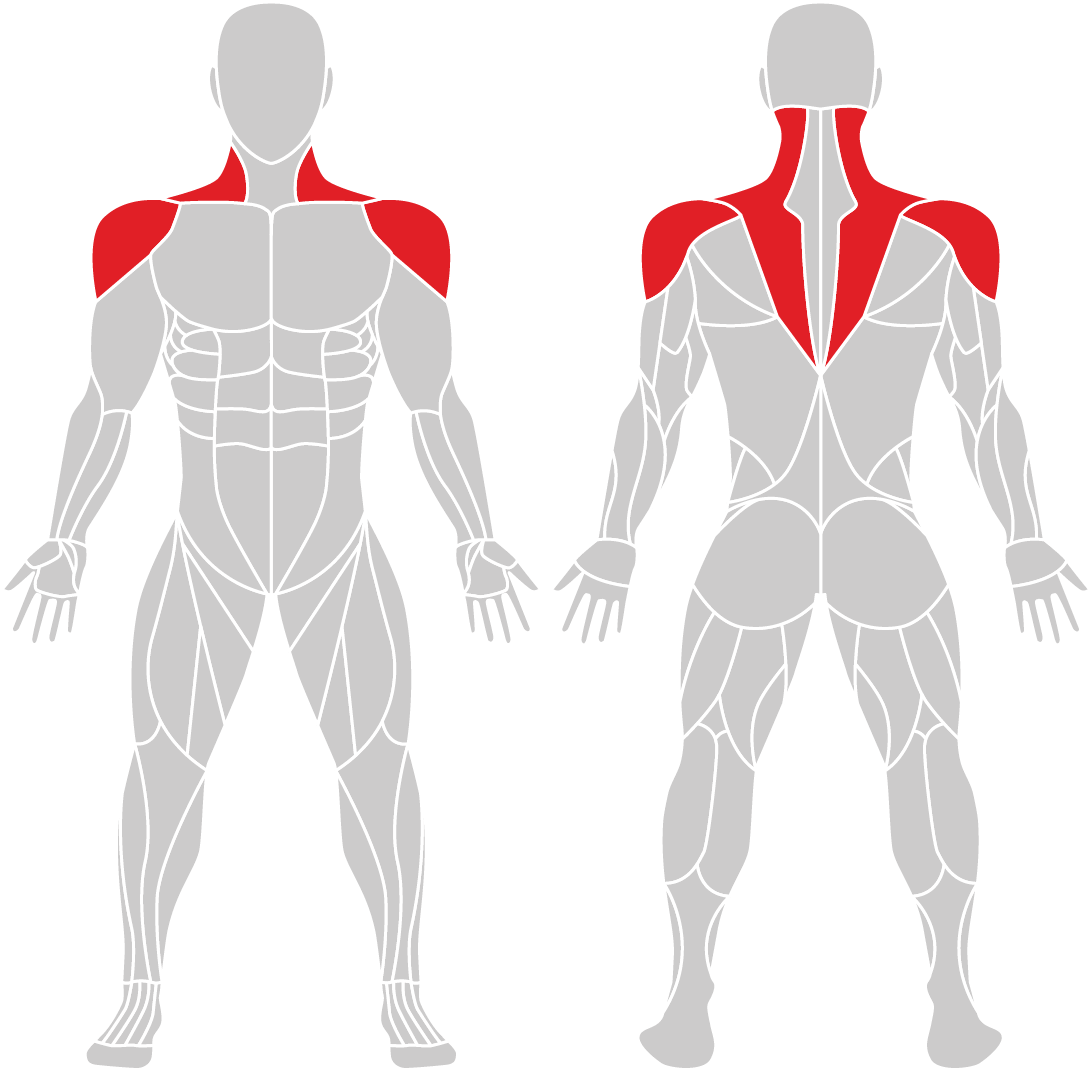 Defined shoulders and a stable neck
With the home gym, you can complete an effective Strength training for muscular shoulders. Exercises such as chest press, reverse flys or Side and front raises on the low cable pulley guarantee you visible muscle growth and a stable spine.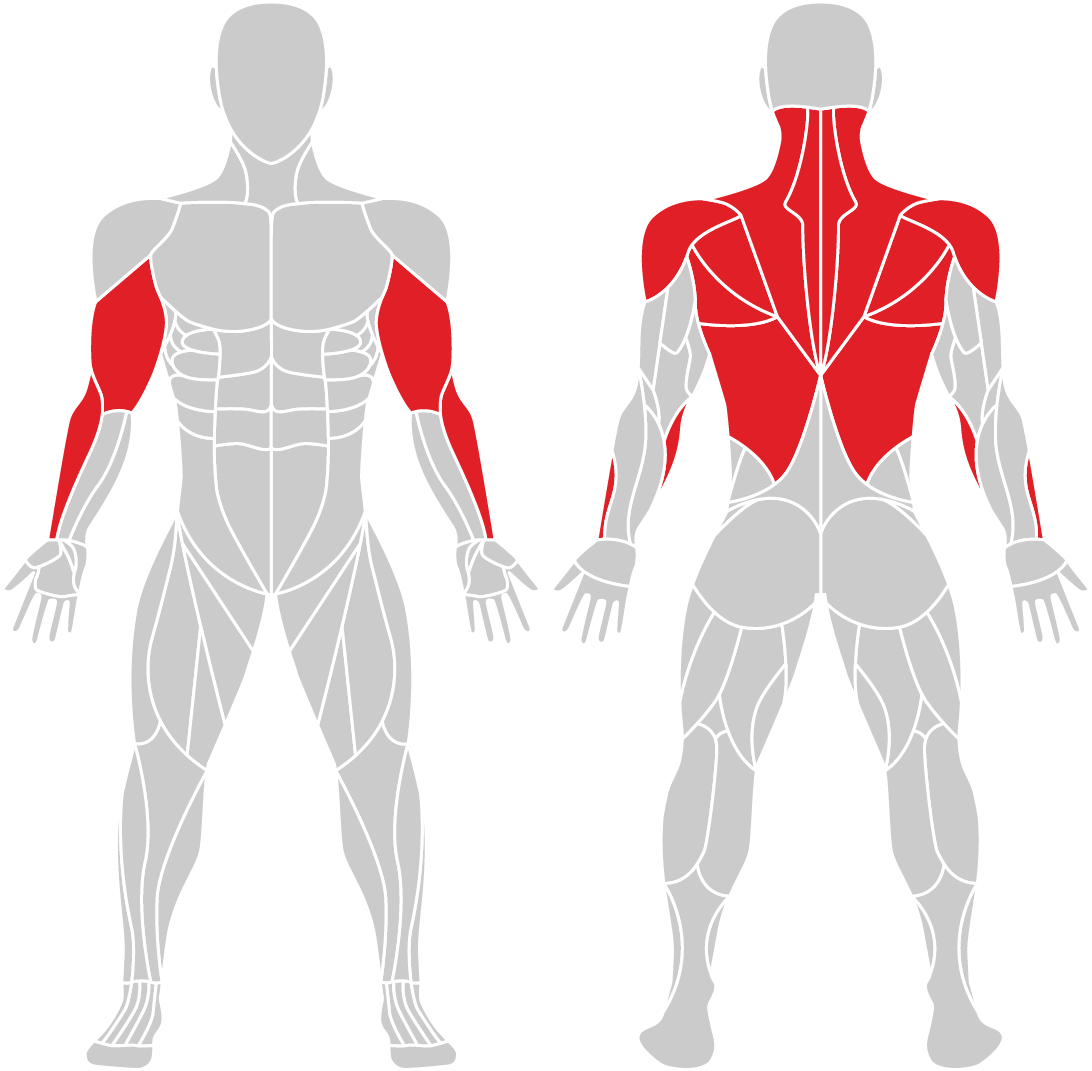 A strong back
Hardly any other muscle group is subjected to such unnatural strain in your everyday life as your back. Therefore, use exercises such as seated, bent forward and upright rowing, as well as the lat pulldown to build up optical muscles and prevent poor posture and imbalances.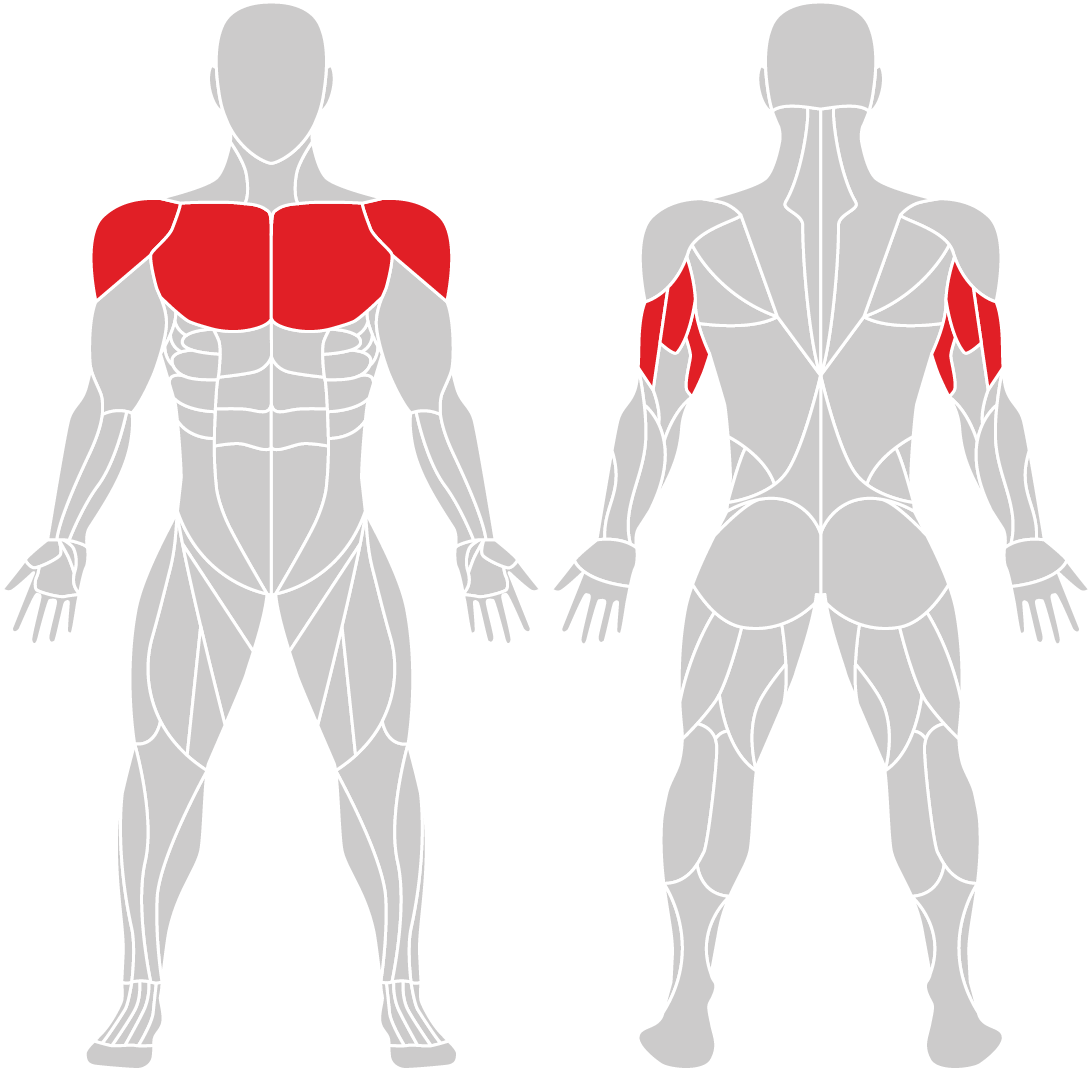 Effective chest training
The quality of the Autark 600 weight station is particularly evident when training your chest particularly strong. Thanks to the movable lever arms and the cable cross function, you can train individual parts of of your Muscles and benefit from exercises such as the chest press, butterfly and cable cross from different Cable cross from different angles for maximum muscle building and definition.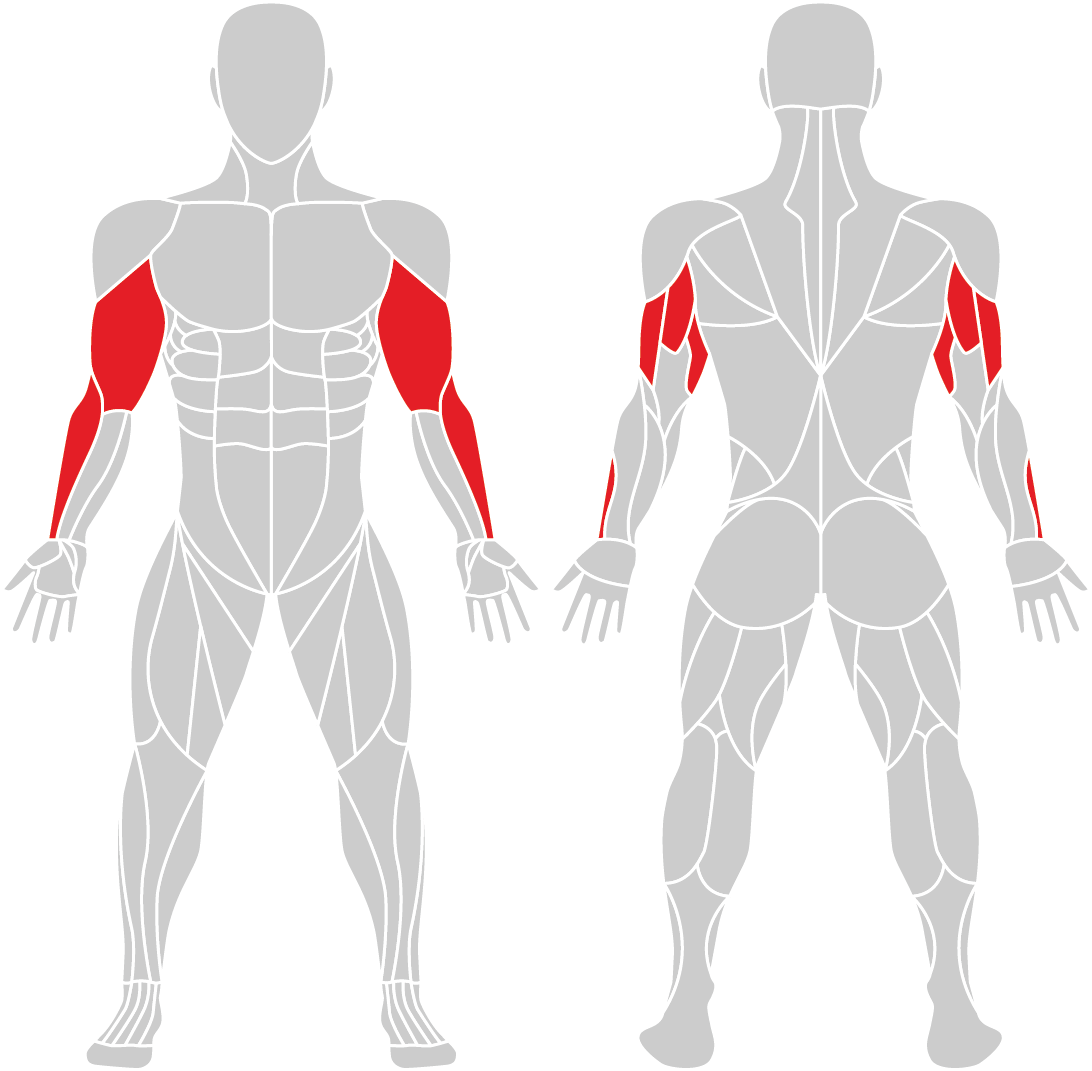 Defined arms
Although you already train your arms with basic exercises such as the chest press and lat pulldown, with the Autark 600, unlike comparable home machines, you also have the also allows you to perform intensive isolation exercises. With the the included accessory set to complete different variations of biceps curls and triceps pushdowns and set intensive growth stimuli.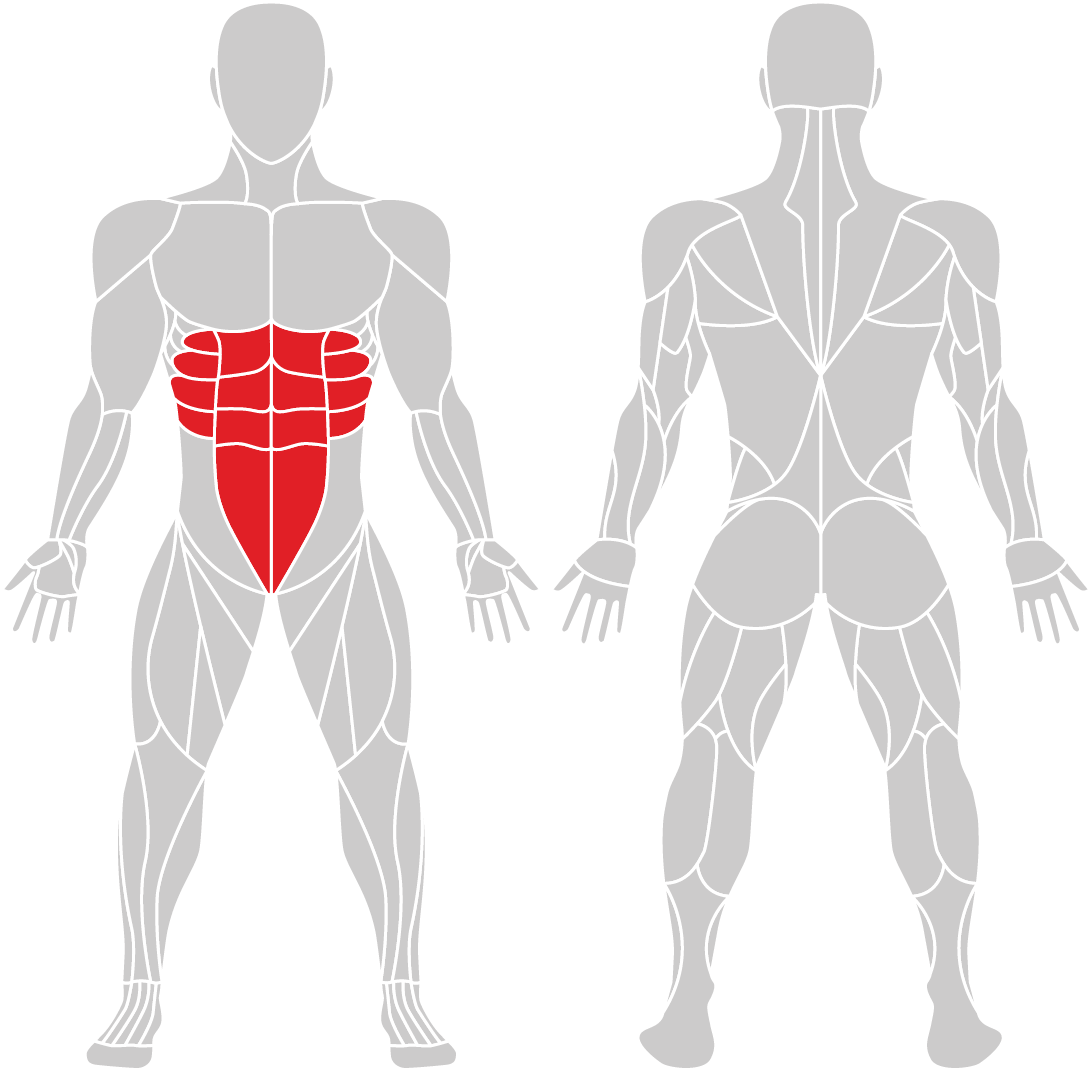 Strong abdominal muscles
The Autark 600 has an integrated abdominal trainer with which you can train your abdominal muscles just like in the gym. Use the horizontal cable pulley and the tricep Tricep rope and perform highly effective crunches for the straight and oblique abdominal muscles. Supplement your core workout with functional rotation exercises on the cable pulley or side bends on the low cable.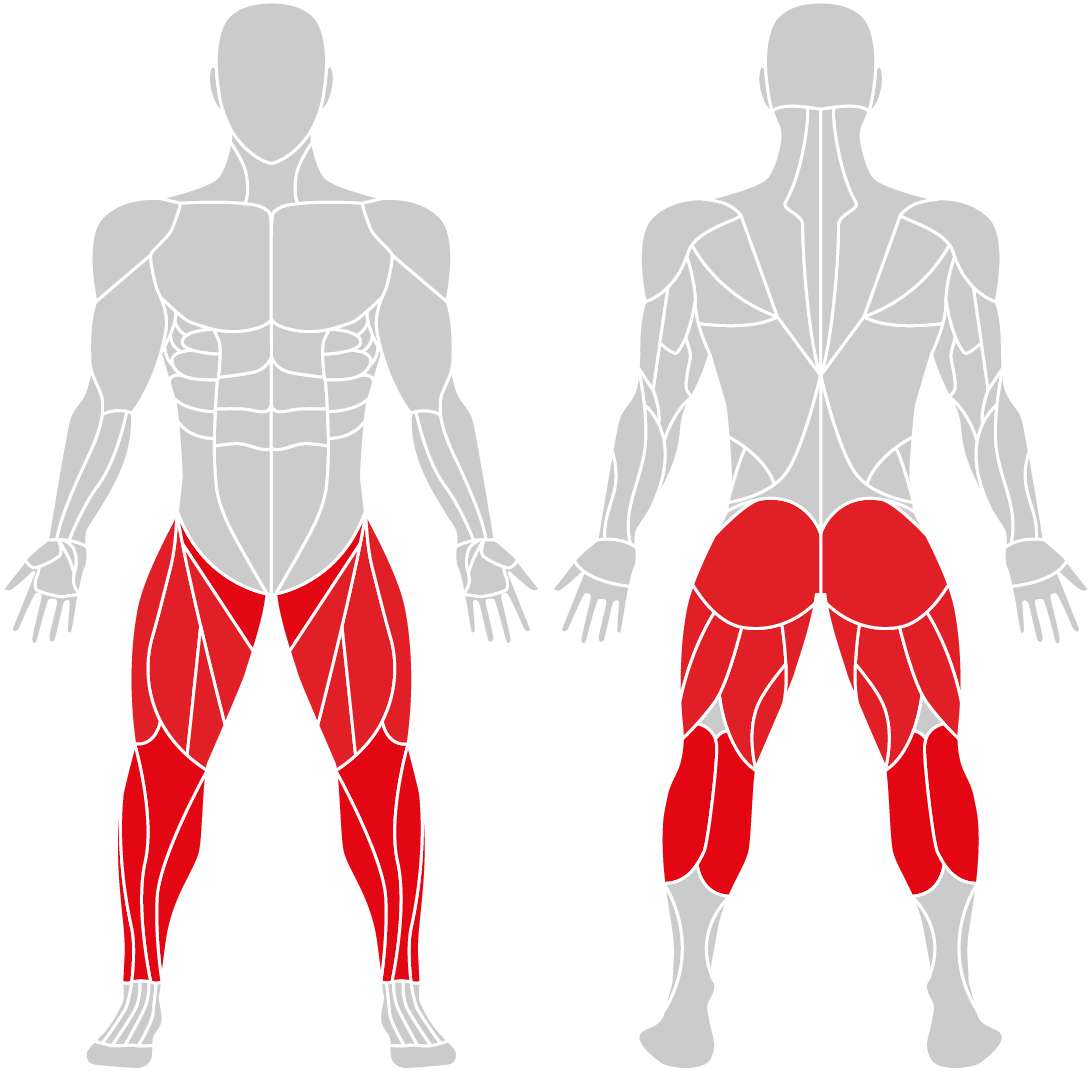 Muscular legs
Thanks to the integrated leg extension module, you don't have to miss out on an effective leg workout at home! Leg training at home! This allows you to develop muscular thighs even in a small space even in a small space. You can also effectively train the back of your legs by performing deadlifts on the cable and with Adduction and abduction on the cable pulley with the help of the foot loop to work your outer and inner sides for a complete leg workout.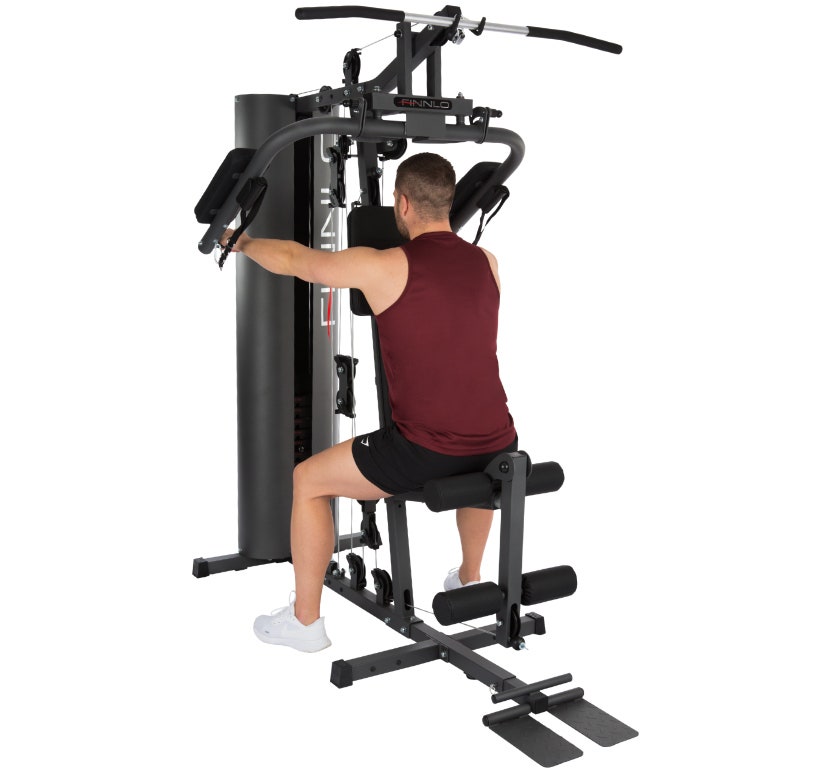 Heavy training - made easy
This Autark is a complete power station for home use and offers the opportunity for effective muscle training at home, especially for demanding fitness beginners. However, advanced users can also enjoy a wide range of exercises in a small space and benefit from exercises with a maximum weight of up to 80 kg. The resistance is generated by a weight block that can be precisely adjusted to any training level in 5 kg increments and is provided by high-quality pulleys and rollers. This means you can always achieve the optimum setting regardless of your current fitness level and train with a pleasant feeling of movement even with high weights. Advanced users will also appreciate the quick adjustment of the weights for intensive supersets and reduction sets.
Integrated abdominal trainer
Do you want to do more than just exercises on the training mat when training your abs at home, but also perform intensive studio exercises? Then the Autark 600 is just right for you. Thanks to the integrated ab trainer above the headrest, intensive abdominal training at home is no longer a problem. Use it to perform effective crunches and train your straight and oblique abdominal muscles with an optimum resistance profile, just like in the gym. You can get started straight away with the supplied tricep rope.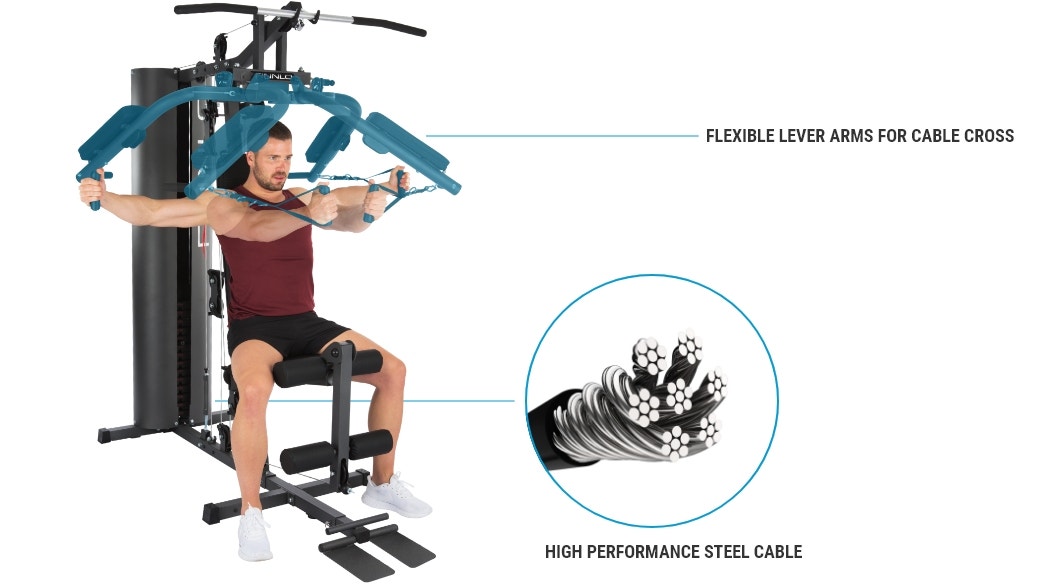 Cable cross function
The power station has a unique cable cross function that is otherwise only found in fully equipped gyms. The lever arms can be positioned at flexible angles and allow you to perform butterfly exercises using the integrated hand straps. This allows you to pre-stretch your muscles and contract them over the entire range of motion. The free adjustment of the training angle allows you to emphasise individual parts of your muscles. Perform different variations of these highly effective exercises and focus on individual muscles according to your individual goals!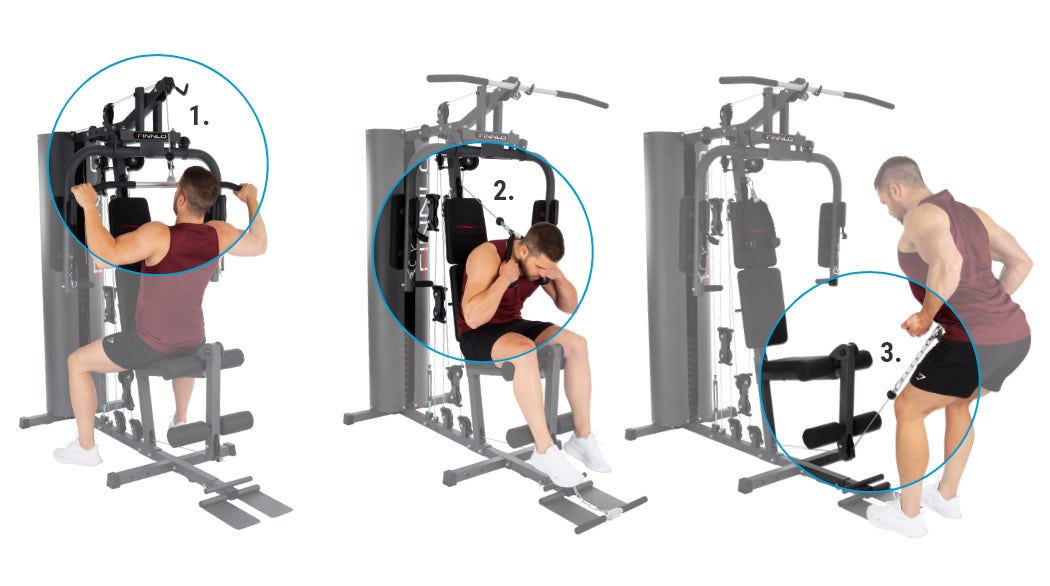 Three cable pulls
Use the three pulleys for optimum training. With the high cable pull, you can perform classic lat pulldowns as well as tricep pushdowns or pull-ups, while the horizontal pull of the abdominal trainer is also ideal for face pulls or overhead tricep stretches. The deep cable pulley can also be used to perform a wide variety of curls, rowing movements, side raises or shoulder raises and complete your optimal tricep training at home.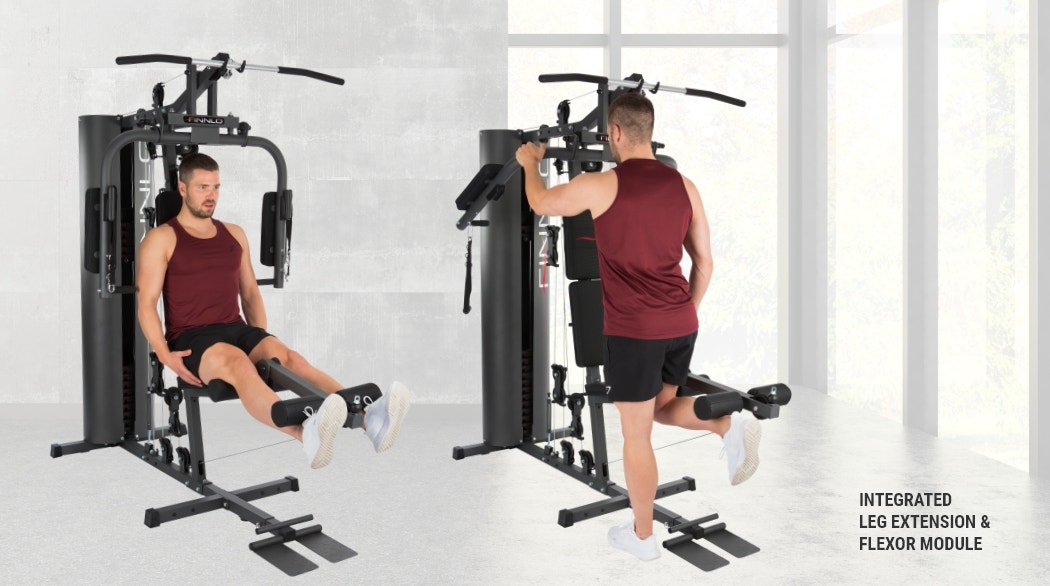 Leg extensions and foot straps
Of course, your legs should also be included in your optimal full-body workout. For this purpose,
offers a leg extension module for intensive training of your
thighs. By using the foot straps supplied, you can supplement your leg training with
effective exercises such as adduction, abduction and hip extensions.
the combination of different cable pull angles, variable lever arms and the leg module leaves
nothing to be desired.
Ergonomics and safety
Thanks to the three-way depth-adjustable backrest, even tall users always enjoy a physiological exercise position and maximum range of motion for optimum muscle growth. The sturdy construction of the Autark 600's tubular steel frame offers maximum safety and stability at all times, even during intensive training.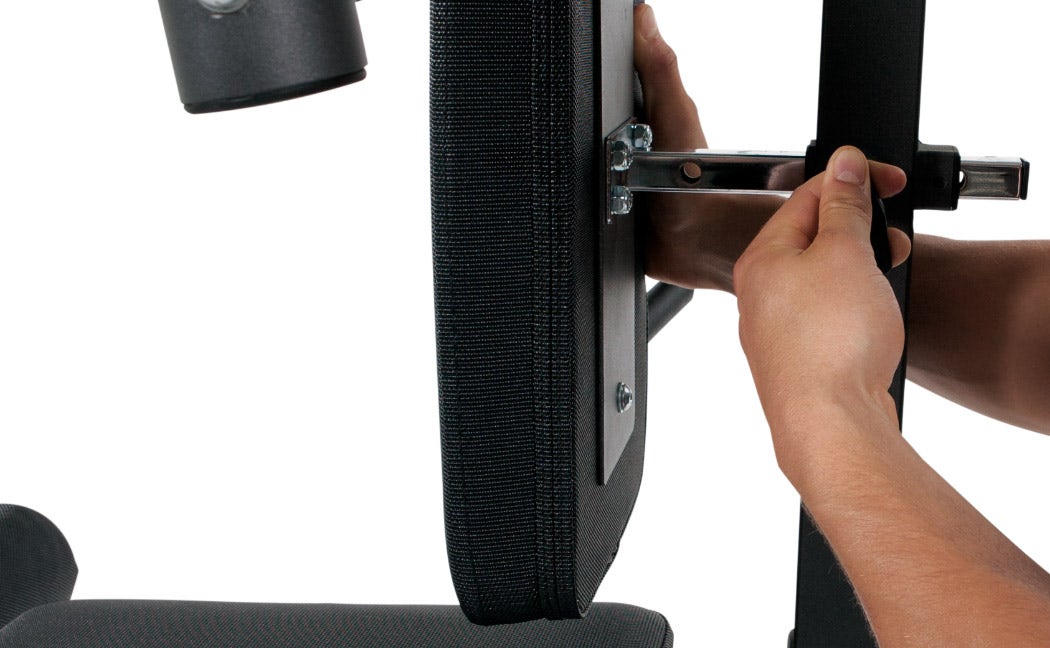 Included free of charge for you!
With your free accessory set, you can train even more flexibly and get the most out of your workout. Train just like in the gym and experience an enormous variety of exercises.

- Latissimus bar
- Hand straps
- Curl bar with chain
- Foot strap
- Tricep rope
Dimensions and weight
Build up size (L x W x H)
190 x 115 x 196 cm (Platzbedarf 290 x 215 x196)
Shipping
Delivery time
4-8 working days
Scope of delivery
Autark 600
Delivery Information
Delivery to curbside (Please leave your phone number when ordering, so we can arrange a suitable delivery date for you)
Private use
on the main frame
10 years
Summary of all possible strength exercises with the Autark 600
You can find out how to do the exercises correctly and exactly which muscle groups are trained by clicking on the respective exercise.
Clients ask, our fitness experts answer
Do you need more information about the product? Ask your question here. Our fitness experts will answer quickly and easily.
1 questions already answered
Question:
Ist eine Anleitung für die Montage vorhanden? from Leonardo
Answer:
Eine detaillierte Montageanleitung ist selbstverständlich enthalten!
Our recommendation for you