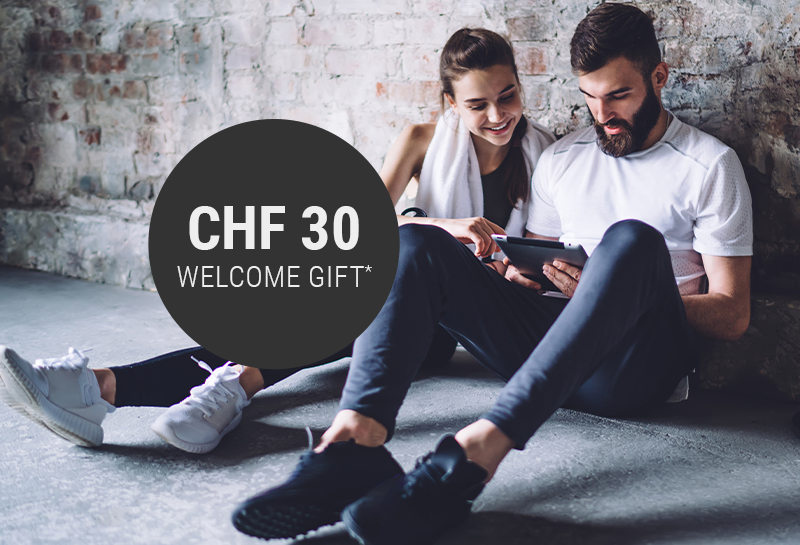 Sign up now and get HAMMER benefits
Always informed about fitness, wellness, nutrition, health & co.
As part of the HAMMER team, you will always be up to date with our free newsletter and be the first to receive exclusive offers and proAt the moment the newsletter is only available in German. As soon as the newsletter is also available in English, you can register for it on this page.
motions as well as voucher and discount codes for your purchases in the online shop. With our newsletter, we also inform you about fitness news, trends and news from the fitness world, new products and give you tips for a healthy and effective workout at home. Simply enter your name and email address in the form. You can easily unsubscribe at any time.
As a thank you for your registration, we will give you a one-off CHF 30 voucher* for your purchase at hammer-fitness.ch
If you would like to register for the German newsletter, please enter your email address at the bottom of the page. This will register you for the German newsletter.
By registering, you confirm that you are over 16 years old and that your personal data may be processed for sending the newsletter. This consent can be revoked at any time. Further information can be found in the Privacy Policy . You can unsubscribe from the newsletter at any time.
*The voucher code is valid once. Valid for products with a minimum order value of CHF 100 per purchase. It can be combined with other vouchers or promotions. The voucher code cannot be subsequently deducted from the invoice and does not apply to Augletics products. Cash payment is not possible. If the value of the goods ordered is less than CHF 80 due to a return, the voucher can no longer be deducted. To be redeemed in the shopping basket. Also applies to items that have already been reduced.

**We at HAMMER Sport AG only want to send you interesting and exciting things and are constantly working on improving our offers and content in our newsletters. So that we can analyse what interests you most and what we need to work on, we ask for your consent to analyse your email click behaviour when you sign up for the newsletter. You can be sure: We will not pass on your data to third parties! And you can unsubscribe at any time to delete all your data. If you have any questions about data protection, we are happy to help!
Image source: ©BullRun - stock.adobe.com