HAMMER Speed Race
Dynamic cardio training for guaranteed intensive fat burning during high-speed sequences.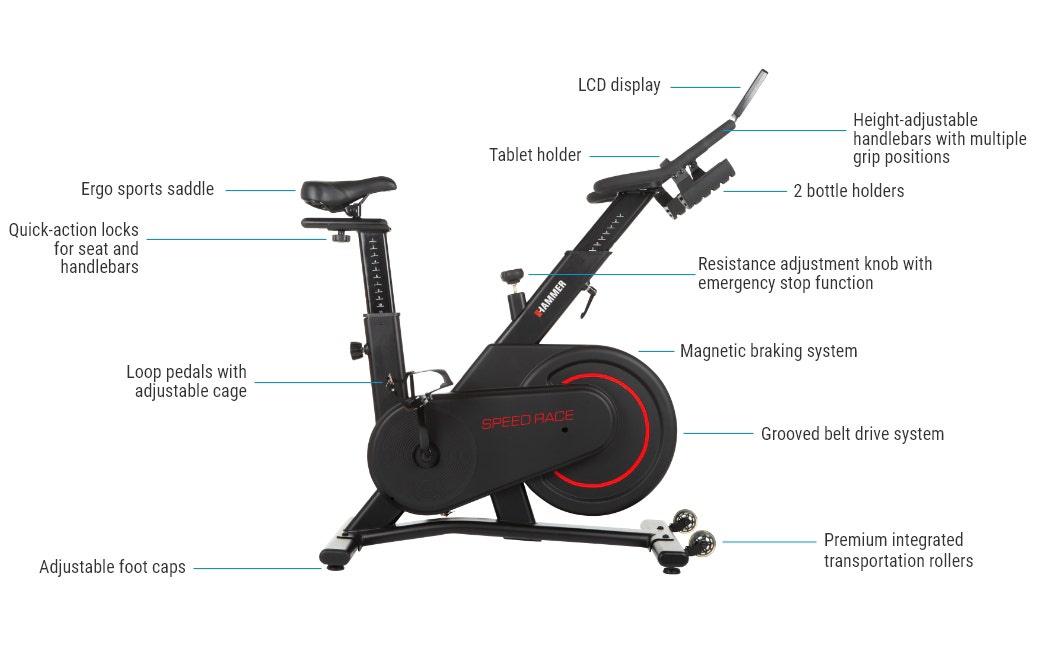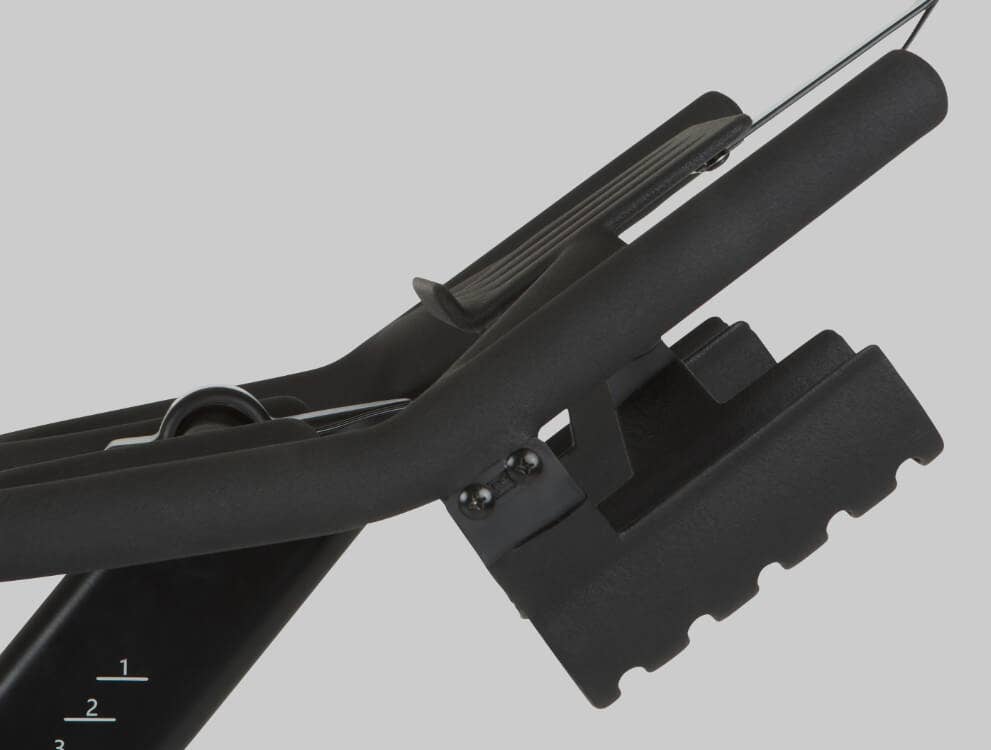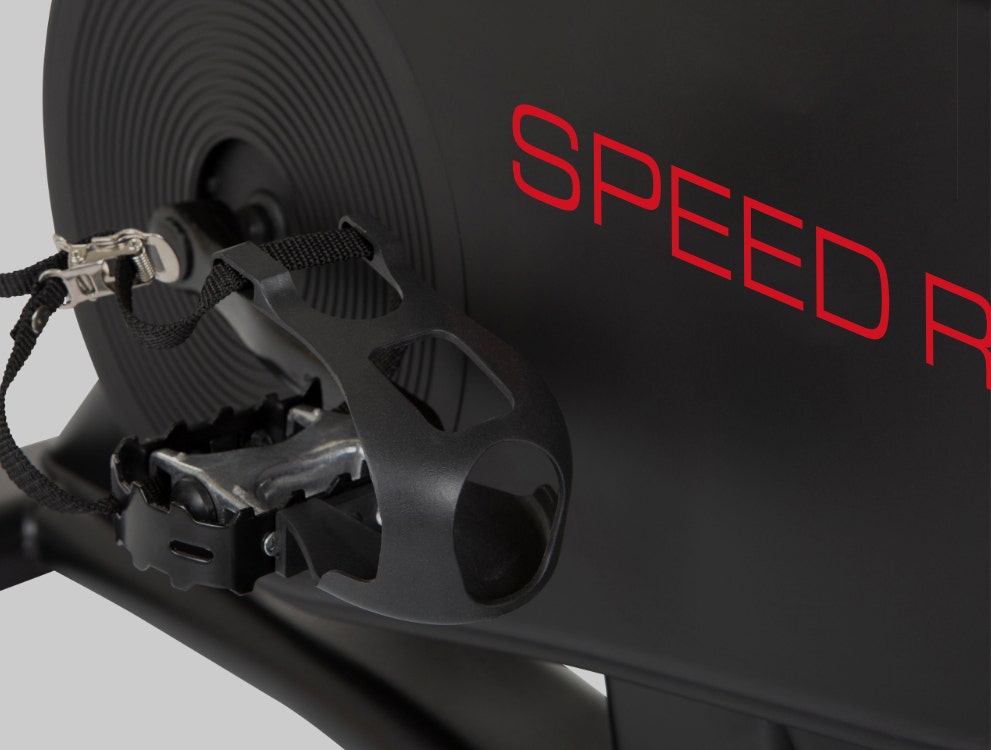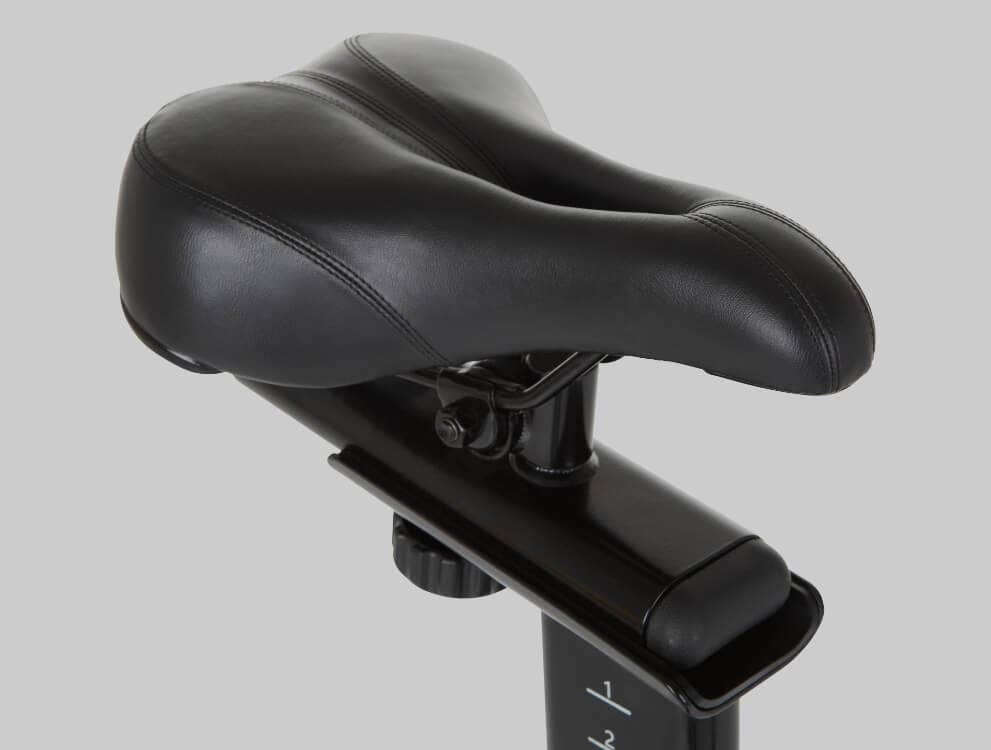 A heavy dose of high-speed training
Pedal away with this value-for-money performer and control your speed with the innovative magnetic brake. Training with the Speedbike Speed Race will strengthen your calf and thigh muscles while you burn plenty of calories. Each speed training will make your cardiovascular system stronger. Indoor cycling also offers a great workout for your lower torso muscles, which includes dorsal and lateral abdominal muscles. Their performance is heightened even more when you speed-pedal while standing. Get some extra motivation with your favourite tunes and give it your all! The Speedbike will drive to your personal best performance and will have you ready for the next cycling season working out at home – whatever the weather.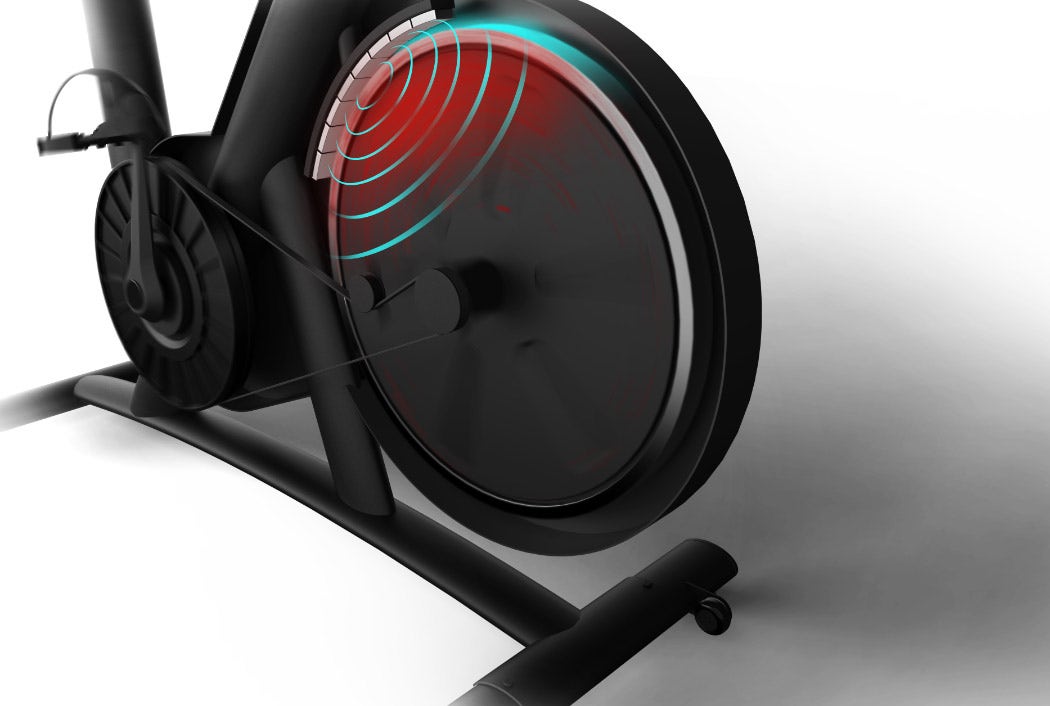 Unbeatable quality: Whisper-quiet magnetic braking system
The Speed Race comes with the best magnetic braking system on the market today. Unlike traditional felt braking systems, the magnetic braking system used in Speedbikes runs completely silently and is maintenance-free. Training resistance is controlled by the distance between the magnets and the flywheel. The smaller the distance, the higher the resistance and the more intense will your workout be. This type of resistance control is entirely contactless, and therefore wear-free and completely silent.
Progressive resistance
The resistance dial is located within easy reach on the main frame for manual adjustment of the progressive resistance setting. Set the resistance as high or as low as you need. And if you ever get carried away and start going to fast, simply press the red rotary knob to initiate an emergency stop using the maintenance-free magnetic braking system to slow down the flywheel.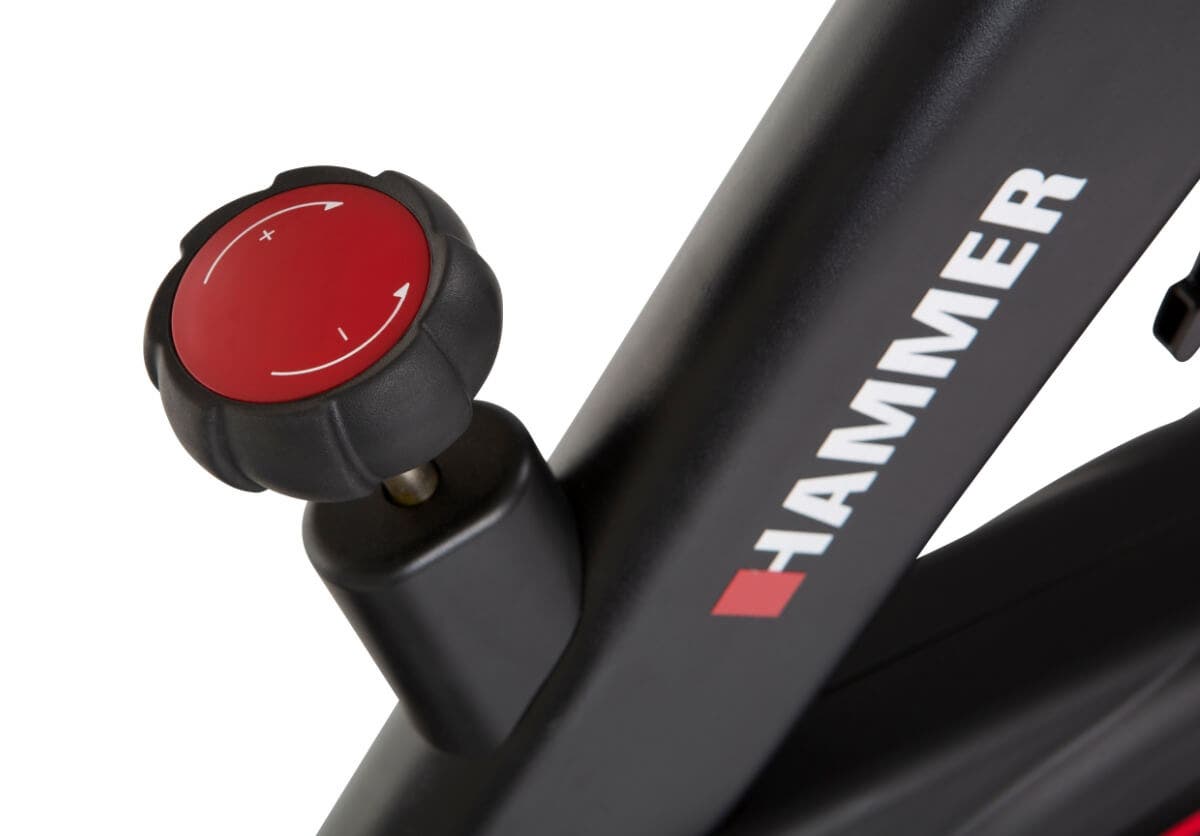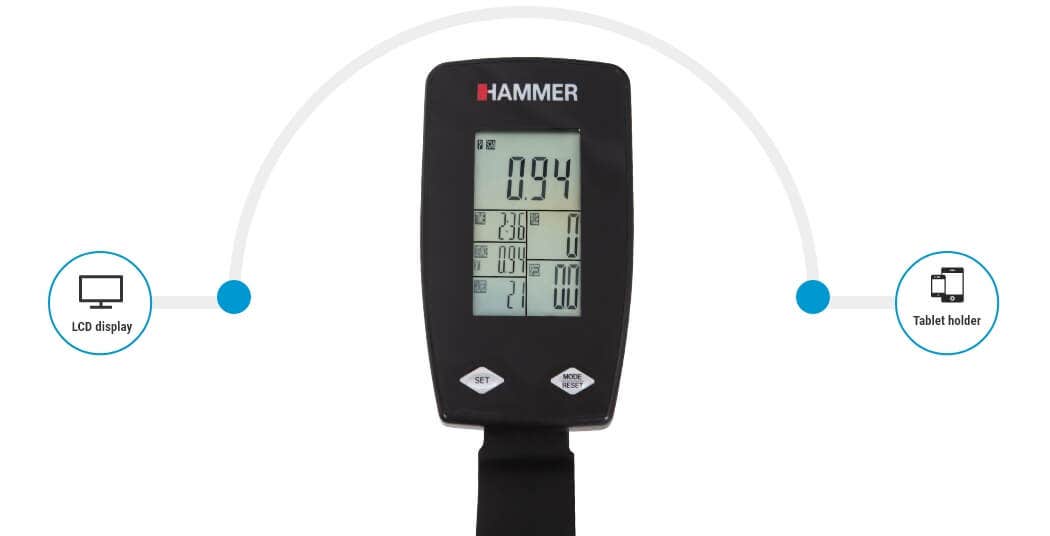 Your personal speed cockpit
The computer display shows you: time and distance travelled, calories burned, pulse rate, rpm and speed. The SCAN display offers all the information you need with all function values displayed in five-second intervals on rotation. The Auto ON/OFF function lets you start your training immediately, as soon as you start pedalling and all values start counting up from zero until you finish your speed training session. Also super practical: you can configure preset values for distance or fat burn goals. The preset values automatically count down and a signal will sound once you reach zero. You will need two AA (Mignon) batteries to power the computer functions, which are very easy to access via two push-buttons.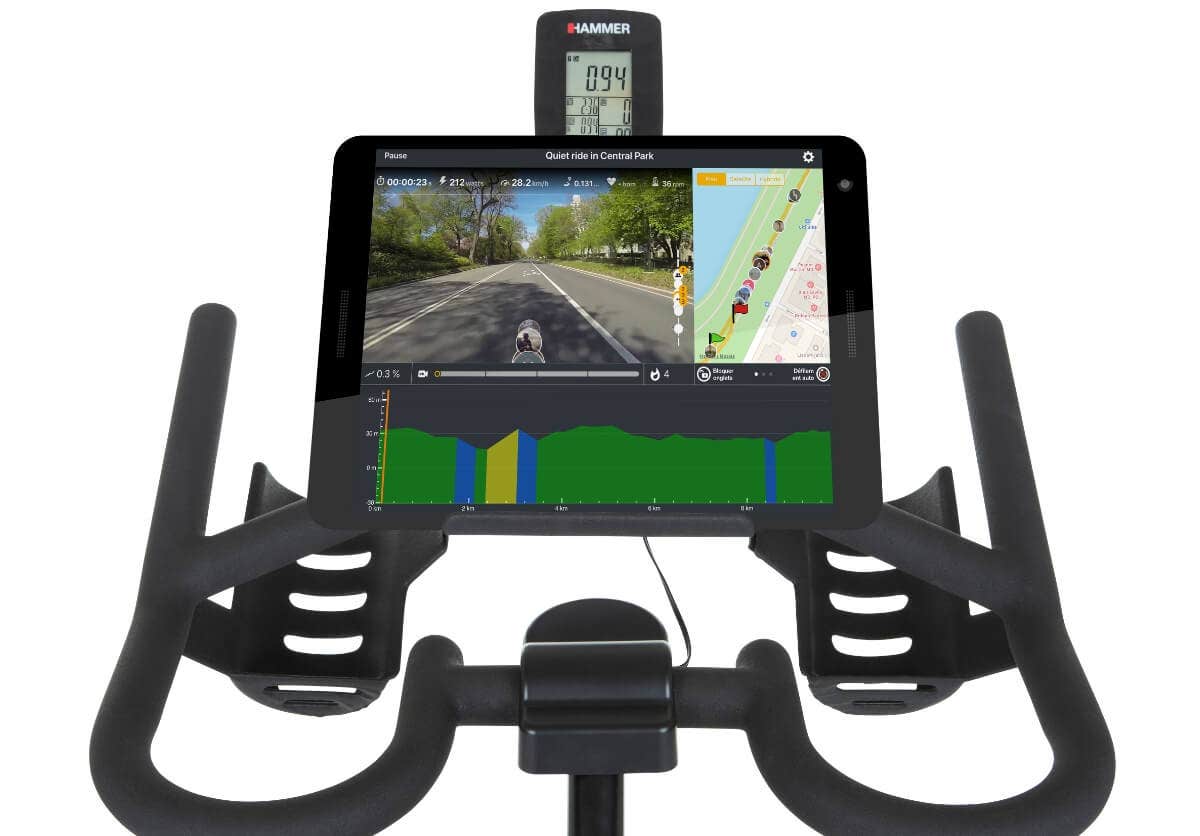 Multimedia - Cycling
Place your tablet PC or smartphone on the holder to start your multimedia experience. The fitness apps BitGym and Kinomap (with camera function) offer a live route experience that will keep you motivated for longer. Plus, you can put on your favourite tunes as a backing track to your power training or watch all the latest video clips on YouTube while you push yourself to your limits. In any case: you can have all the entertainment you want while working out!
Heart rate under control
Make sure to keep an eye on your heart rate while you train and stay within the prescribed pulse range during intense cycling sessions. The training computer offers a heart rate program to do exactly that. Set an upper heart rate limit for optimal safety: a warning signal will sound if your heart rate increases above the set limit. The computer is additionally equipped with a chip for wireless heart rate transmission in conjunction with an optional chest belt.
Always well-hydrated
Drinking is important! You can make sure that you remain properly hydrated during hard workout sessions because the two bottle holders will fit any commercial sports bottle type.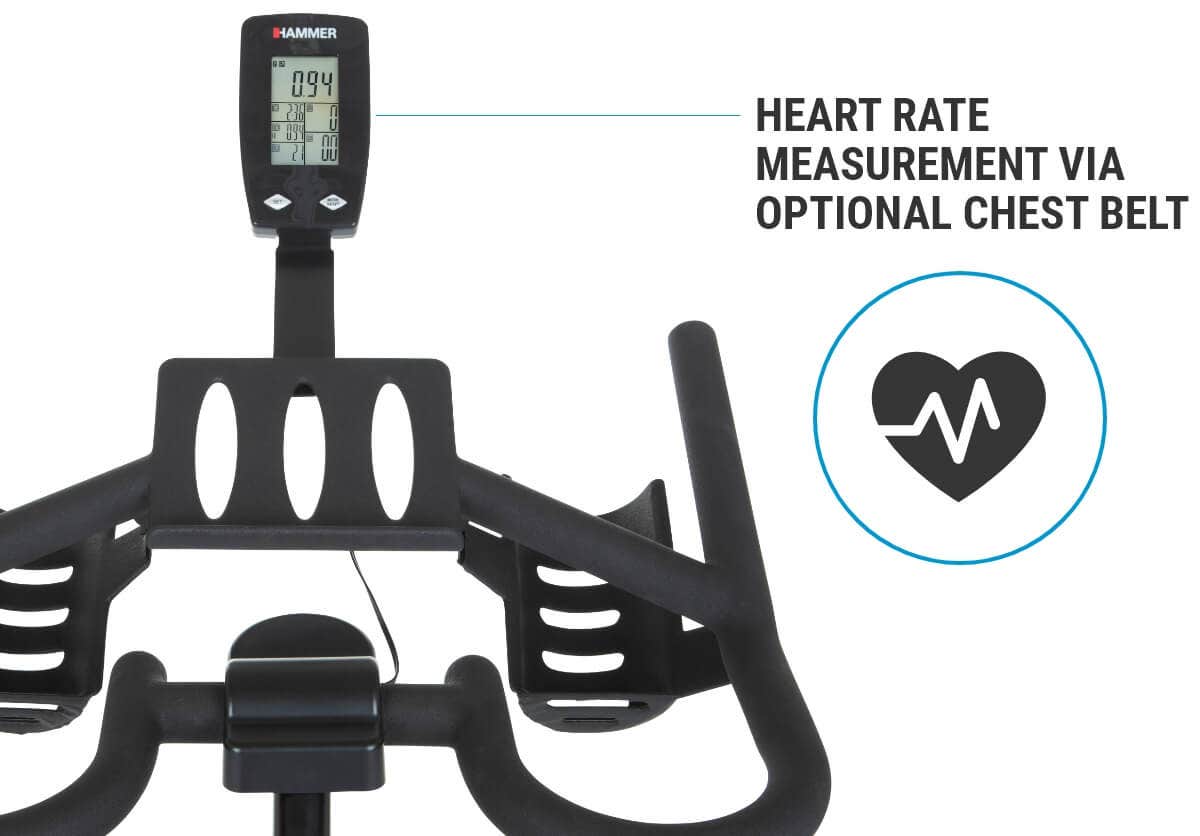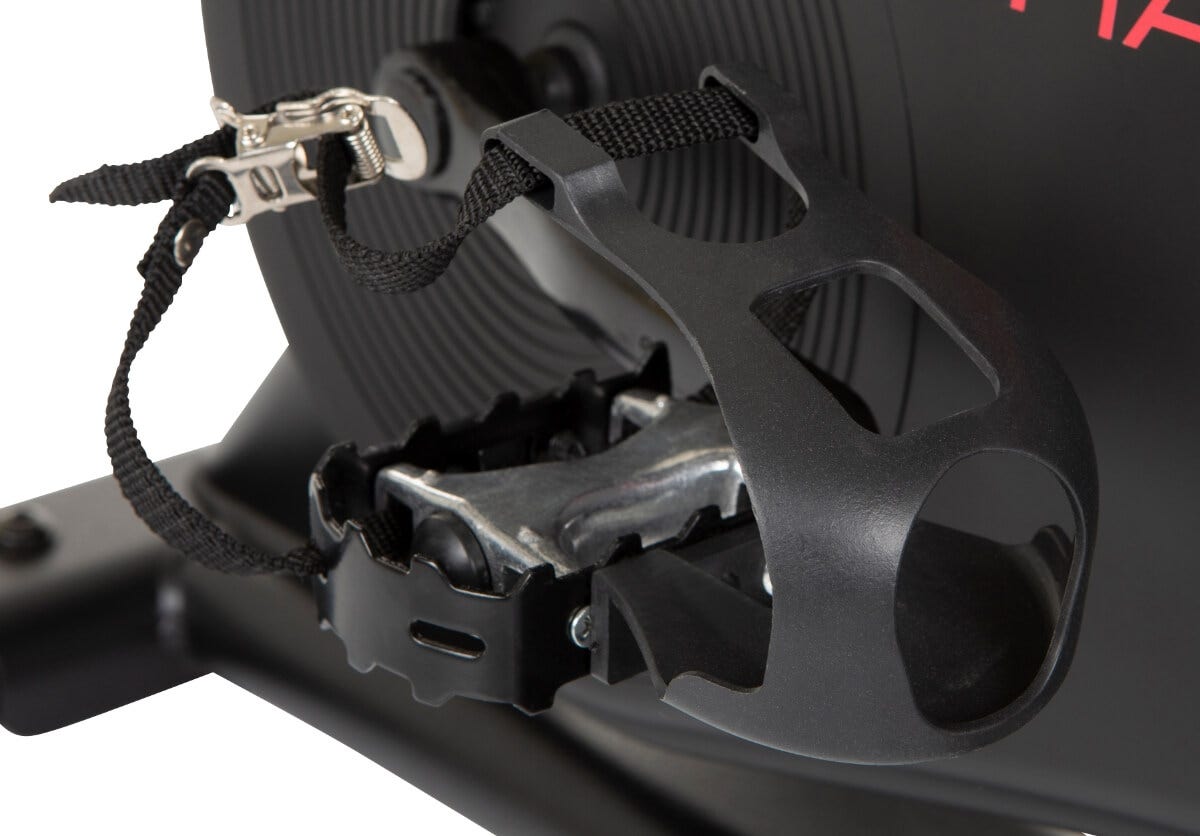 Super safe pedals
The Speedbike comes with extra high-grip, individually adjustable flat pedals for use with sports shoes. The sports pedals offer excellent comfort, are non-slip and highly efficient for moderate cardio training or a high-octane speed workouts – no matter how long you train. Perfect route simulation in preparation for your next outing! Both pedals come with an adjustable cage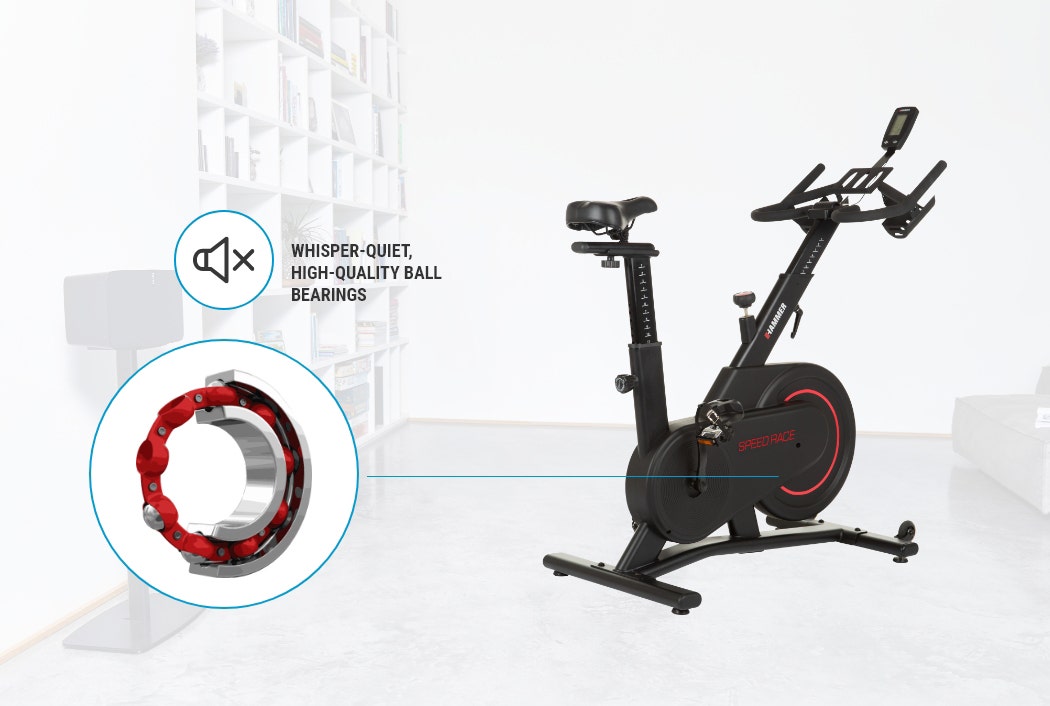 Silent speed training
Sporty sequences and innovative technology will make workouts fun and keep you endlessly motivated. The 16 kg flywheel mass, grooved belt drive with a fixed barrel drive and the high-quality ball bearings all come together to guarantee exciting training sessions that will motivate you to give your all. You can feel the noiseless, smooth running of the system with every push of the pedals, allowing you to focus completely on your performance. You can use your Speedbike at any time – day or night – and you won't disturb anyone with annoying, repetitive noise. Nothing should stand in the way of your adrenaline kick during speed sequences!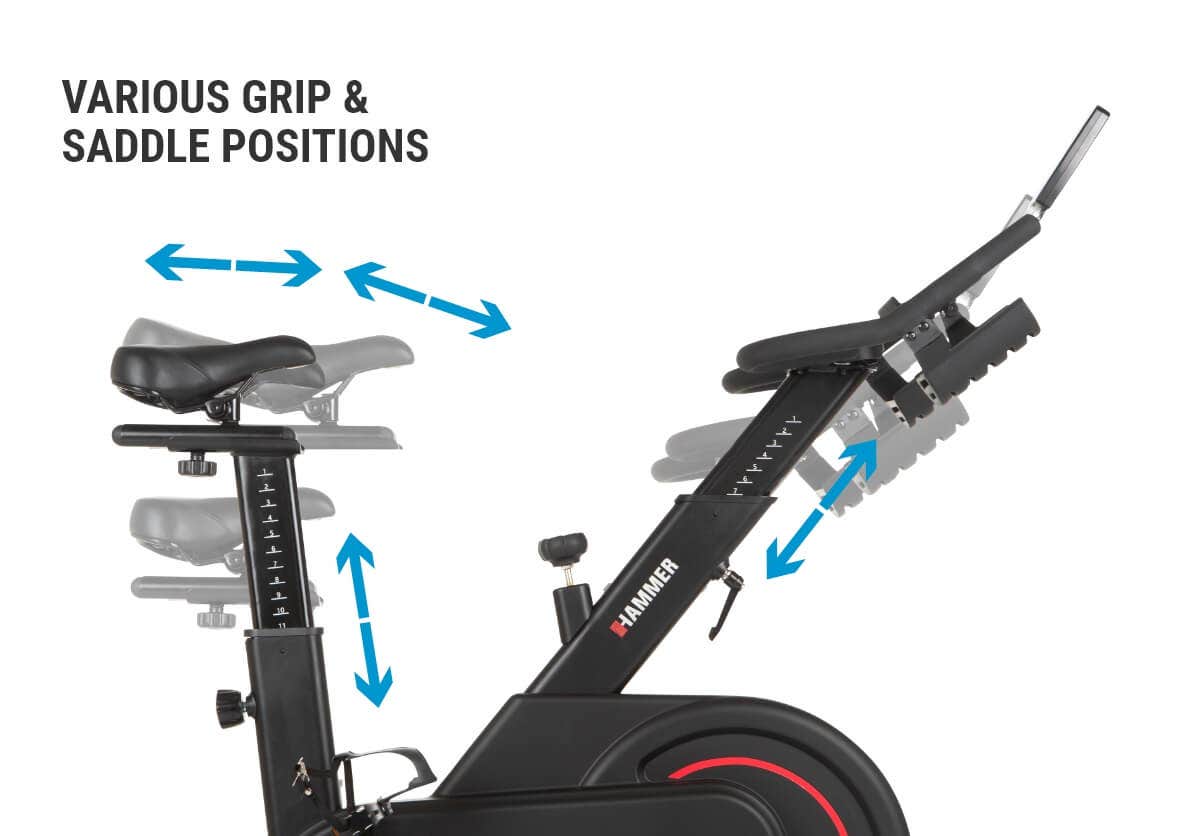 Perfect for you
The comfortable saddle of your Speed Race offers 11 vertical settings to accommodate users of any body height. The horizontal saddle position can also be adjusted easily in just a few steps by moving it forward or back on the seat slider. Simply loosen the hand-wheel bolt and move the saddle into the right position on the seat slider. Extra practical: the tilt of the saddle can also be adjusted for comfort.
The sports handlebars also have seven height settings that can be adjusted in seconds for that perfect training posture. The non-slip handles feel great and are sweat-repellent. Simply wipe down the handlebars with a damp cloth once you're done.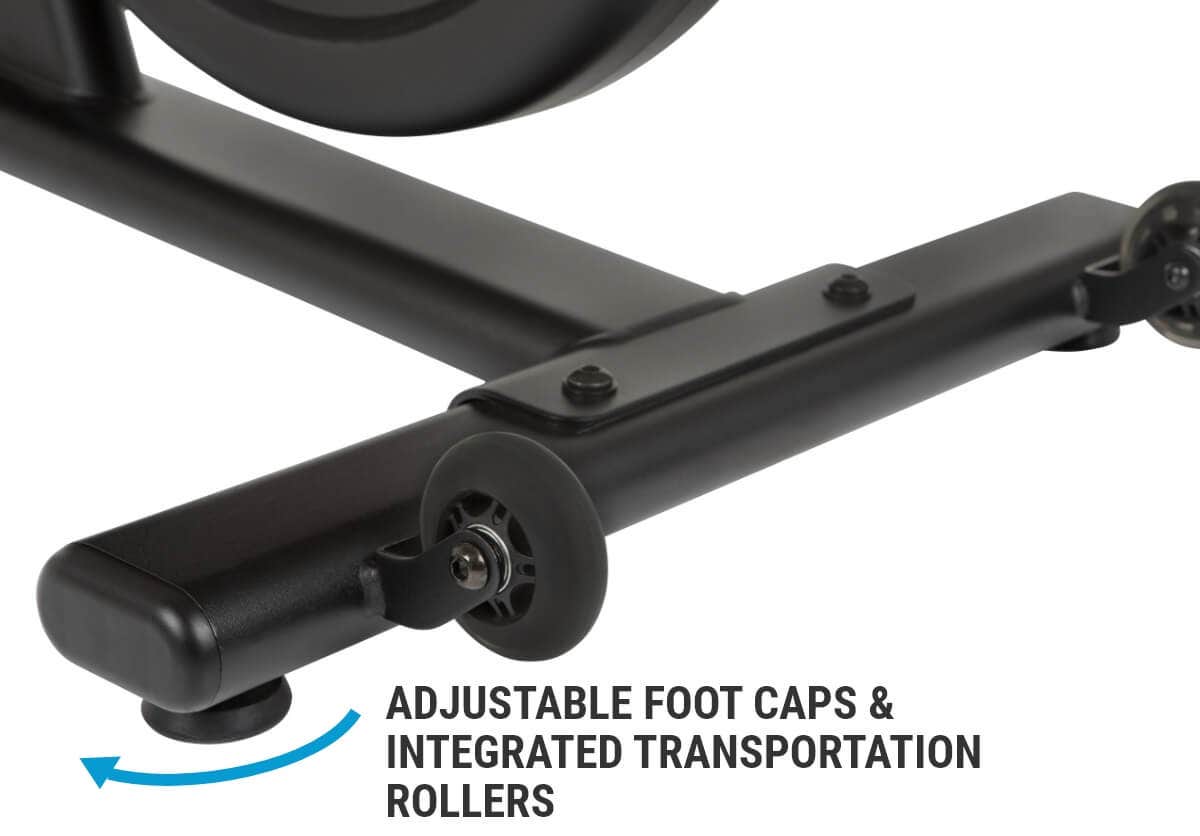 Robust and safe
The four-point support system and the height adjustment caps attached to the two bases ensure perfect levelling and a sturdy footing before each workout. The high-end, super compact construction (L x W x H: 115 x 50 x 134 cm) will make you feel perfectly safe during high-speed sessions and powerful pedal spurts standing up. Your indoor Cycle can be easily moved to your favourite spot using the two premium transport rollers integrated into the base at the front.
Computer
Multimedia
Tablet support
Integrated pulse receiver for chest belts
5 kHz
Display
Load profiles
Distance, Speed, Heart rate, RPM, Time
Programs and profiles
Adjustable pulse limit
Upper pulse limit
Drive/brake system
Drive system
Grooved belt
Load spectrum
Stepless manual
Braking system
Permanent Magnetic
Resistance adjustment
Manual
Dimensions and weight
Build up size (L x W x H)
115 x 50 x 134 cm
Other features
Transportation rollers
Yes
Saddle adjustment
Horizontal, Tiltable, Vertical
DIN Norm
DIN EN ISO 20957 -1/10
Shipping
Delivery time
4-8 working days
Scope of delivery
Speed Race
Delivery Information
Delivery to curbside (Please leave your phone number when ordering, so we can arrange a suitable delivery date for you)
Private use
on the main frame
10 years
Clients ask, our fitness experts answer
Do you need more information about the product? Ask your question here. Our fitness experts will answer quickly and easily.
1 questions already answered
Question:
Hallo, kann jemand mit einer Körpergrösse von 135cm mit dem Racer trainieren? Beste Grüsse Patrick from Patrick Jehli
Answer:
Tab 1
Hallo, der RACER ist ab ca. (abhängig von der Körpergröße nicht von der Beinlänge) 1,45-180 cm Größe geeignet. je Nach Ihrer Beinlänge kann es somit durchaus passen. Gerne senden Sie mir Ihre Beinlänge. Gruß...