Kinomap

HAMMER Cardio XT6 BT
Health-orientated and uncomplicated cardiovascular training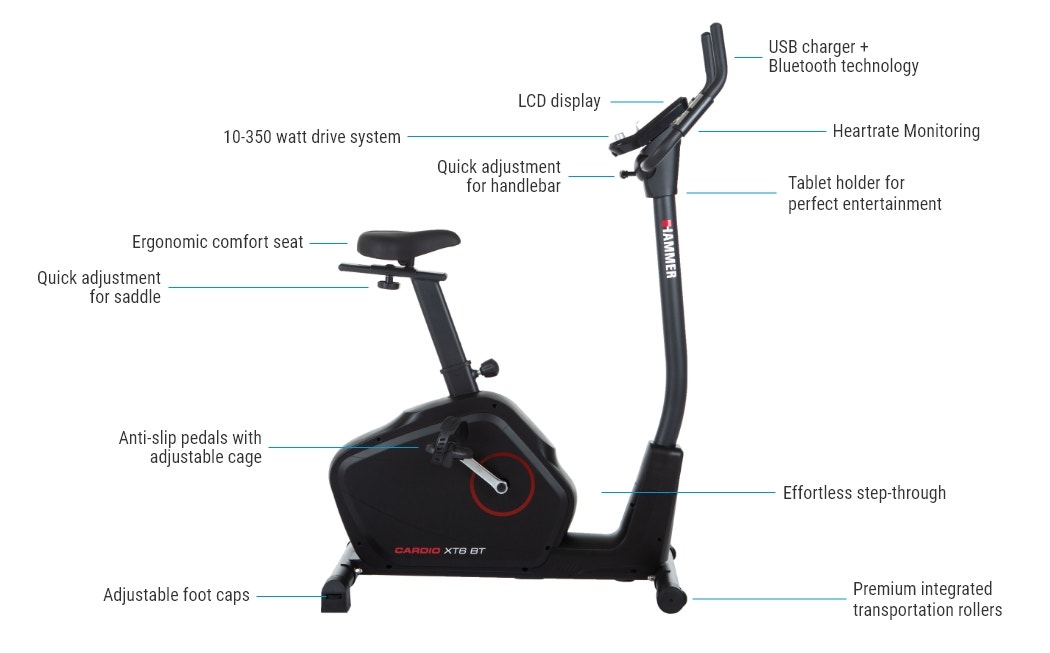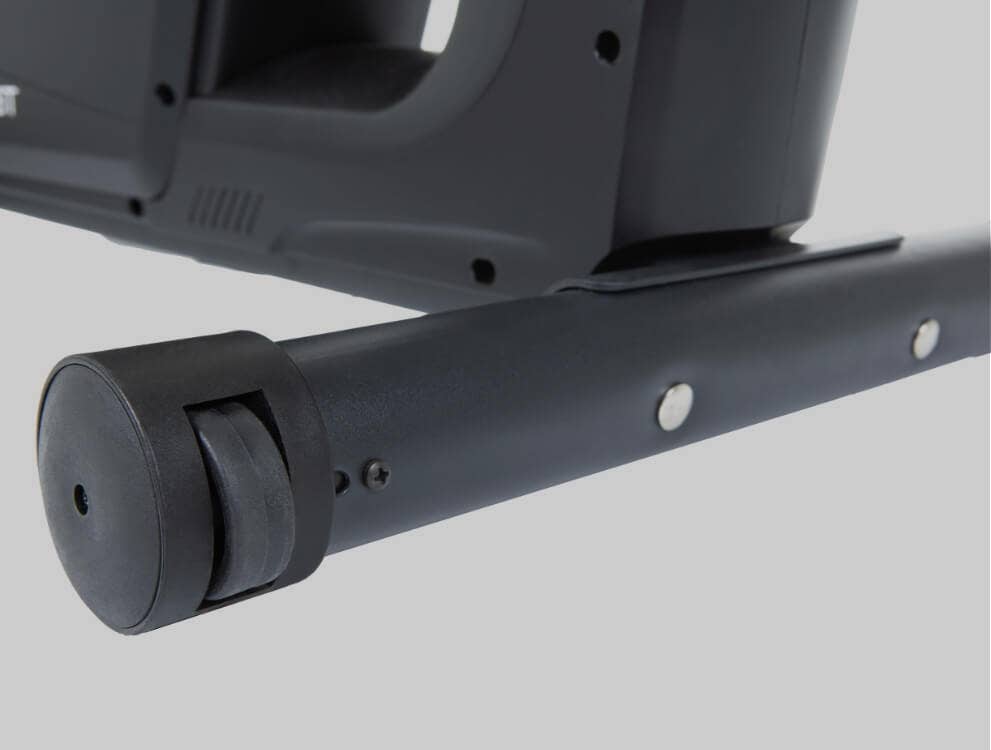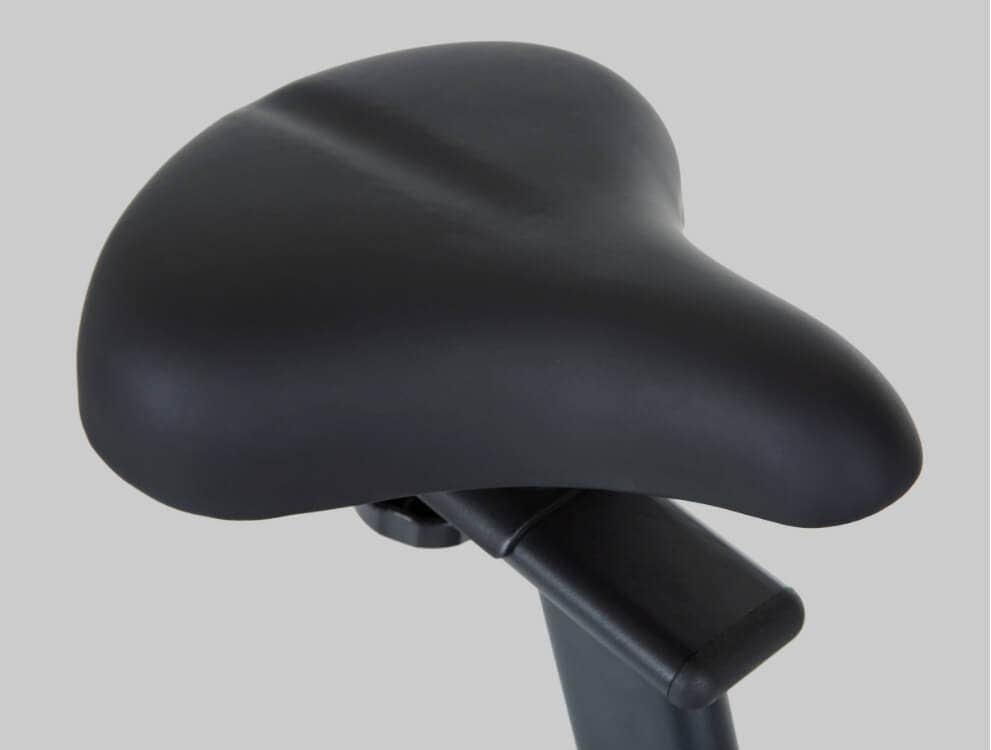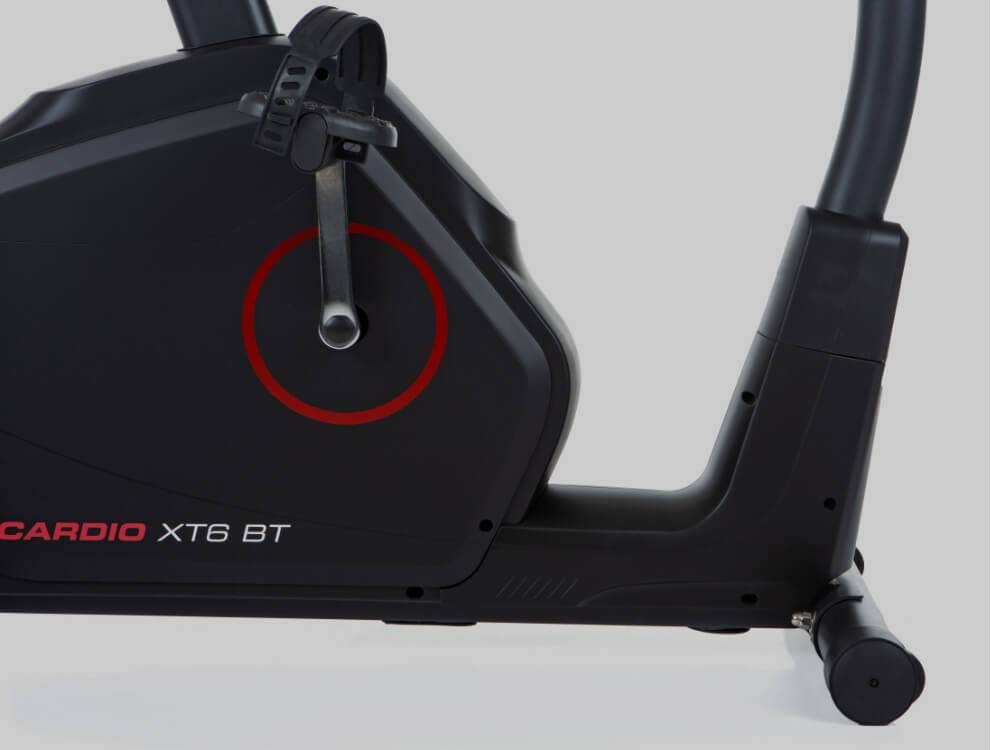 No more excuses from now on!
Effortless entry and back-friendly training
Are you looking for a comfortable, stable ergometer with a low entry for effortless mounting? Do you want a clear and self-explanatory computerised control system so you can get started straight away? Then the HAMMER Cardio XT6 is the ideal ergometer for you. With the HAMMER Cardio XT6 you can improve your fitness, reduce your weight and really get your cardiovascular system going! You can choose between manual or automatic resistance adjustment and automatic fitness programmes. An 8 kg flywheel mass and an electronic magnetic brake system ensure a sensationally smooth rotation. The resistance can be set from 10 to 350 watts and adjusted in 5-watt increments, so even ambitious athletes can improve their performance. The handlebars and saddle can be variably adjusted so that your ergometer can be ideally adapted to any body size.
Quality assurance: 100k quality
tested for an extra-long service life: you can be sure that you will enjoy your Cardio XT6 for a very long time, as the technology of your ergometer has successfully undergone an endurance test of over 100,000 revolutions. The technical parts, such as the electronics and ball bearings, are of high industrial quality and designed for intensive and prolonged use.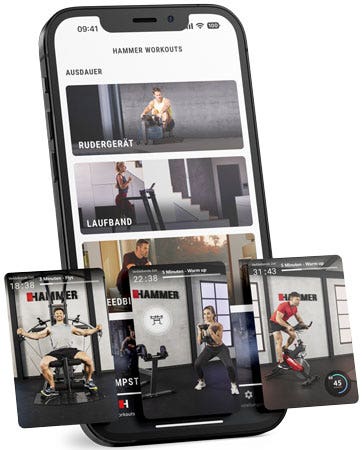 Discover your favourite workout
With HAMMER Workouts, we constantly offer you new and motivating classes with your Cardio Motion. Work out together with our expert trainers and achieve your individual fitness goals in 10 - 50-minute workouts. All in one place and without the need for an additional subscription.




Minimal resistance from just 10 watts!
The full range from 10 to 350 watts
With the HAMMER Cardio XT6 ergometer, you can train with a minimum resistance of just 10 watts! A range that is otherwise only known from studio equipment. This is particularly ideal for older people, for light mobilisation after sports injuries or to start training slowly.
Fitness test included!
Perfect for motivation and improving your training
After your workout, measure your heart rate. The faster your heart rate drops, the fitter you are. The computer on your Cardio XT6 indicates this with a fitness score from 1 to 6. A good score spurs you on even more, motivates you and makes you even better at your next workout. Your Cardio XT 6 also offers you the option of body fat measurement to help you track your body toning goals.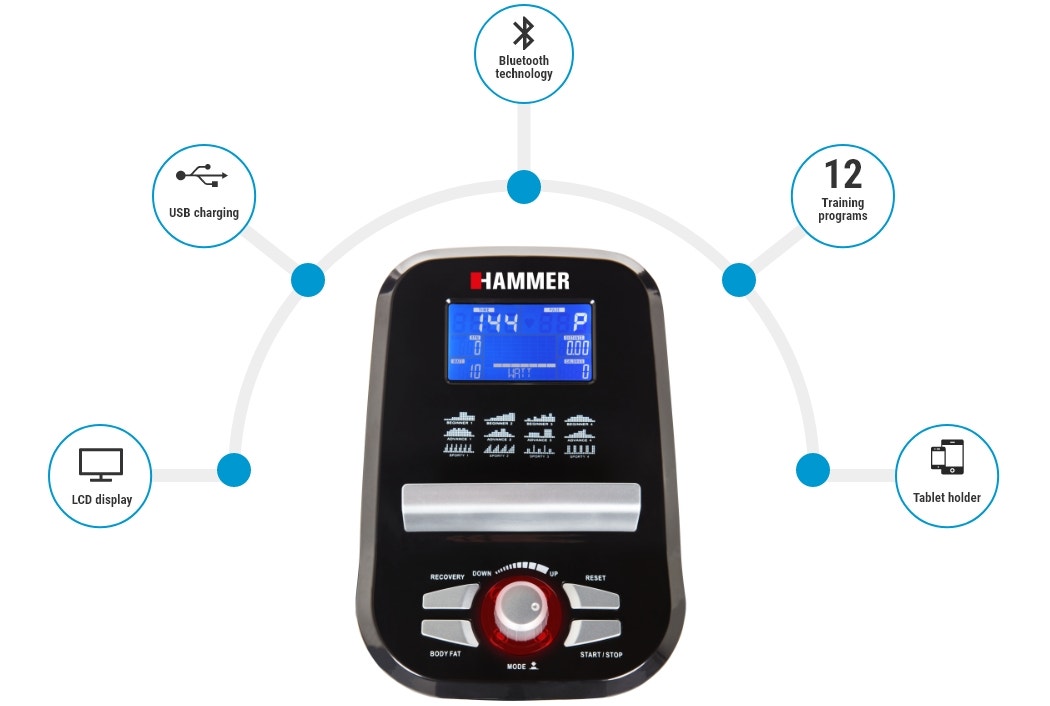 Clear display
Via LCD monitor or your smartphone/tablet
With the Cardio XT6 multimedia console, you can view your training data on a clear, high-resolution LCD display (display of: Uphill and downhill profiles, speed, time, distance travelled, number of calories burned, heart rate, body fat, BMI and fitness test) or control it via your smartphone/tablet.
Simple computer operation - everything at a glance
The display of the Cardio XT6 ergometer shows all important training data at a glance and in razor-sharp clarity. The computer menu is self-explanatory and extremely easy to operate for all age groups using the "push-turn knob". Finally, there's no need to read complicated instructions and you can start training straight away.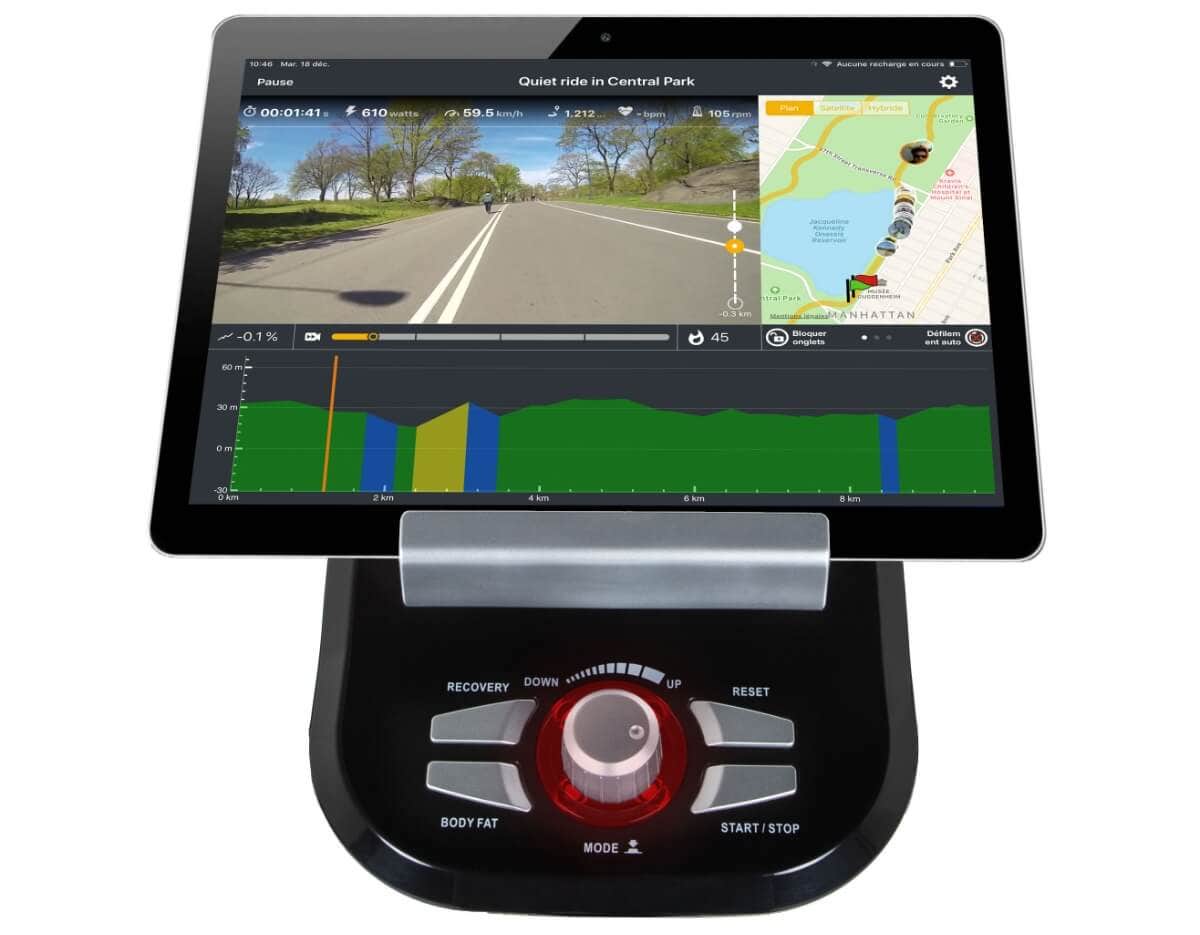 Need a change of pace during your workout?
The multimedia entertainment with Bluetooth technology will win you over
With your Cardio XT6, you have all the options for varied multimedia entertainment. Bluetooth technology allows you to train with motivating fitness apps such as Kinomap, iConsole or BitGym. Ride exciting routes in the "live experience", enjoy your favourite music or watch an exciting film. Training data can be saved and you can compare and document your successes. Home fitness has never been so exciting, varied and motivating. By connecting your tablet to the training computer via Bluetooth, Kinomap offers you a maximally realistic live track experience. Kinomap automatically adjusts the resistance in real time to the incline of the route you are currently travelling. The resistance is automatically increased on ascents and reduced on descents. The riding speed automatically adjusts to your current cadence in real time. Your riding speed increases at a high cadence and decreases at a low cadence. Optional: Kinomap live events for group fitness, races, competitions and prizes.
Your smartphone or tablet is automatically charged during training via the integrated USB port.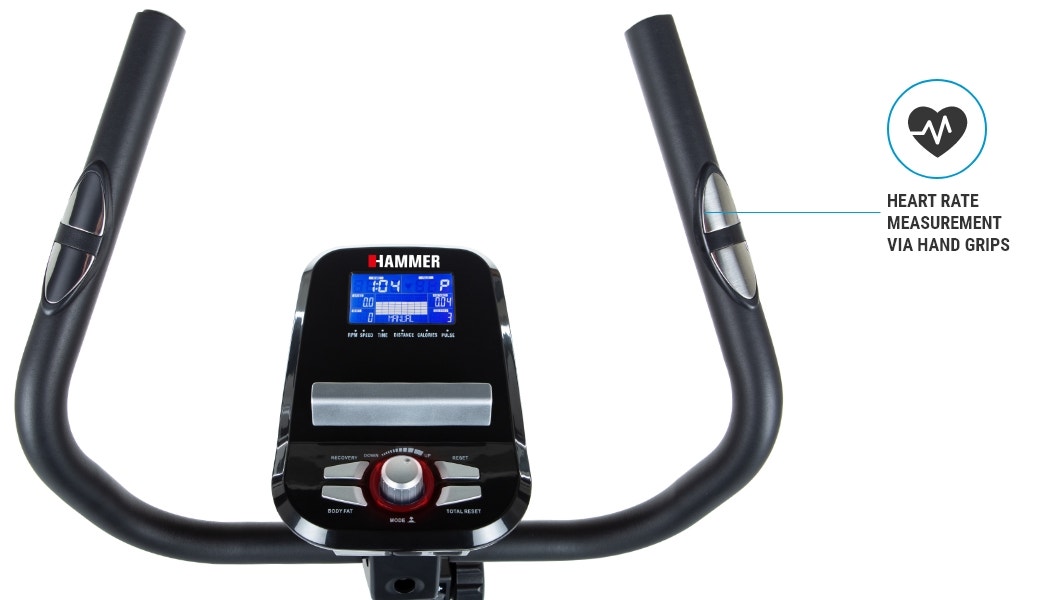 The effortless start will convince you!
Start training in comfort
In contrast to ergometers with high housings, the Cardio XT6 allows you to move your leg easily thanks to the generous distance between the handlebars and the device. This makes it particularly easy for older people to sit up. The 7 cm thick comfortable padding of the saddle ensures a particularly pleasant sitting experience, even during longer training sessions. Here too, your new Cardio XT6 has a clear advantage over standard products. The sporty, ergonomic shape of the saddle prevents unpleasant friction on your thighs during training.
Keep an eye on your heart rate!
Healthy cardiovascular training
To achieve a specific fitness goal, you should keep an eye on your heart rate. Whether it's fitness training, cardiovascular training or weight loss. Powering through or burning calories intensively? The pulse rate is crucial! Optional pulse measurement via the handle or the optional chest strap allows you to keep an eye on your personal pulse rate at all times and quickly realise your personal fitness goal. Practical: By entering a maximum heart rate, the Cardio XT6 automatically lowers the resistance if the set value is exceeded thanks to the HRC function. This makes it the ideal training partner for safe and healthy cardiovascular training without overstraining you.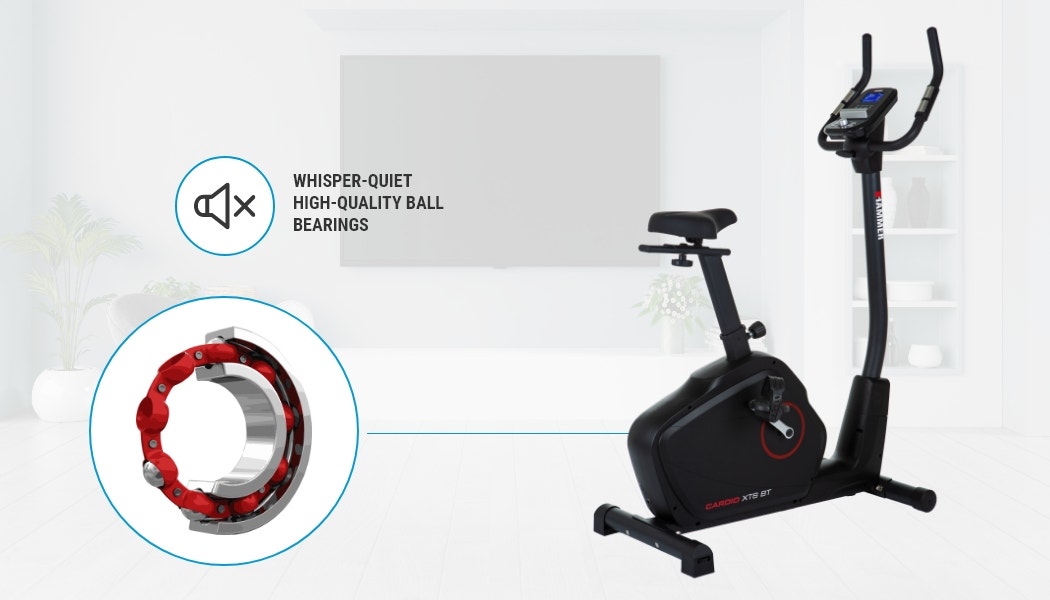 Whisper quiet!
Your neighbours will like it too!
The HAMMER electronic magnetic brake system is durable, particularly quiet and reliable. An 8kg flywheel mass, a perfectly even grooved belt drive and premium ball bearing technology ensure that your Cardio XT6 ergometer runs smoothly and particularly quietly. This means you can train at any time of day or night or in front of the TV without any annoying background noise.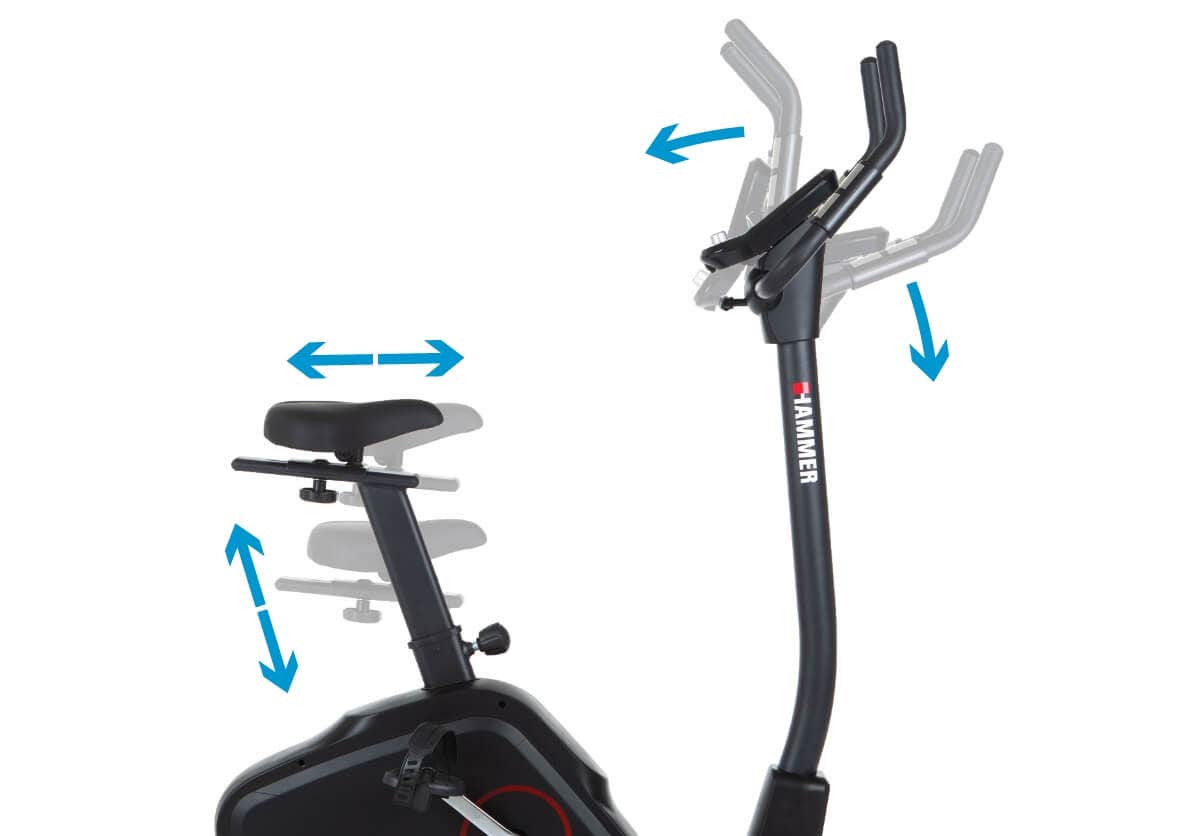 Variable settings
Train upright and protect your back
Your ergometer offers you various grip positions: Relaxed, pulse-orientated, sporty or in the upright back position. you can adjust the comfort handlebars so that you can train in a particularly upright position that is easy on your back. The comfortable saddle can be adjusted three-dimensionally for all body heights from 1.55 to 1.90 metres to the desired sitting position using a quick adjustment button. The height of the saddle and the seat distance can be changed in seconds for different family members.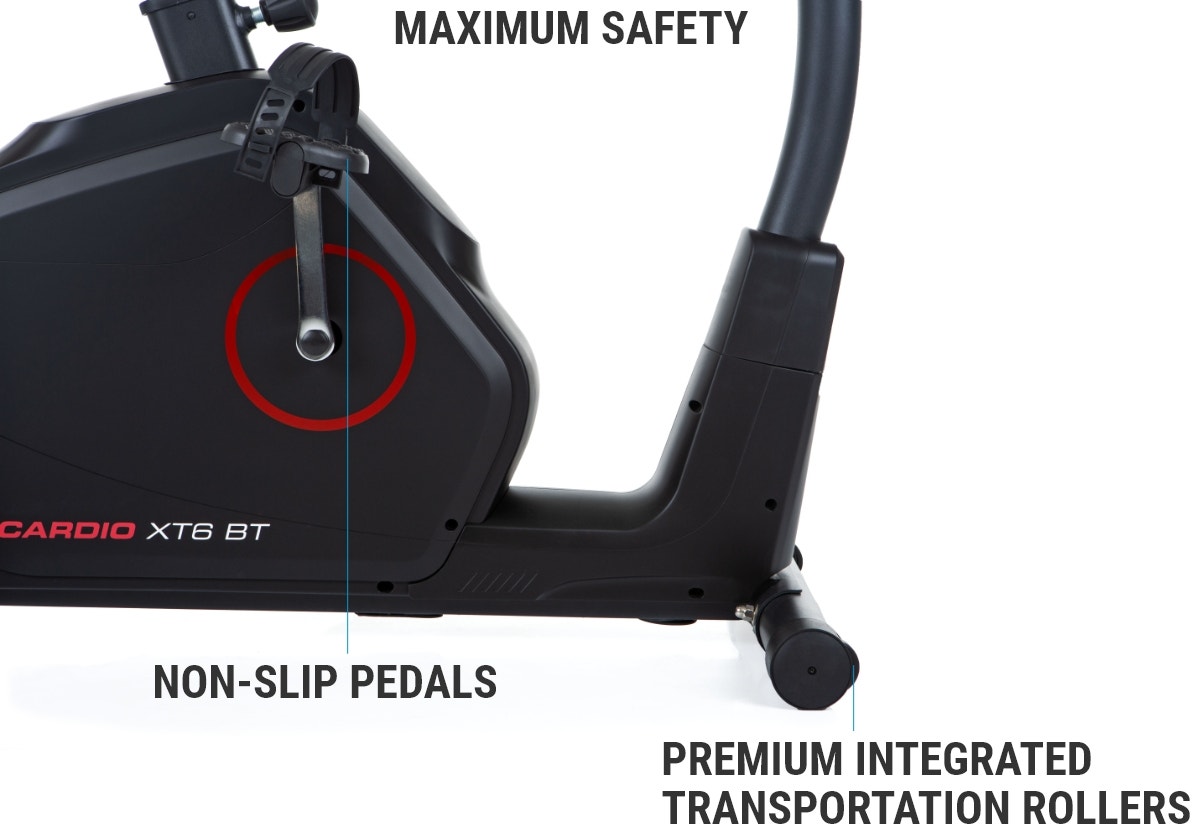 Further premium details
Safe for training, easy to transport
The XT6 scores with further premium details: non-slip pedals with adjustable webbing for maximum safety, healthy/joint-friendly pedal spacing of 22 cm, transport wheels and adjustable foot caps for perfect levelling on uneven ground. Thanks to the 4-point support system and double welding, the Cardio XT6 is particularly stable and safe during training.
Computer
Watt controlled
Yes - adjustable in 5-watt steps
Display
LCD Blue Backlight
Multimedia
App, Bluetooth, Tablet support, USB
Integrated pulse receiver for chest belts
5 kHz
Display
Load profiles
Distance, Speed, Heart rate, Calories, RPM, Watt, Time
Programs and profiles
Heart rate controlled programmes
4
Adjustable pulse limit
Upper pulse limit
Drive/brake system
Load control
RPM independent
Braking system
Permanent Magnetic
Resistance adjustment
Computer controlled
Dimensions and weight
Build up size (L x W x H)
93 x 51 x 150 cm
Other features
Transportation rollers
Yes
Saddle adjustment
Horizontal, Vertical
Handlebar adjustment
Horizontal
Performance
10 - 350 Watt
DIN Norm
DIN EN ISO 20957 -1/5
Shipping
Delivery time
3-6 working days
Scope of delivery
Cardio XT6 BT
Delivery Information
Delivery to the apartment door
Private use
on the main frame
10 years
Clients ask, our fitness experts answer
Do you need more information about the product? Ask your question here. Our fitness experts will answer quickly and easily.
1 questions already answered
Question:
Cardio XT6 BT wie ist die Stromversorgung? from Adolf Käser
Answer:
Tab 1
Das Gerät wird ganz normal über eine Steckdose mit Strom versorgt.
Our recommendation for you
Exum XTR BT

Special Price

CHF749.00

Regular Price

CHF849.00

Exum

Special Price

CHF699.00

Regular Price

CHF749.00