Kinomap
Health orientated circulation training with watt control according to DIN-EN 957-1/5 and comfortable, low entry level.

FINNLO Varon XTR is a premium ergometer that can be used to get fit through secure, targeted endurance and circulatory system training. The highly varied computer programs on the Varon XTR motivate you to do regular fitness workouts and will never bore you in the process. A dynamic step movement warms up your circulatory system so you can burn more calories and fat. This way, you not only promote better health, but also perform a targeted workout for a slimmer, nicely shaped body.
Effective ergometer training with the Varon XTR can lead to the following results:
Improved endurance and physical fitness
Body weight and fat reduction
Strengthening of the leg and buttocks muscles
Body toning and tissue tightening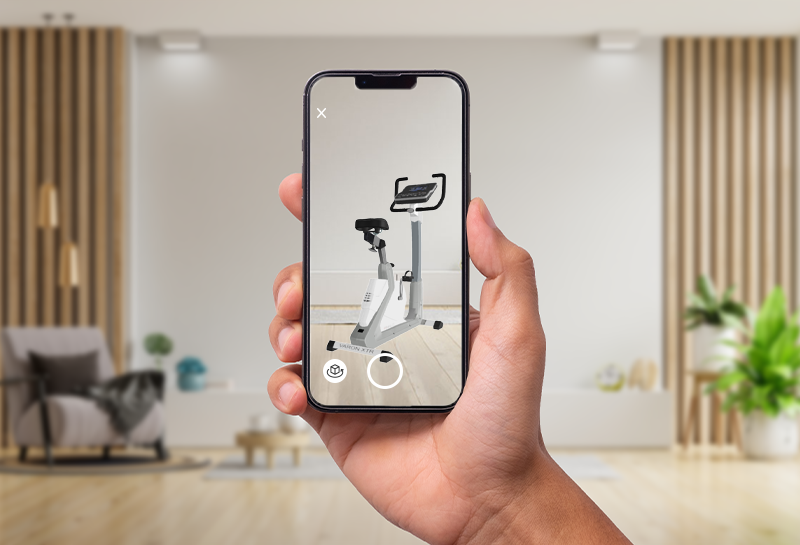 Experience your product in your own home now!
Whether as a 3D view on the PC or virtually in your own room via smartphone - immerse yourself in a whole new kind of product experience with HAMMER Augmented Reality.
Clear, easy to use training computer with pulse and wattage control, as well as a variety of different resistance programs
All of the functions on the Varon Loxon XTR are controlled via the computer with its clear LCD Blue Blacklight display. This permanently displays 9 values, including: Distance, time, calories, speed, step frequency, performance, training program, 400 m rounds and your pulse. 8 exercise profiles and 2 pulse programs ensure the most variety. These can be easily adjusted using the quick select buttons. You enter a certain wattage or pulse value and your ergometer will control the resistance levels independently, to keep these values in check. The rotational speed independent load control can be set to a range of 41 steps, between 20 and 400 watts (in accordance with standard DIN EN 957) Additional premium features: Recovery pulse measure with fitness score, tablet/smart phone holder and a USB charger port.
Perfect seat positioning that is gentle on the back
The perfect seating position can be achieved on the FINNLO ergometer Varon XTR thanks to its multi-way adjustment. The handlebar and saddle / seat can be vertically and horizontally adjusted. A padded saddle / seat also ensures more comfortable sitting during longer workout sessions. The Varon XTR Plus is fitted with a low maintenance induction braking system, precision ball bearings and a 8 kg flywheel mass to ensure fluid, quiet running.
Important product information:
Ergometer class HA in accordance with DIN EN 957-1/5
Performance in watts, 20-400 watts adjustable in 5 watt increments, rotational speed independent
Comfortable, very low entry level
Grooved belt system and premium ball bearings for the perfect rotation
Low maintenance induction braking system for particularly even movements
Clear, easy to use training monitor with 9 simultaneous displays, 8 automatic fitness programs and 2 pulse programs
Displays distance, time, km/h step frequency, calories burned, pulse, wattage, program and 400 m rounds
LCD display with blue blacklight
Tablet/smart phone holder and USB charger port
Integrated pulse receiver for commercial chest belts (optional)
Quick start button for pulse programs
Approx. 8 kg flywheel mass
Gear transmission ratio: 1:8<
Integrated transportation rollers and level compensation
Max. body weight: 150 kg
Dimensions set up (LxWxH) 112 x 55 x 130 cm
Net weight: 41 kg
Power supply: 230 V, 50 Hz
Computer
Display
Hi Tech Blue Backlight LCD-Display
Multimedia
App, Bluetooth, Tablet support, USB
Integrated pulse receiver for chest belts
5 kHz
Display
Load profiles
Distance, Speed, Heart rate, Calories, RPM, Watt, Time
Programs and profiles
Heart rate controlled programmes
2
Adjustable pulse limit
Upper and lower pulse limit
Drive/brake system
Drive system
Grooved belt
Load control
RPM independent
Resistance adjustment
Computer controlled
Dimensions and weight
Build up size (L x W x H)
112 x 55 x 130 cm
Other features
Transportation rollers
Yes
Saddle height adjustment
10 steps
Saddle adjustment
Horizontal, Vertical
Handlebar adjustment
Rotatable
Performance
20 - 400 Watt
DIN Norm
DIN EN ISO 20957 -1/5
Class
Class HA (in accordance with DIN EN 957 – 1/9)
Shipping
Delivery time
4-8 working days
Scope of delivery
Varon XTR BT
Delivery Information
Delivery to curbside (Please leave your phone number when ordering, so we can arrange a suitable delivery date for you)
Private use
on the main frame
10 years
Clients ask, our fitness experts answer
Do you need more information about the product? Ask your question here. Our fitness experts will answer quickly and easily.
1 questions already answered
Question:
bis zu welchem Körpergewicht ist das Gerät geeignet? from Lissi
Answer:
Das maximale Körpergewicht beträgt 150kg!
Our recommendation for you