Kinomap

HAMMER Speed Racer S
High-speed indoor cycle with LCD display and Bluetooth connectivity for fitness apps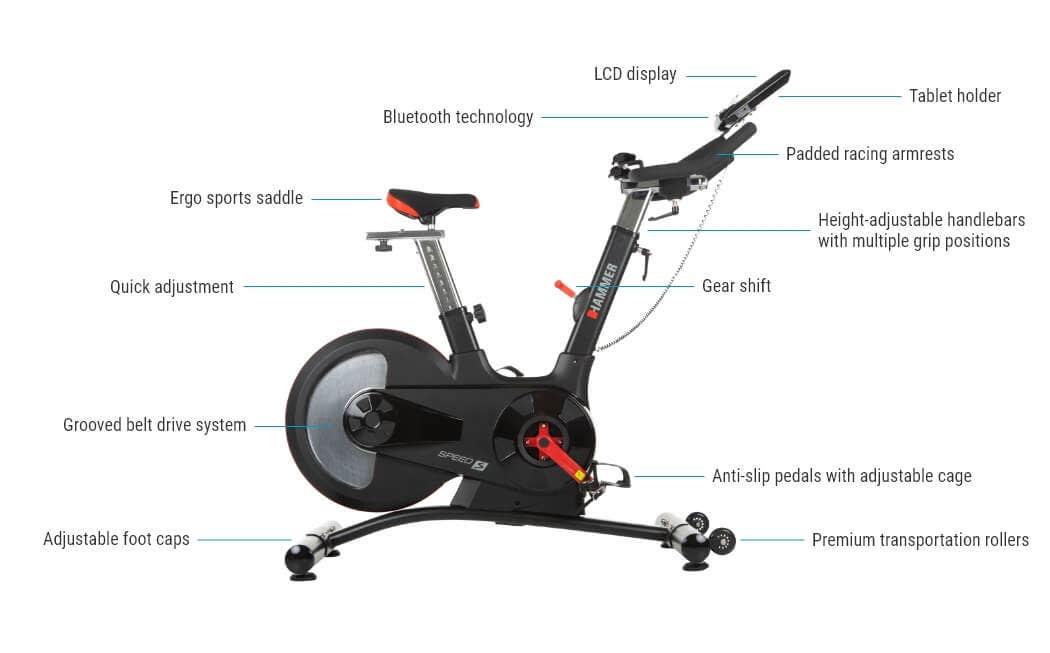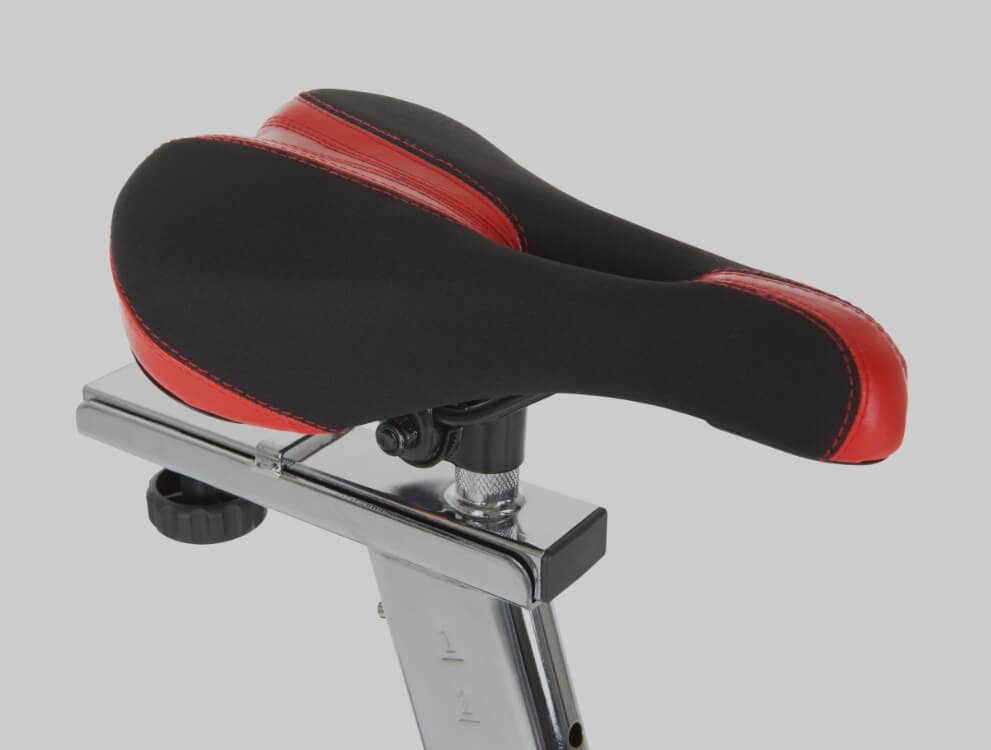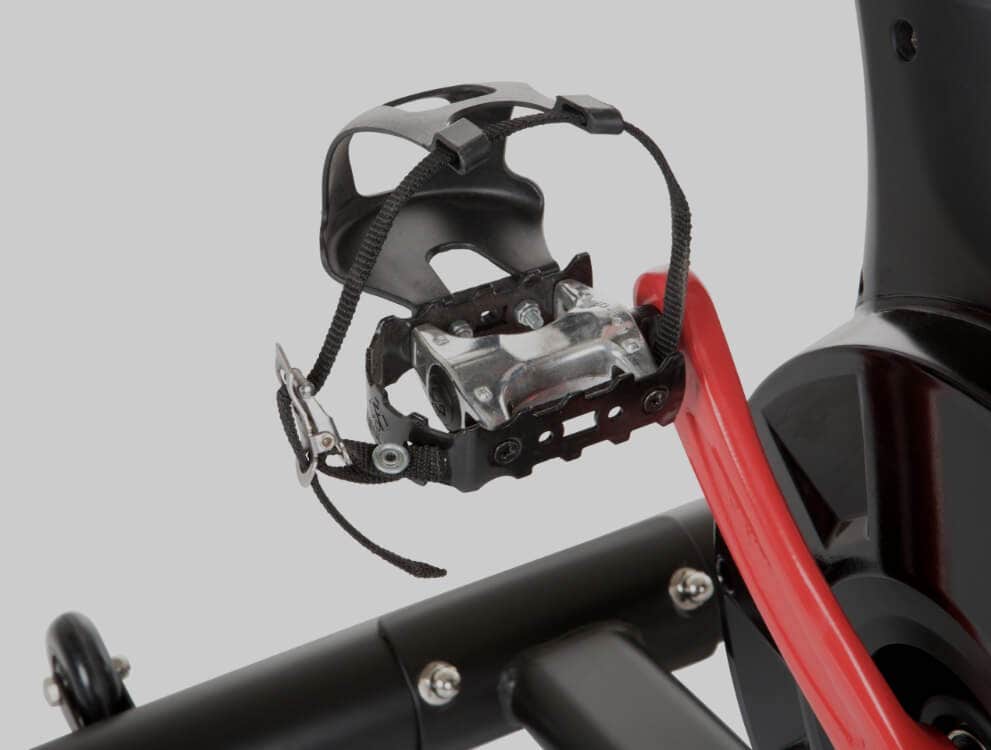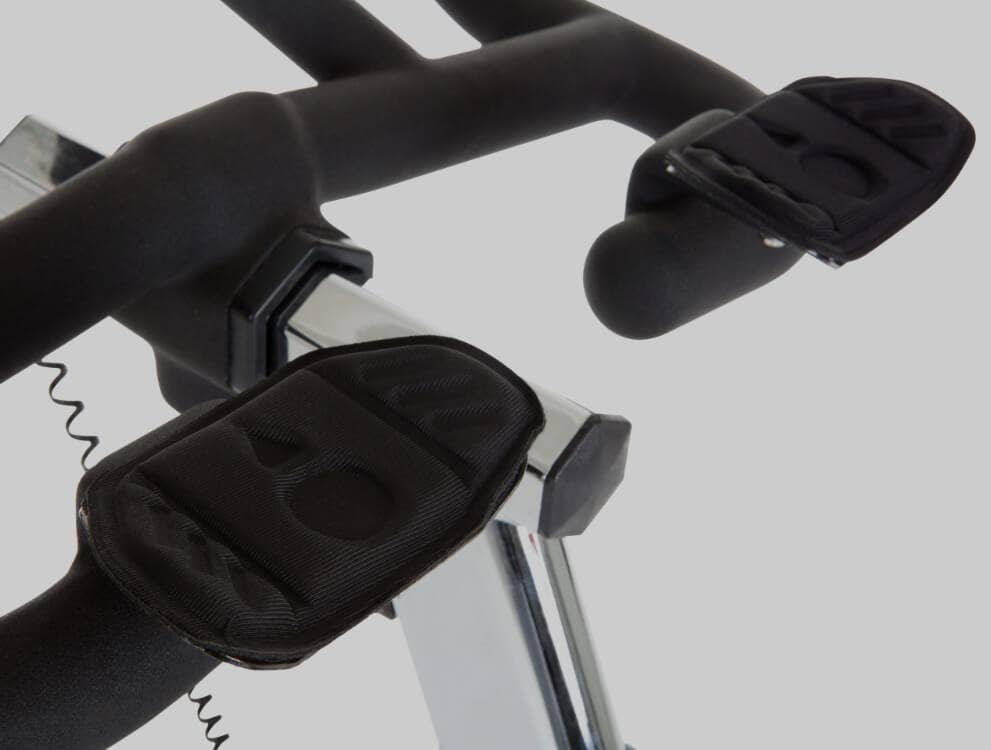 Weather-independent speed training in your living room
Intense cardio training and trend sport
Are you looking for a hyper-intense workout option to improve your endurance and want to get the sweat pumping? The HAMMER Speed Racer S Indoor Cycle is exactly what you want. Indoor cycling is now more popular than ever and you can be part of this trend from the comfort of your living room. Connect your smartphone or tablet via Bluetooth and take advantage of the compatible fitness apps on offer, including Iconsole, Kinomap or BITGym. Get in the zone with the compatible GoogleMaps app and enjoy the scenery on some of the most beautiful routes in the world!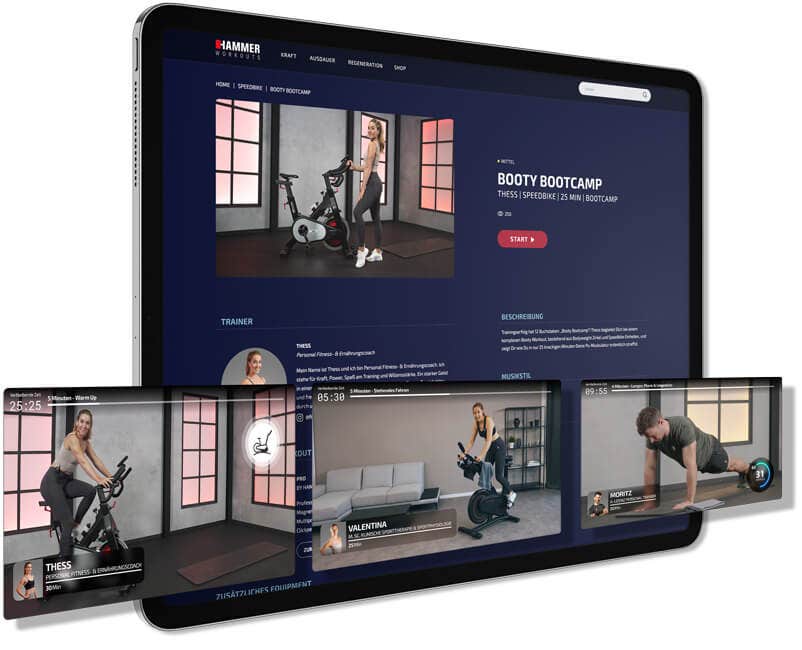 Discover your favorite workout
With HAMMER Workouts we constantly offer you new and motivating courses with your Speedbike. Work out together with our competent trainers and achieve your individual fitness goals in 10 to 50 minute workouts. All in one place and without an additional subscription.
HAMMER is the name of the game in speedbikes
Long-life studio-quality technology and high-speed premium features
A 22 kg chrome-plated flywheel pushes you to give everything you've got in high-octane speed sequences, making you feel like you are on the race track right there in your own four walls. FACT: Indoor cycling is the Number One calorie burner among endurance sports. Weight loss, fitness training or preparation for an upcoming race or triathlon – the HAMMER Speedracer S is your high-performance training partner. The compatible fitness apps Iconsole and BITGym add high-tech motivation and entertainment.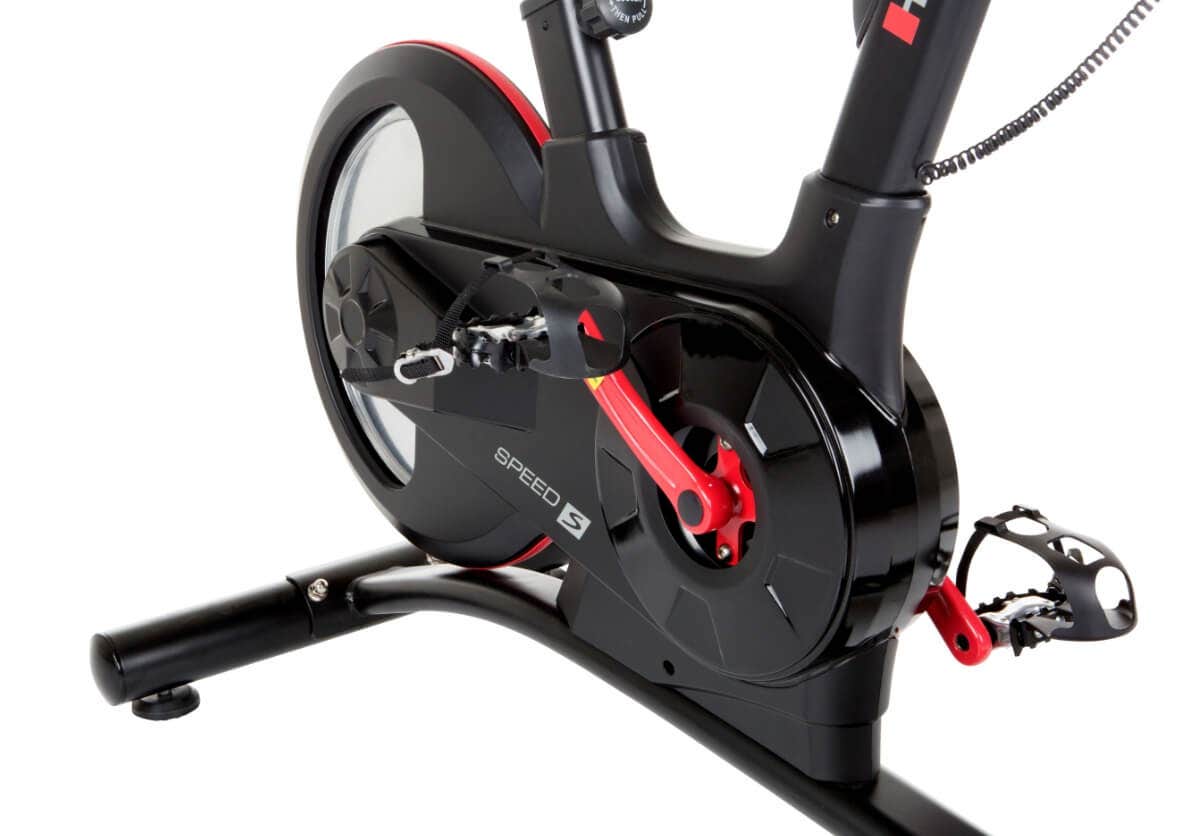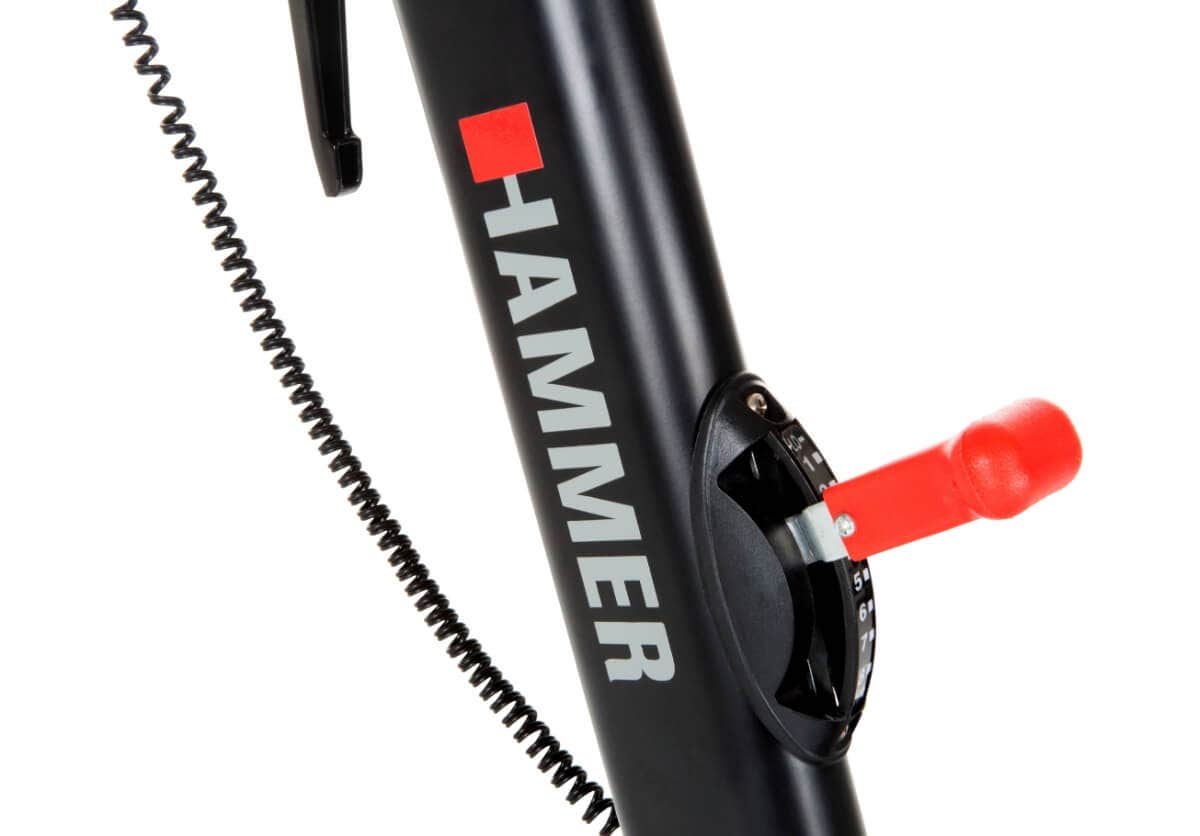 Gear system
Quick resistance adjustment settings for on-the-fly changes
An 8-step quick-lock shifting system allows you to change resistance settings quicker and with more flexibility. In contrast to the simple, stepless setting via a rotating knob, the quick-lock gear system of the Speed Racer S is super easy and simple to use. You can train to exact resistance levels and step up resistance from one session to the next. An emergency stop lever maximises safety as it will stop the flywheel quickly.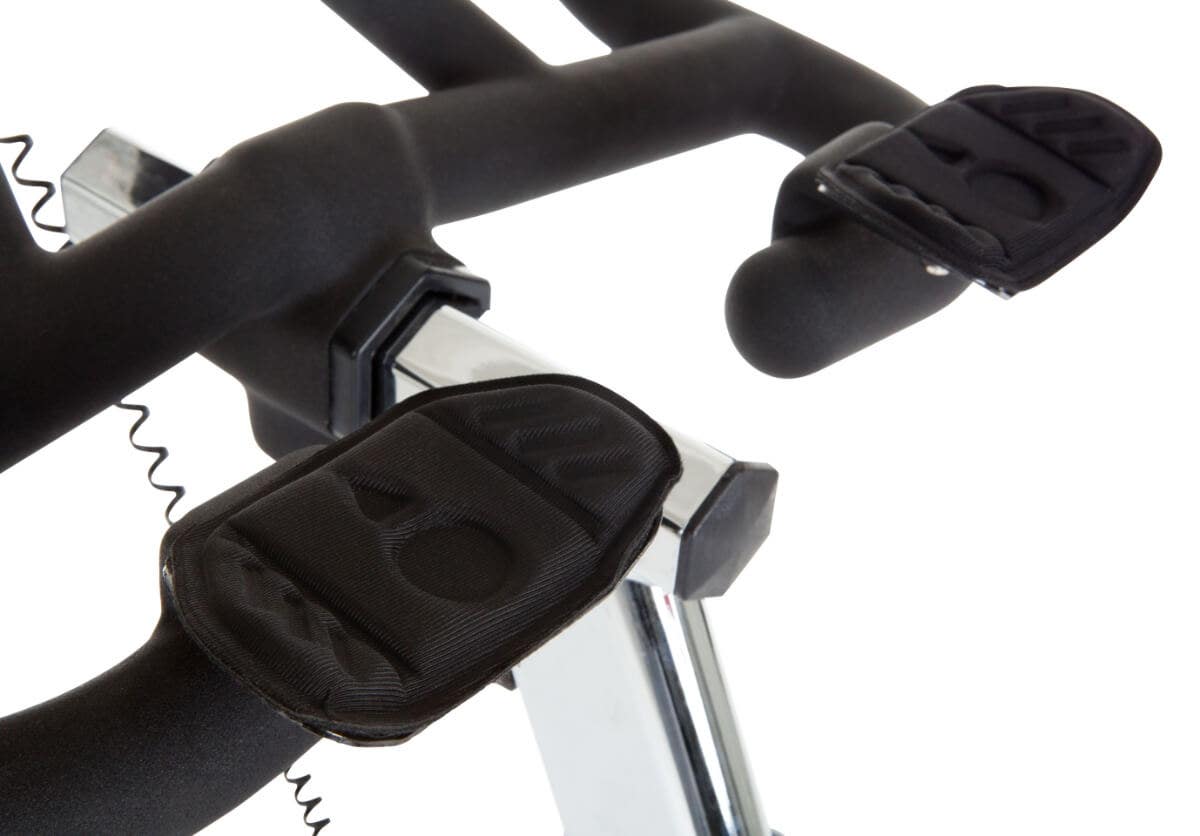 Convenient and flexible
Soft and sweat-resistant
The Speed Racer features soft padding on the arm rests to prevent any discomfort while you train. The multi-position handlebars come with a very comfortable, sweat-resistant exterior that still feels good after many intense workout sessions. The handlebars can be simply wiped down with a moist cloth when you're done with your training.
LCD screen with 5 individual display areas
All your data at a glance!
The integrated LCD screen offers a well-ordered view of all your key training data. It shows your speed, time done, distance cycled, calories burned and your heart rate. A heart rate program ensures optimal training safety when you set yourself a max. heart rate. Once that limit is surpassed, you will hear an acoustic warning signal. That means you will always be training healthily, no matter how much you challenge yourself.
State-of-the-art multimedia entertainment
With Bluetooth technology
Enjoy the very best multimedia entertainment and highly professional training motivation! Watch films on YouTube, push yourself hard to the beat of your favourite music or use training apps via your smartphone or tablet for a live route experience to push yourself through the most intense sequences. Your training becomes more realistic and you remain motivated for longer. Simply connect your smartphone or table to the on-board training computer via Bluetooth and keep the device in easy reach on the tablet holder.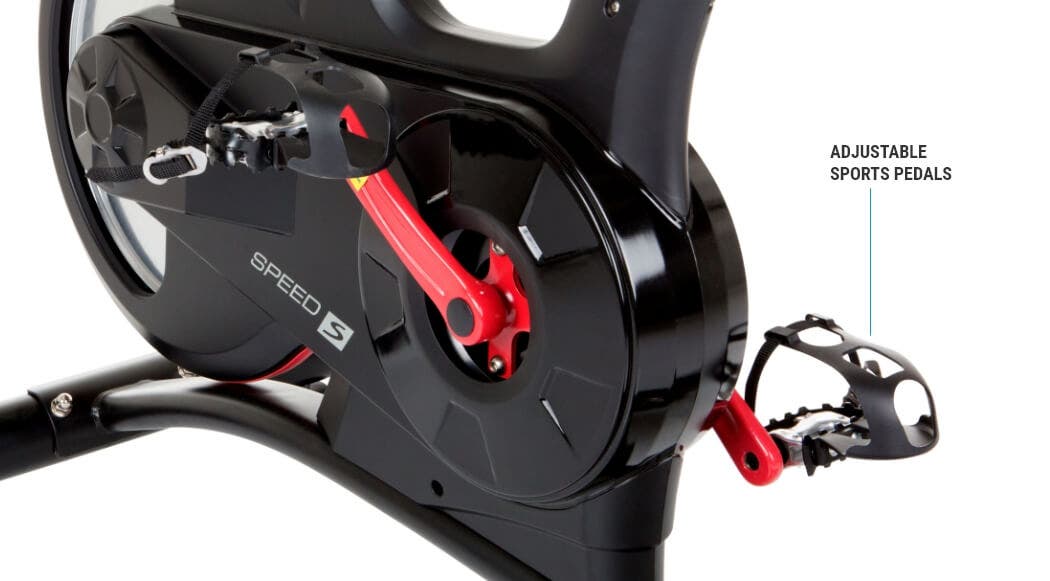 Your heart rate is the key
Healthy high-intensity training
Do you want to push yourself further, improve your fitness level and really put the pedal to the metal? Then the Speed Racer is the perfect choice for you – but always keep an eye on your heart rate during training! Your new Speedbike allows you to use an optional chest strap to measure your pulse rate. The receiver comes pre-installed with your bike, so you can use the chest belt right away.
Adjustable sports pedals
Speed training with speedbike details
Your Speed Racer S comes with extra high-grip, individually adjustable flat pedals for use with sports shoes. The sports pedals offer excellent comfort, are non-slip and highly efficient for moderate cardio training or a high-octane speed workout – no matter how long you train. Perfect route simulation in preparation for the upcoming cycling season! Both pedals come with an adjustable cage that can – of course – also be removed if you want. The pedal crank has a standard length of 20 cm.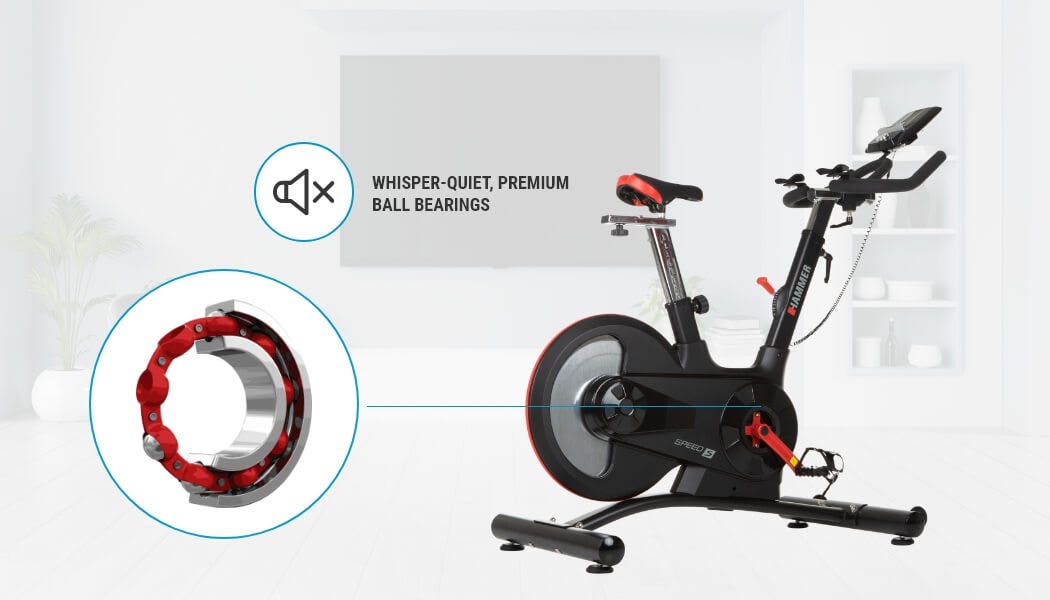 Whisper-quiet and super smooth
Perfectly dynamic rotation
Your new Speed Racer S features state-of-the-art technology with a 22 kg flywheel, grooved belt drive system and highly sophisticated ball bearings to allow for high-speed workout sequences without any annoying "slippage". The perfect rotational movement is particularly joint-friendly and will have you pushing the envelope every time you train. You can feel the perfect dynamics and there is no distracting noise. That means that you can fully concentrate on your workout without annoying your neighbours! You can therefore train at any time – night or day – and even in front of the TV, without disturbing anyone.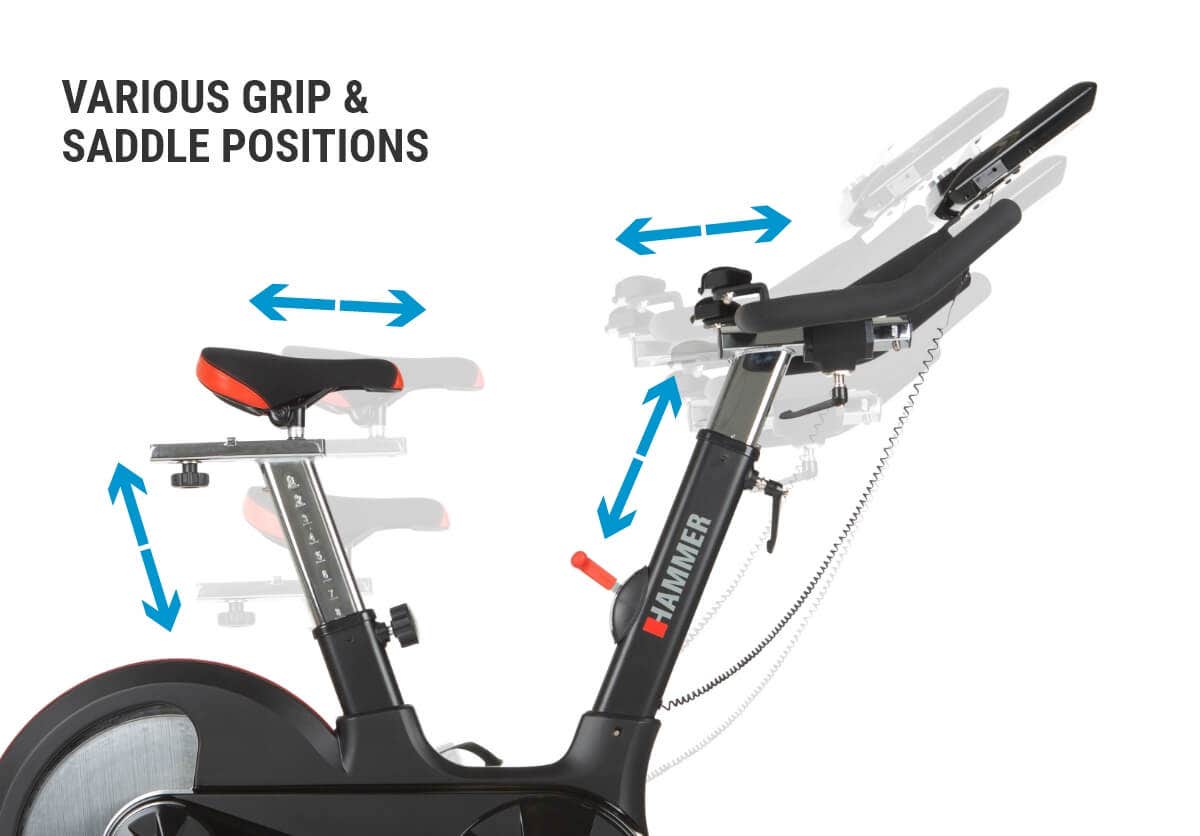 Maximum adjustment options
Suitable for virtually any body height and also higher weight classes
The ergonomics of the Speed Racer S are designed for people of any body height between 1.55 m and 2 m. The handlebars of this indoor cycle can be vertically adjusted by 12 cm in 4 increments. The tilt and height of the Ergo saddle can be adjusted to suit your needs (20 cm in 10 increments), while a quick adjustment knob allows the seat to be moved 10 cm horizontally for extra comfort. Additionally, the sports handlebars of the Speed Racer S offer various grip positions for longer or shorter arms. In terms of body weight, your new Speed Racer S indoor bike can handle up to 130 kg with ease.
HAMMER design at its best!
Super sturdy, resilient, portable and 100K tested
The 4-point floor contact system with levelling function for uneven flooring and industrial strength double-welding guarantee super sturdy stability and resilience during the most intense standing sprints. Higher weight classes are no problem for this model either. The flywheel technology of your Speed Racer S is quality-tested for 100,000 rotations to guarantee an extra long service life. And when you are done training for the day, the two integrated transportation rollers will help you move your Speed Racer S out of the way by simply lifting up the rear and rolling it to its storage space.
Computer
Multimedia
App, Bluetooth, Tablet support
Integrated pulse receiver for chest belts
5 kHz
Display
Load profiles
Distance, Heart rate, RPM, Speed, Time
Programs and profiles
Heart rate controlled programmes
1
Adjustable pulse limit
Upper pulse limit
Drive/brake system
Drive system
Grooved belt
Braking system
Permanent Magnetic
Resistance adjustment
Manual
Dimensions and weight
Build up size (L x W x H)
160 x 52 x 110 cm
Other features
Transportation rollers
Yes
Saddle height adjustment
20 cm in 10 steps
Saddle adjustment
Horizontal, Tiltable, Vertical
DIN Norm
DIN EN ISO 20957 -1/10
Shipping
Delivery time
4-8 working days
Delivery Information
Delivery to curbside (Please leave your phone number when ordering, so we can arrange a suitable delivery date for you)
Private use
on the main frame
5 years
Clients ask, our fitness experts answer
Do you need more information about the product? Ask your question here. Our fitness experts will answer quickly and easily.
7 questions already answered
Question:
Hallo, Welche Spezifikation muss der Pulsmesser besitzen? Aktuelle Modelle haben Bluetooth und Ant+? Ist das kompatibel oder kann man sich auch über Bluetooth mit dem iPhone und der Kinomap App verbinden? Herzliche Grüße Iris from Iris
Question:
Obwohl hier steht, dass es sich auch für Menschen bis 2 m Körpergröße eignet, fehlt doch die wichtigste Angabe: wie ist das größte mögliche Maß zwischen Satteloberseite und Pedaloberseite (in seiner untersten Position). Natürlich kann man das Gerät auch als 2 m Hühne nutzen obwohl es ggfls viel zu klein ist (indem man wie ein Kleinkind auf einem Dreirad sitzt, mit den Knien zwischen den Ohren...). Zweite Frage: kann man die Pedale abschrauben und Klickpedale ranmachen? Danke from Dirk
Answer:
Tab 1
hi, ein Umbau auf Klickerpedalen ist leider nicht möglich. Der Abstand Von Sattel (oberste Position) bis hin zum Pedal (oberste Position) beträgt ca 60cm
Question:
Hallo, Kann man die Pedale zu Klickpedalen umrüsten? from Linda
Answer:
Tab 1
Hallo, leider ist bei diesem Modell nicht möglich, bitte schauen Sie sich die Modelle CRS und CRT an, hier ist dies möglich
Question:
Wie ist die maximale Sattelhöhe zum Boden und wie hoch sind die Pedale in unterster Position vom Boden entfernt? from Kai
Answer:
Tab 1
Hallo, der tiefste Abstand vom Pedal zum Boden beträgt 20cm. Die max Sitzhöhe beträgt 112cm vom Boden bis zur 11 Stufe (Höchste) vom Boden
Question:
Kann man die Pedalen abschrauben? Danke from Gabriele Ute
Answer:
Tab 1
Hallo , Sie können mit einem 15er Schlüssesl die Pedalen abmontieren. Für den Pedalarm bentötigen Sie einen Tretkurbelabzieher, diese erhalten Sie unter service@hammer.de
Question:
Nach den Antworten oben kann man die Pedale zwar abschrauben, aber keine Klick-Pedale einschrauben ? Ist das tatsächlich so und wenn ja, warum - ist da ein anderes Gewinde in den Kurbeln als die üblichen / standardisierten Pedalgewinde? from Thomas
Answer:
Tab 1
Sehr geehrte Damen und Herren, vielen Dank für Ihre Anfrage. Das von Ihnen erwähnte Spinningbike "Speed Racer S" der Hausmarke Hammer, verfügt über eine abweichendes Gewindegröße, welche nicht dem eigentlichen...
Question:
Kann man das Speedbike wenn man es zusammen mit Kinomap benutzt für Virtual Rides in Strava nutzen? from Gwen
Answer:
Tab 1
Sehr geehrte Damen und Herren, die Verwendung von Kinomaps in Verbindung mit Strava und dessen Virtual Rides, ist leider nicht möglich. Dies gilt für jedgliches Produkt das wir vertreiben. Mit freundlichen...