Kinomap

FINNLO CleverFold CF70 BT
Space-saving miracle with automatic fitness programs, Bluetooth/app technology and multimedia console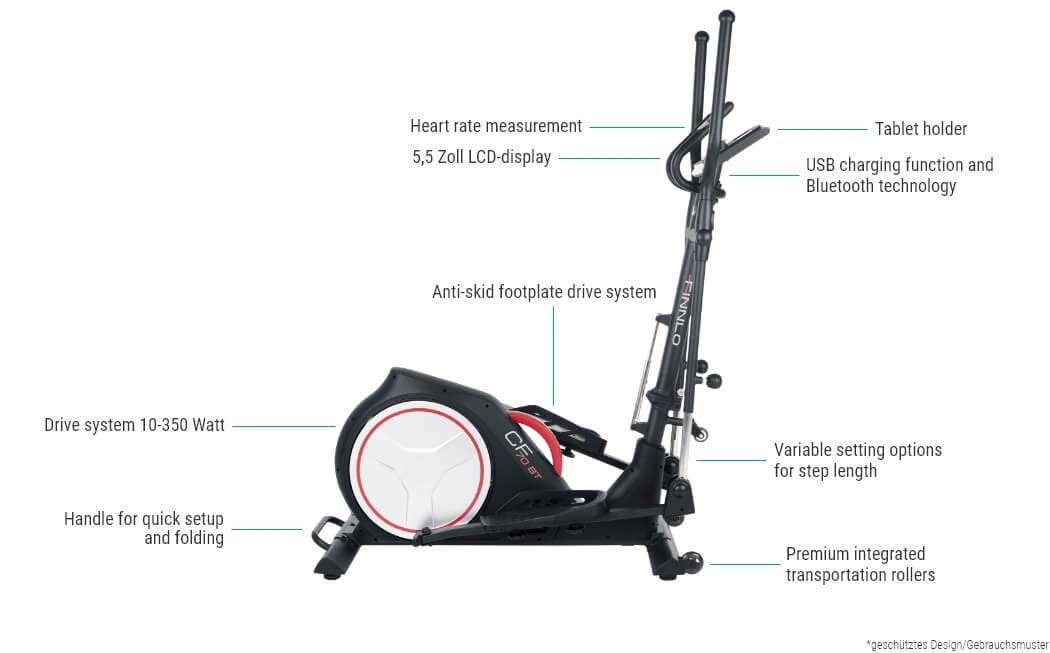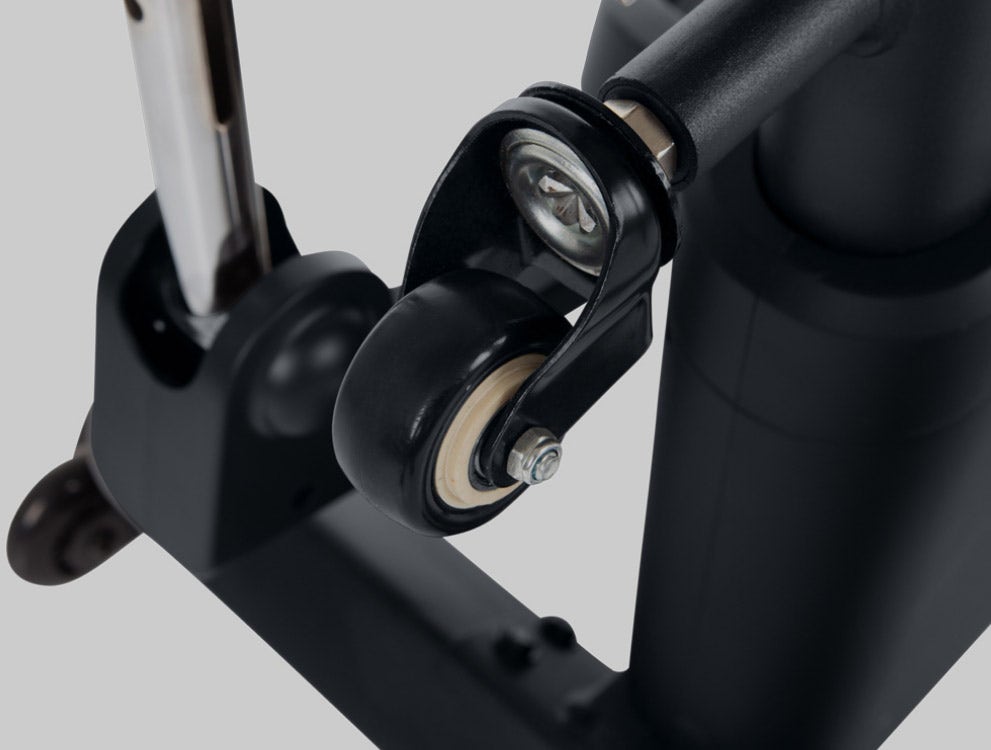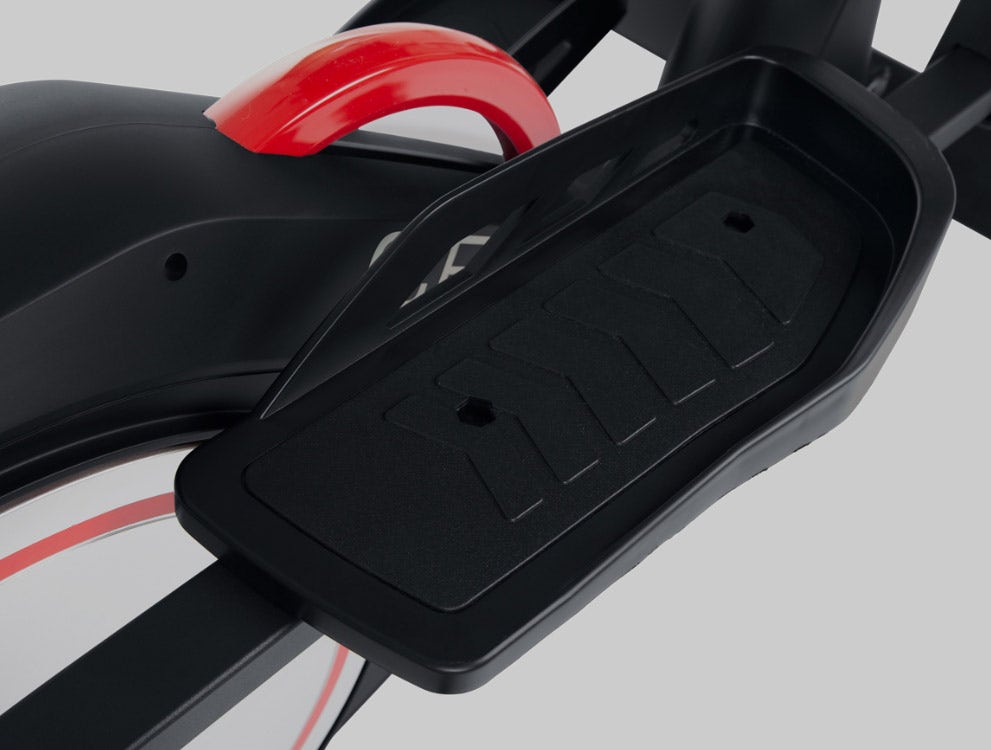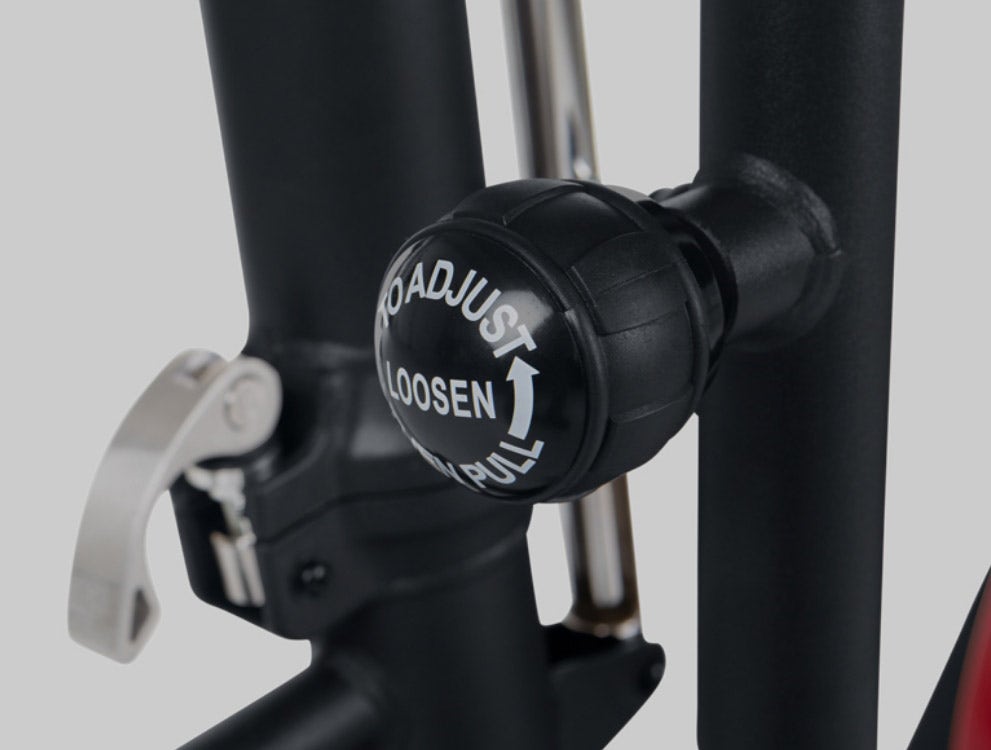 Do you live in the city? Not much space? CleverFold!
Home training re-invented: train – fold – store
A highly sophisticated quick-folding technology on the main frame is responsible for the unique space-saving action down to less than 50%. Finally, you can have a studio-sized cross trainer at home that will fold down to a compact size after training and can be easily stored in a corner or next to a wardrobe. An innovative 360-degree pivoting, integrated transportation roller system allows you to move the machine effortlessly and as easily as moving a trolley suitcase.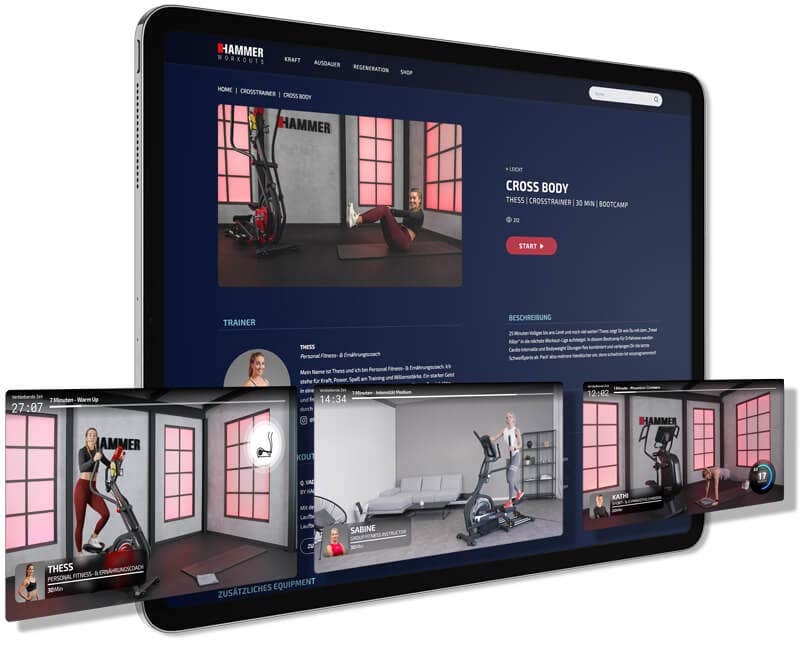 Discover your favorite workout
With HAMMER Workouts we constantly offer you new and motivating courses with your crosstrainer. Work out together with our competent trainers and achieve your individual fitness goals in 10 to 50 minute workouts. All in one place and without an additional subscription.
Premium features
High-end to no end
In addition to its innovative folding technology, the CF70 BT stands firmly in the high-end premium category in terms of features and finish. In comparison with many other cross trainers available on the market today, your FINNLO CF70 BT is a lot more robust and durable. Your new CF70 BT cross trainer comes with a Bluetooth connection and a whole host of latest multimedia entertainment options. The FINNLO CF70 BT features various fitness and cardio programs, a well-lit digital display and an intuitive, on board fitness computer.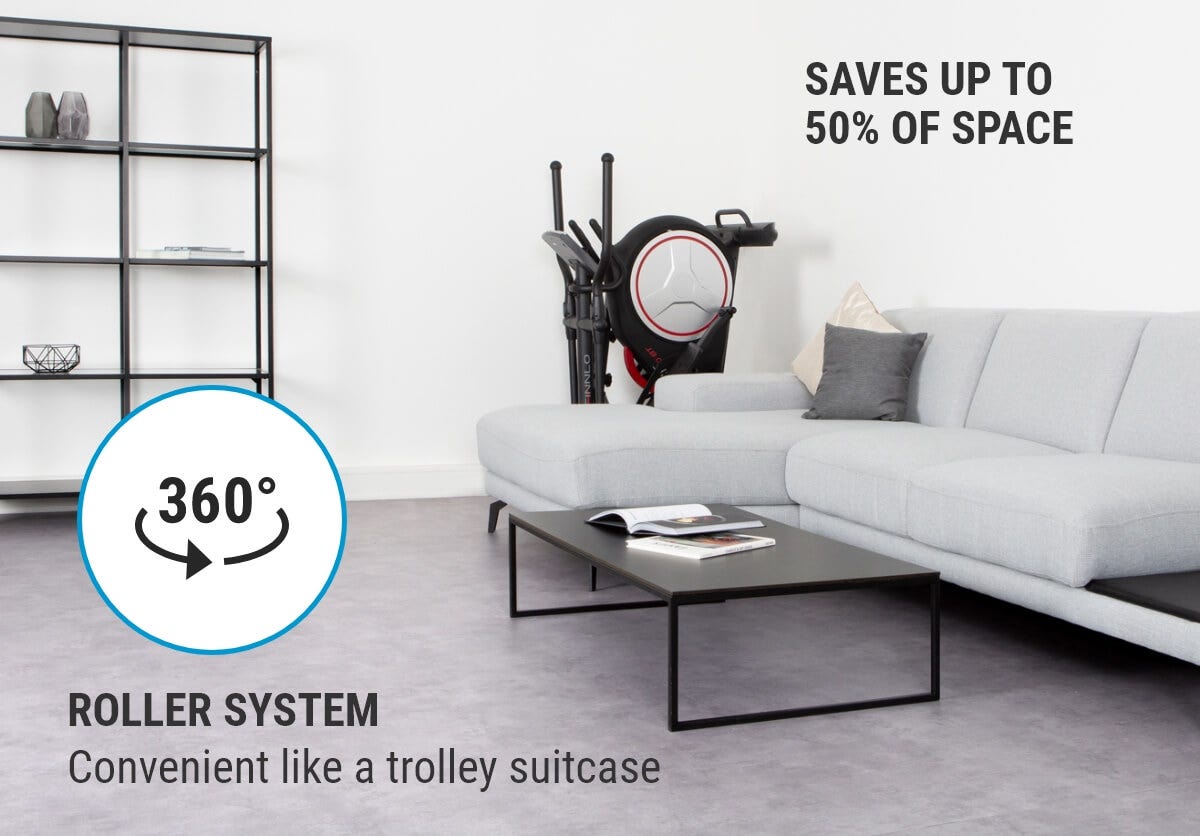 Computer with integrated fitness test
How fit are you?
Measure your heart rate after a successful training session. The faster your heart rate drops back down, the fitter you are. The on-board computer of your CF70 BT cross trainer rewards you with a fitness grade between one and six. The aim is to improve this grade with every session.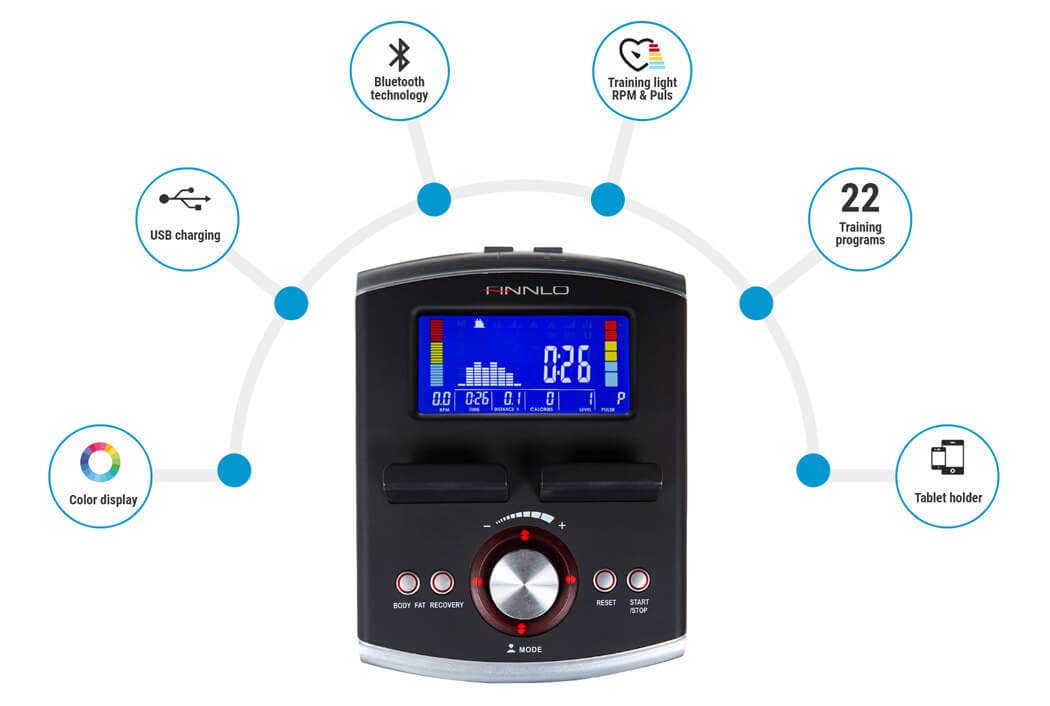 Eye-friendly, clear LCD display
Intuitive computer operation
The large, high-resolution display of the CF70 BT cross trainer is clearly organised and designed to be self-explanatory for all age groups. Intuitive, simple menu navigation: Let's go: "push, turn, train"!
The choice is yours: Conventional LCD screen or display via your smartphone or tablet
Spoilt for choice: Use the conventional display method via the large LCD screen or use your smartphone/tablet instead. You can see uphill/downhill profiles, speed, time, distance travelled, calories burned, heart rate, body fat, BMI and fitness test – all at a glance. You can also use your smartphone or tablet to control your workout with ease via one of the fitness apps (Kinomap, iConsole, BITGym).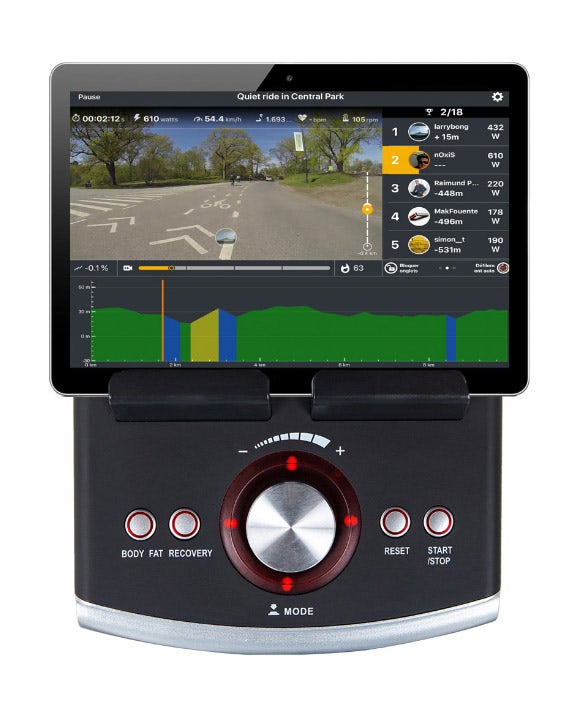 State-of-the-art multimedia entertainment
With Bluetooth technology
Watch films on YouTube or play your favourites from your music library! Alternatively you can use compatible fitness apps to work out on breath-taking live routes and document or compare your training progress. The Kinomap training app delivers the route of your choice via video to your smartphone. The faster you step, the quicker you move through the scenery, e.g. a forest or the seaside. Simply place your phone on the smartphone/tablet holder and enjoy varied training motivation. The integrated USB connection charges your smartphone or tablet while you train.
Your fitness programs for any training level:
The on-board training computer does it all for you completely automatically with 22 individual fitness programs. Choose between heart rate programs, fat burning or tailor-made fitness workouts. There are 22 programs to choose from to keep your fitness training fun and interesting – whatever your fitness level. The four user profiles available mean that several family members can have their own specific uphill and downhill profile. The CF70 BT cross trainer additionally offers a resistance display (in watts) and a special program to limit the heart rate.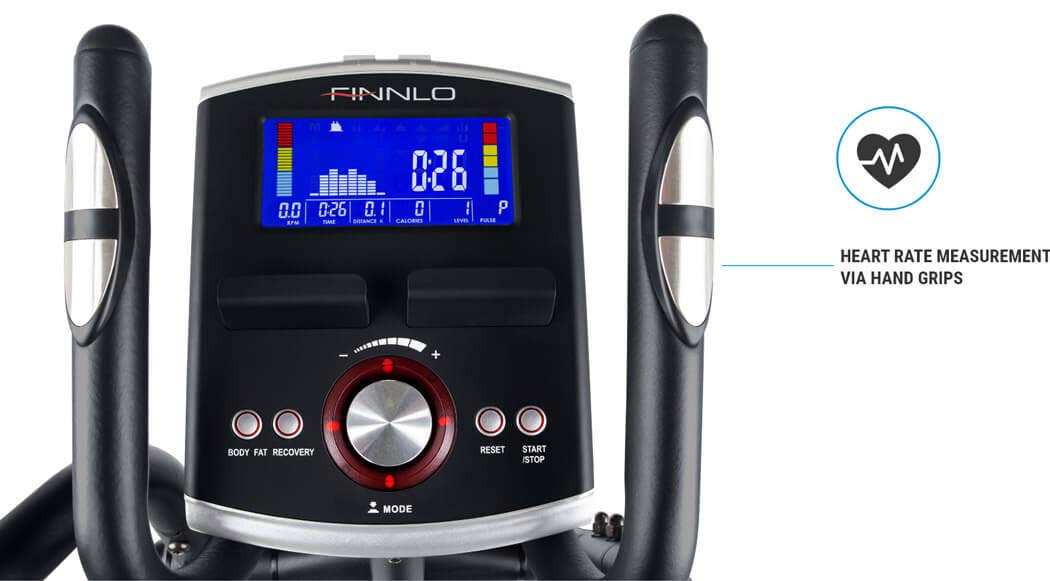 Heart rate monitoring for a healthy cardiovascular workout
For healthy fitness goals
What is your personal objective? Do you want to improve your fitness level or do you need to burn calories to shed a few pounds? Heart rate is the key! The ergonomically positioned hand pulse sensors or the optional chest strap allow you to keep an eye on your heart rate at all times to reach your personal fitness goals faster. The pulse rate receiver is included in the delivery contents of your CleverFold CF70 BT. You can optionally enter a max. heart rate value on the computer. The FINNLO CF70 BT cross trainer will then automatically dial down the resistance once you surpass the set limit value.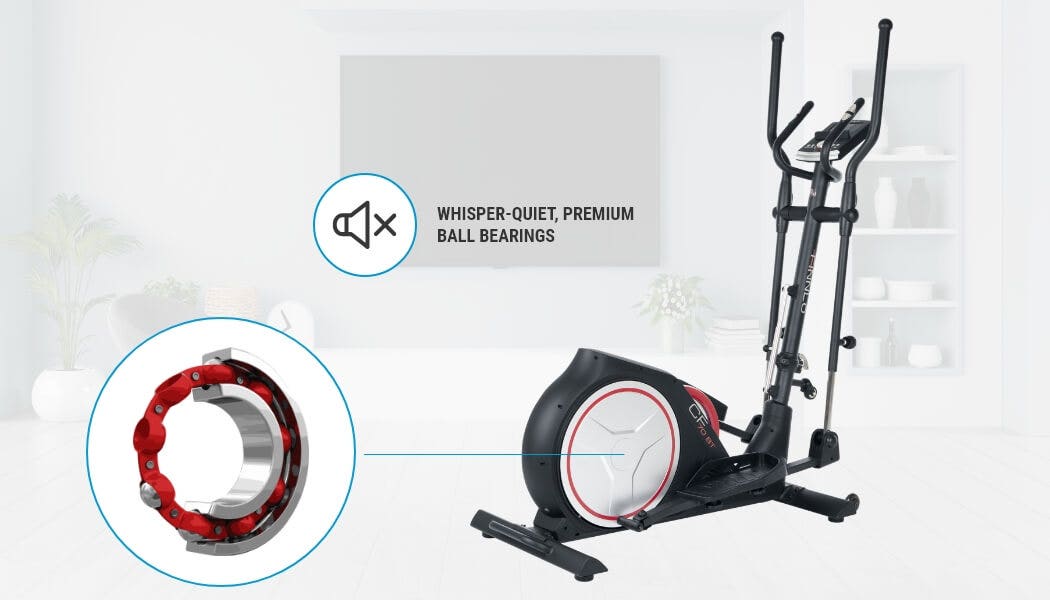 Whisper-quiet training from now on
With perfectly dynamic rotation
An 18 kg flywheel mass and a tried and tested ball bearing technology create a very even and well-rounded running experience, which perfectly simulates the natural motion sequence of outdoor running. The high-performance V-belt ensures an excellent power transfer without any slippage. The result: FINNLO cross trainers offer virtually silent movement dynamics. You can fully concentrate on your workout without annoying your neighbours with repetitive scraping sounds or clatters and clangs that are so often part and parcel of simpler fitness machines. You can train at any time – night or day – or in front of the TV quietly, without disturbing anyone.
Healthy ergonomics: Gentle on your neck and joints
The hip-friendly pedal distance and the perfect ellipsis of this machine ensure an extra comfortable and joint-friendly cross training workout. HAMMER Ergo-Neck denotes the optimal distance of the movable arms to combat common neck strain symptoms.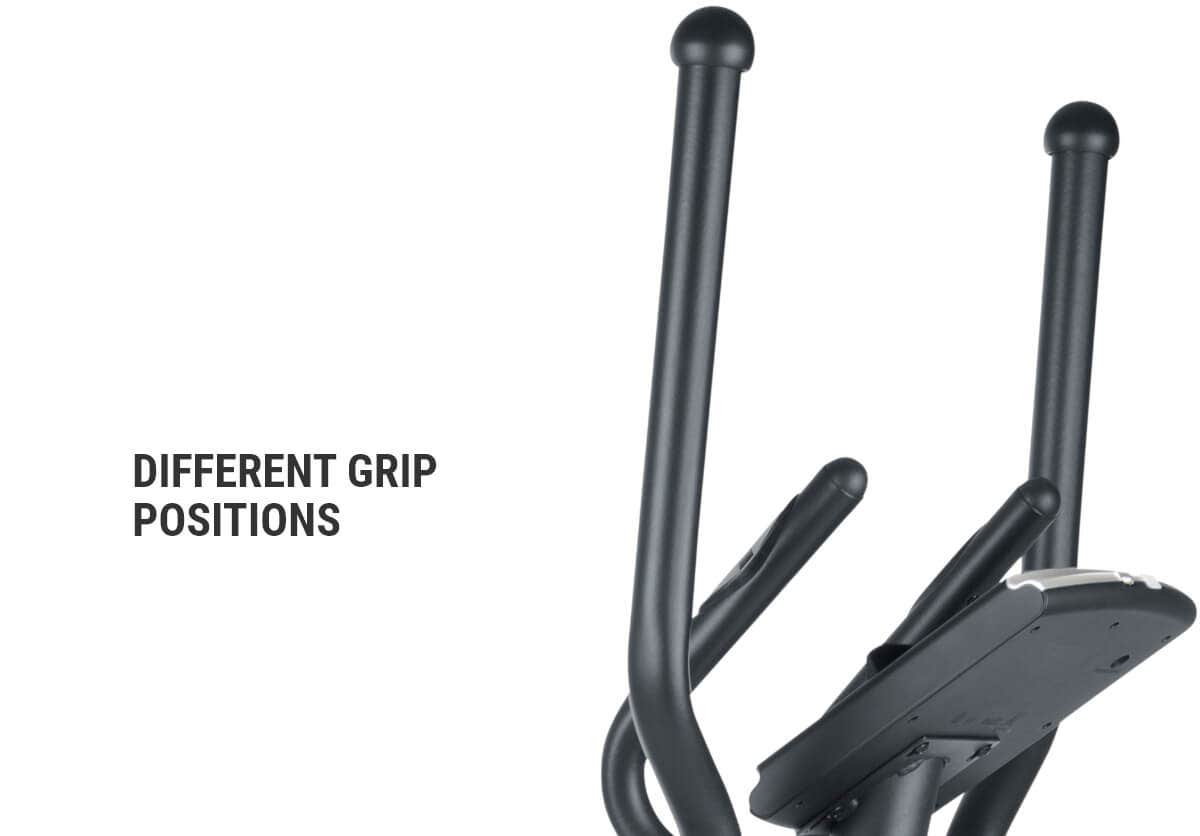 Suitable for any body height
Higher weight classes and lower ceiling heights
The ergonomics of the CF70 BT are designed in such a way as to allow taller people up to a body height of 2.00 m and smaller people from 1.55 m in height to train fully upright and without strain on the back. Individual arm lengths mean virtually endless grip position options and the large pedals allow for a secure stance for feet of any size. You can also adapt the pedal length to your specific body height.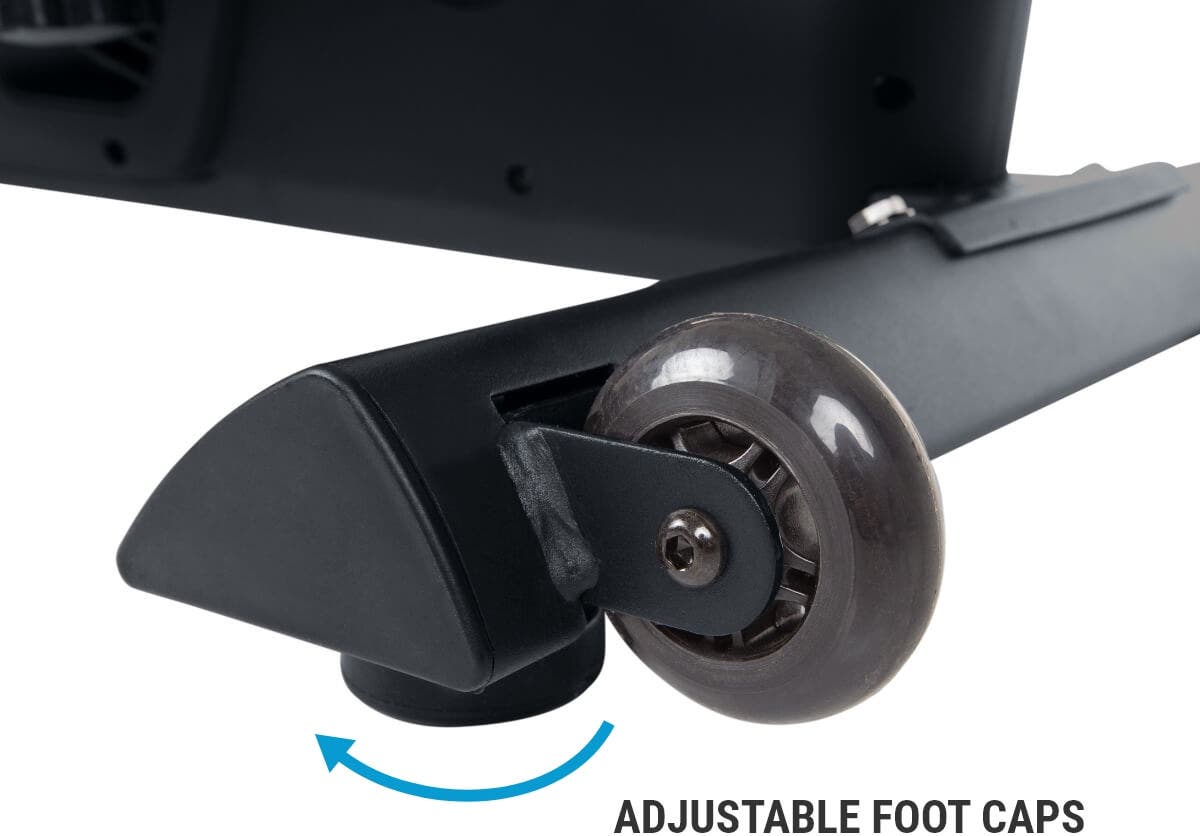 More premium details
Extremely robust and durable to accommodate all workout intensities
The CleverFold CF70 BT cross trainer by FINNLO is extremely robust, despite its collapsible design, and the four-point floor contact system gives it a very secure stand, no matter how hard you train. A robust "mammoth" steel frame construction and double welding ensure superb durability. Quality all the way!
Computer
Multimedia
App, Bluetooth, Tablet support, USB
Integrated pulse receiver for chest belts
Yes
Display
Load profiles
Calories, Distance, Heart rate, RPM, Speed, Time, Watt
Programs and profiles
Heart rate controlled programmes
4
Adjustable pulse limit
Upper pulse limit
Drive/brake system
Drive system
Grooved belt
Load control
RPM independent
Braking system
Permanent Magnetic
Resistance adjustment
Computer controlled
Dimensions and weight
Build up size (L x W x H)
170 x 60 x 162 cm
Folding dimension (L x W x H)
80 x 60 x 138 cm
Other features
Transportation rollers
Yes
Performance
10 - 350 Watt
DIN Norm
DIN EN ISO 20957-1/9
Shipping
Delivery time
4-8 working days
Delivery Information
Delivery to curbside (Please leave your phone number when ordering, so we can arrange a suitable delivery date for you)
Private use
on the main frame
10 years
Clients ask, our fitness experts answer
Do you need more information about the product? Ask your question here. Our fitness experts will answer quickly and easily.
Our recommendation for you